A Birthday Box for Flurrie
You may also like:
January 4, 2016: Flurrie and I became fast friends when I began to support my DC site in late 2014. Not only is Fluurie extremely polished and professional in her role as Office Manager at a very prestigious travel lobbying firm, she is always warm, welcoming, helpful, knowledgeable, and gracious when interacting with colleagues, clients, vendors and guests. Flurrie gives everyone who cross paths with her the VIP treatment and adds sparkle to all she does each day by providing service and solutions with her trademark brilliant smile.
I am happy and proud to call Flurrie my friend.
So Flurrie celebrated her birthday last week (December 31), so I decided to make her a DIY gift box. I wanted to wish her a hearty "Happy Birthday" and to thank her for her friendship (and for simply being her fabulous self).
Using Mod Podge, I decoupaged an old Starbucks gift box (that held my ceramic Starbucks coffee thermos). I used fine, gold accented, printed paper for the box cover. And yellow and orange printed scrapbook paper were used for the sides.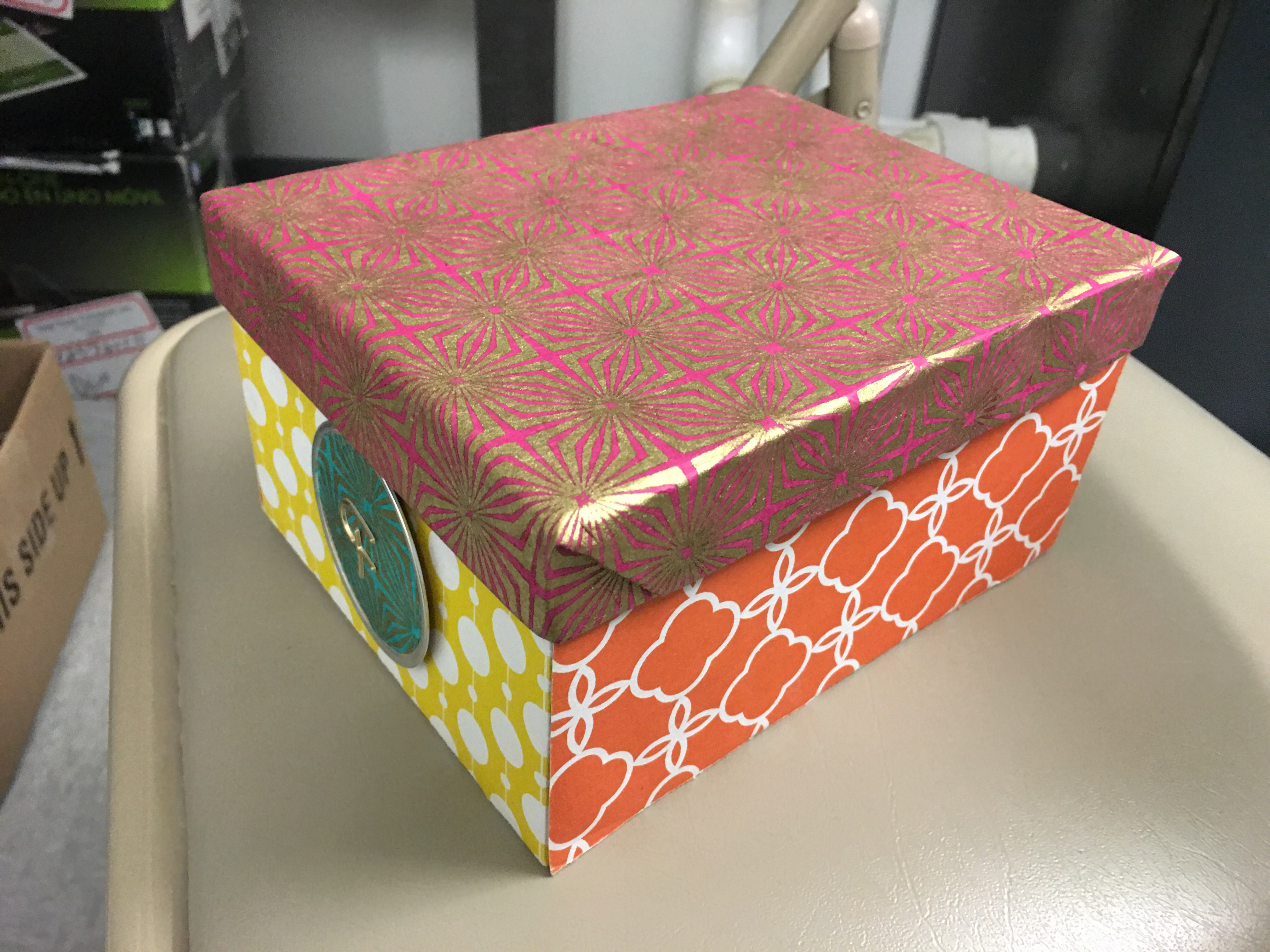 I decoupaged a circle tag with coordinating turquoise gold accented paper and added Flurrie's initial using a Seven Paper Gold Alphabet sticker.
I used a hole punch to make a hole in the front of the box and used it to tie the circle tag to the box. Instant monogram label.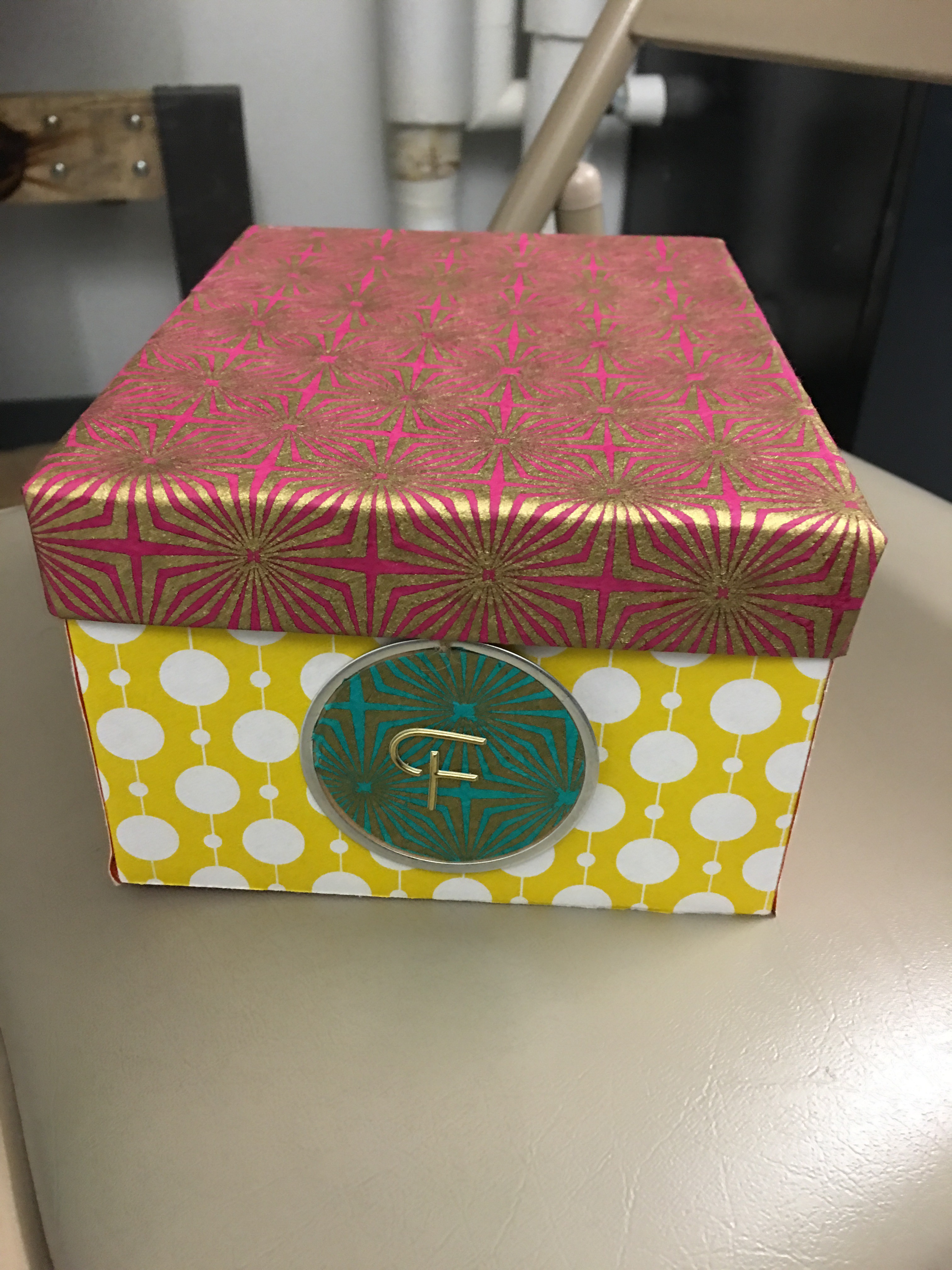 So what goes in the box? First, a Moleskin notebook decoupaged with red marble fine paper. Flurrie's favorite color is red. 🙂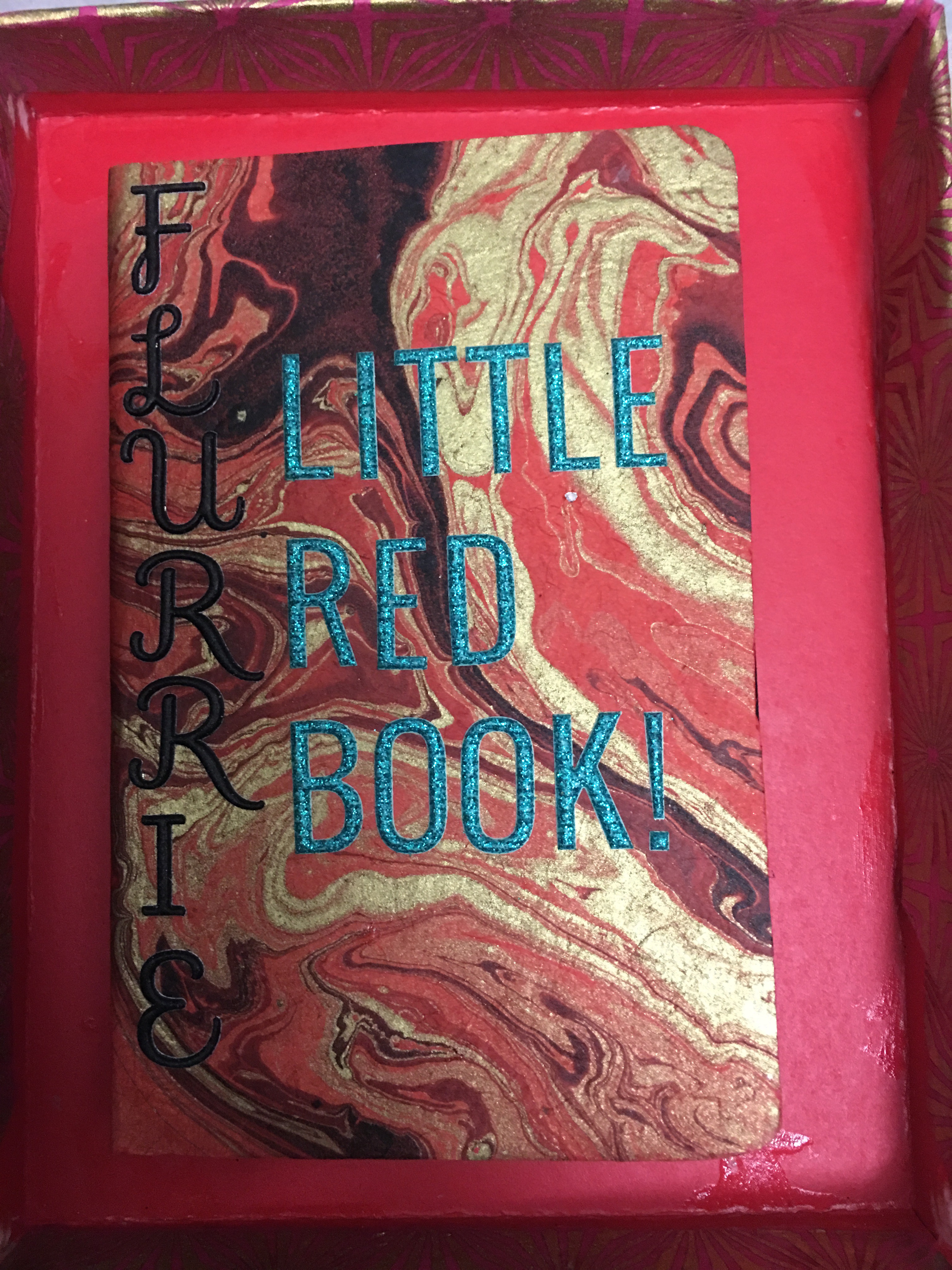 I labeled the cover using black and turquoise glitter alphabet stickers.
For the inside flap, I decoupage it with Loki paper (red printed design), then went to town with paper circles of various colors and sizes.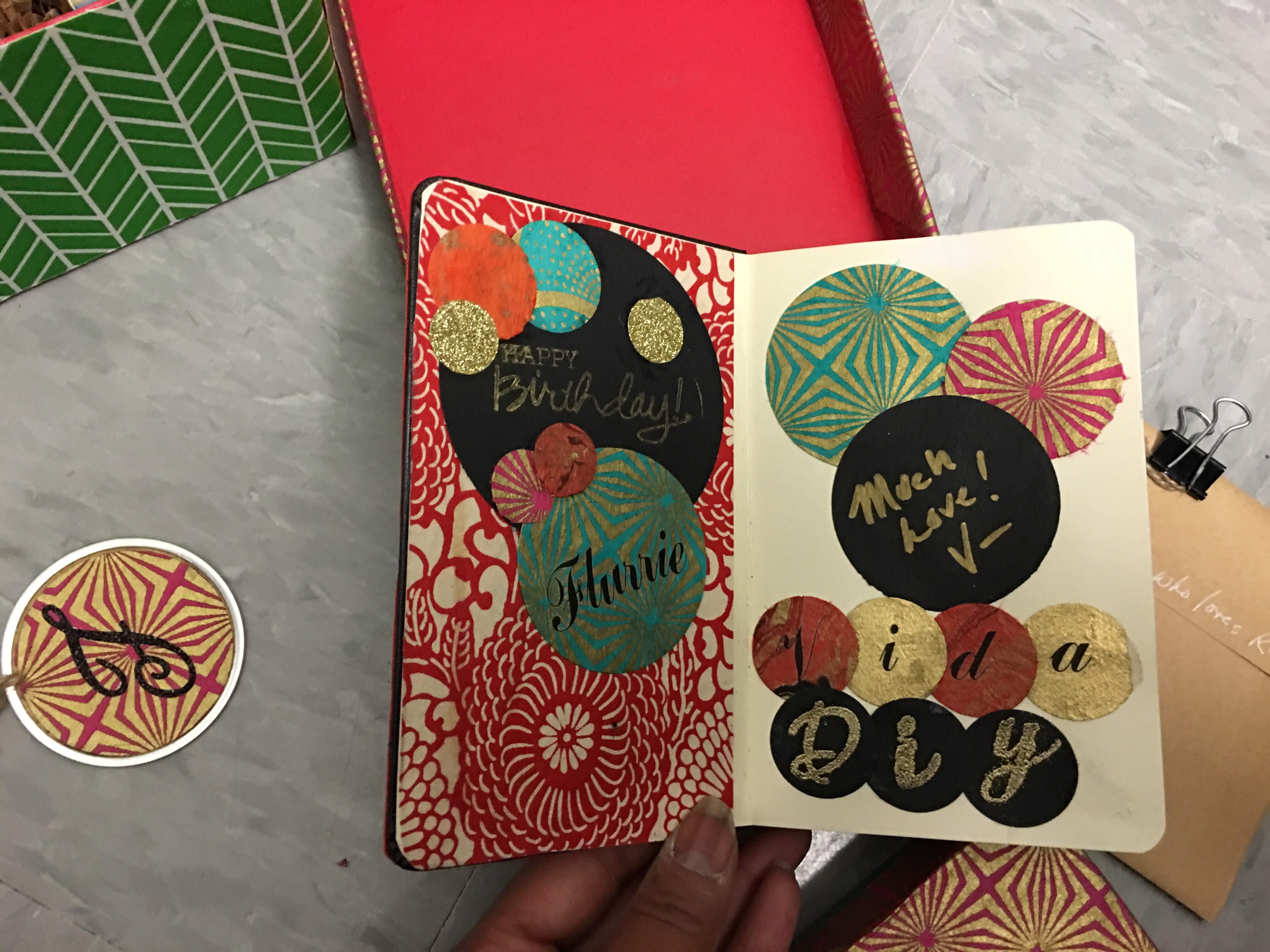 I used a "Happy Birthday" stamp for the black circle. And added the letters "Flurrie" on a turquoise gold printed circle using letter rub ins.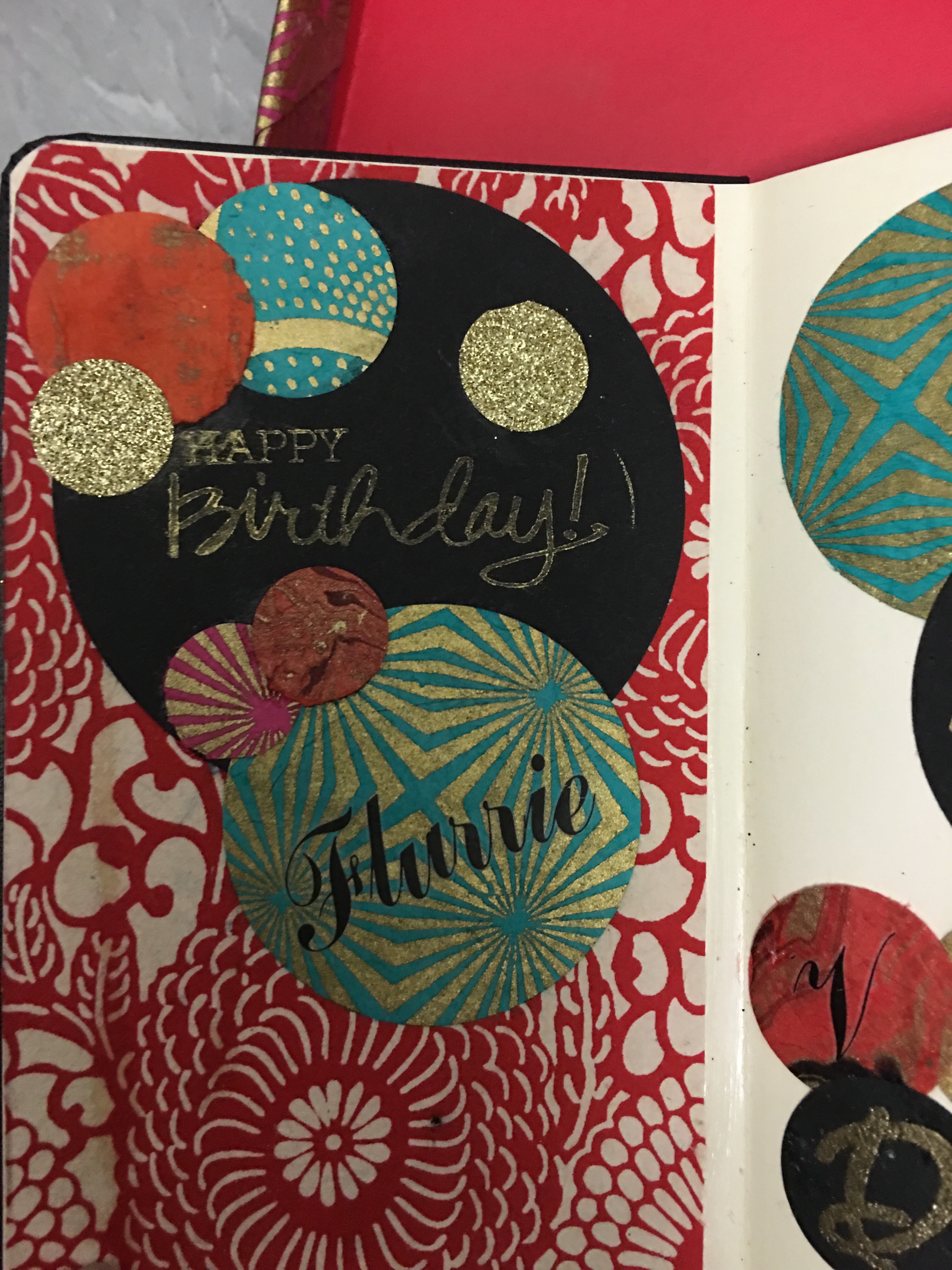 For the other page, more circles with VidaDIY letters (rub-on and heat-embossed gold stamping), and a "Much Love V-" scribbled with gold marker.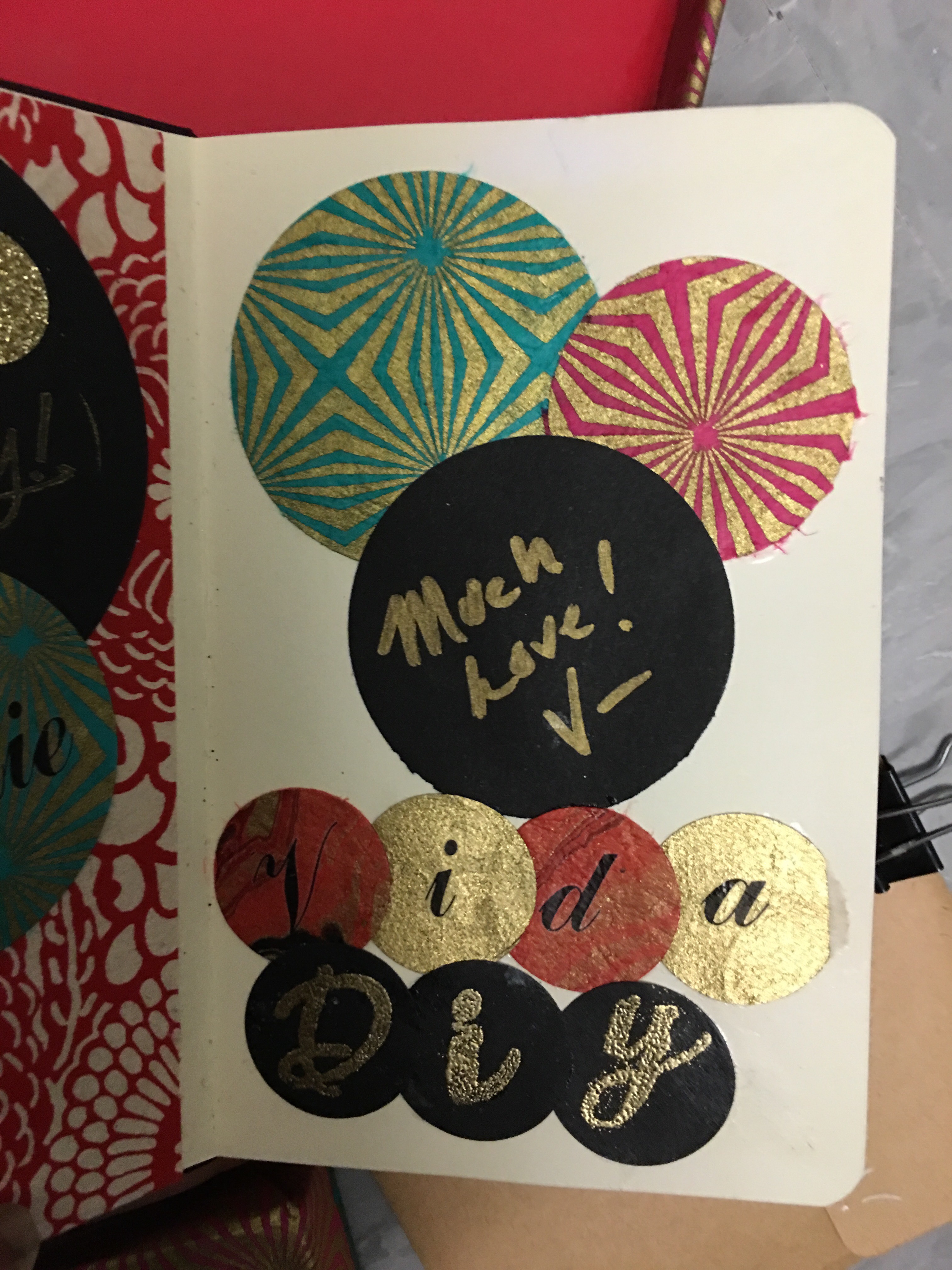 Second, I made a DIY bracelet from clothesline pins. I added Tim Holtz charms with words "faith", "love", "dream".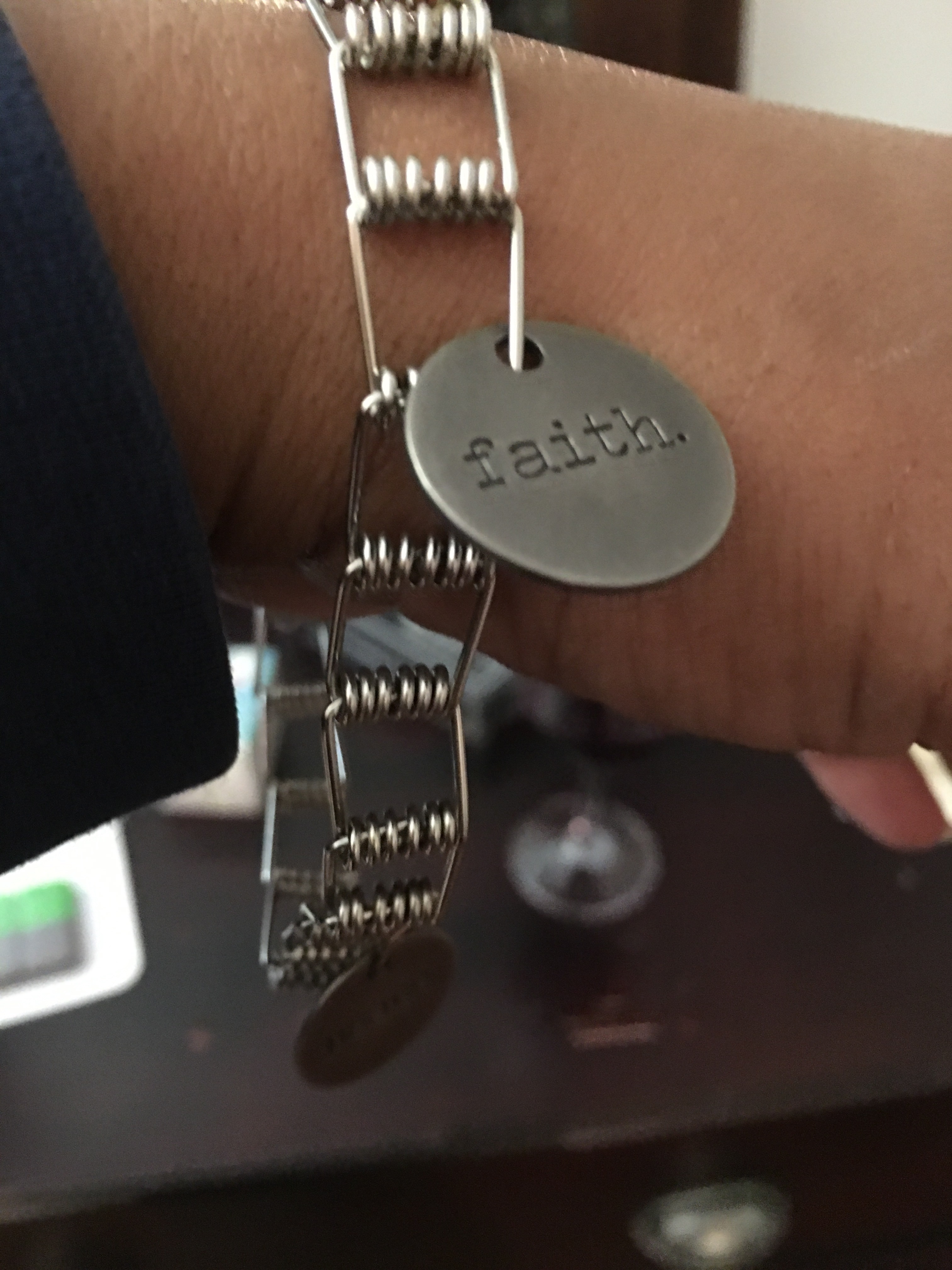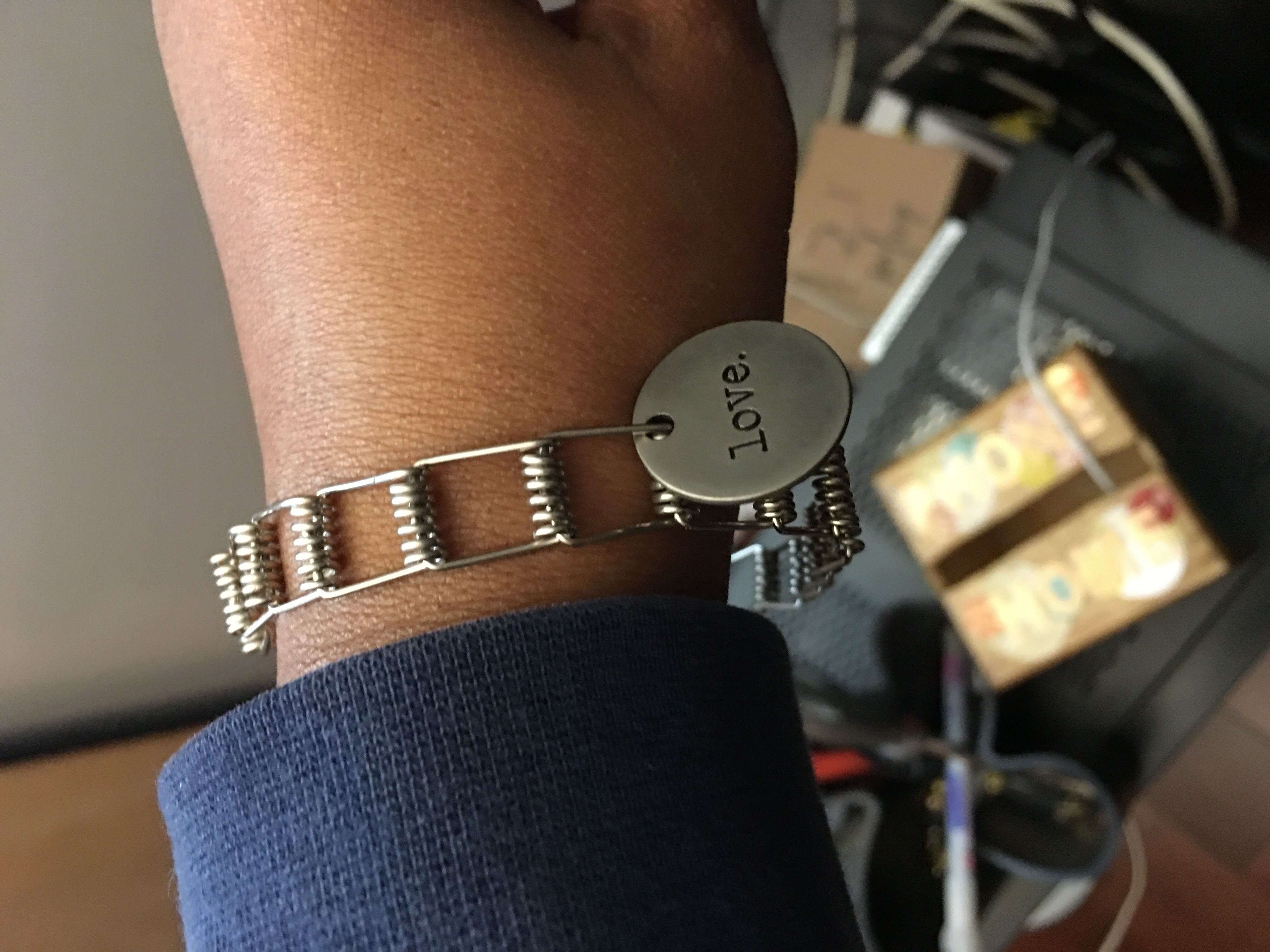 Of course the box the bracelet goes in must be decorated. On the outside, I decoupaged the lid with the pink accented paper and the bottom with the coordinating turquoise paper.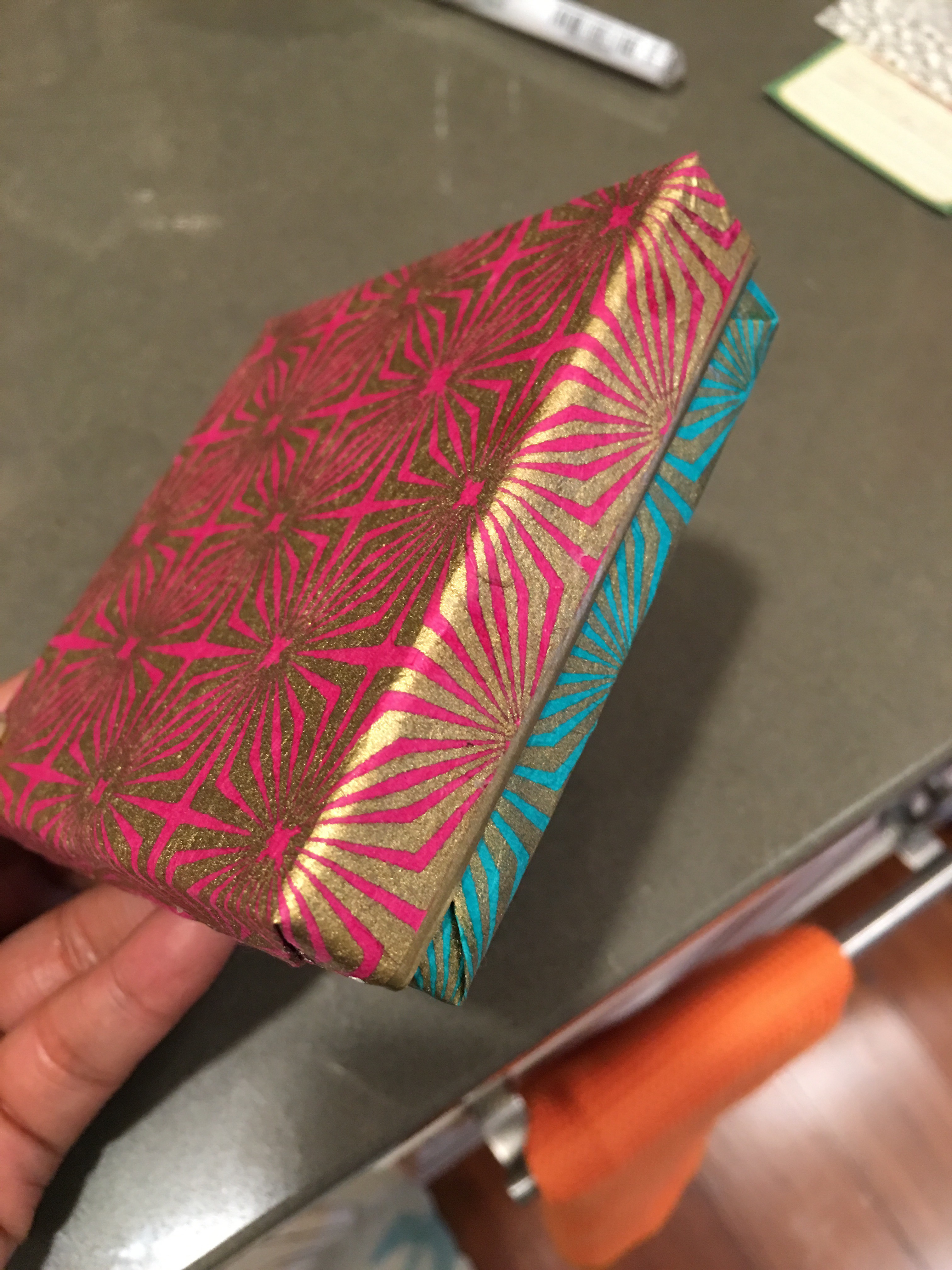 I decorated the inside lid of the box with a "Made with love" sticker from Hobby Lobby, then added circle paper letters VidaDIY. The Vida letters are rub-ins. And the DIY is heat-embossed gold ink stamped letters.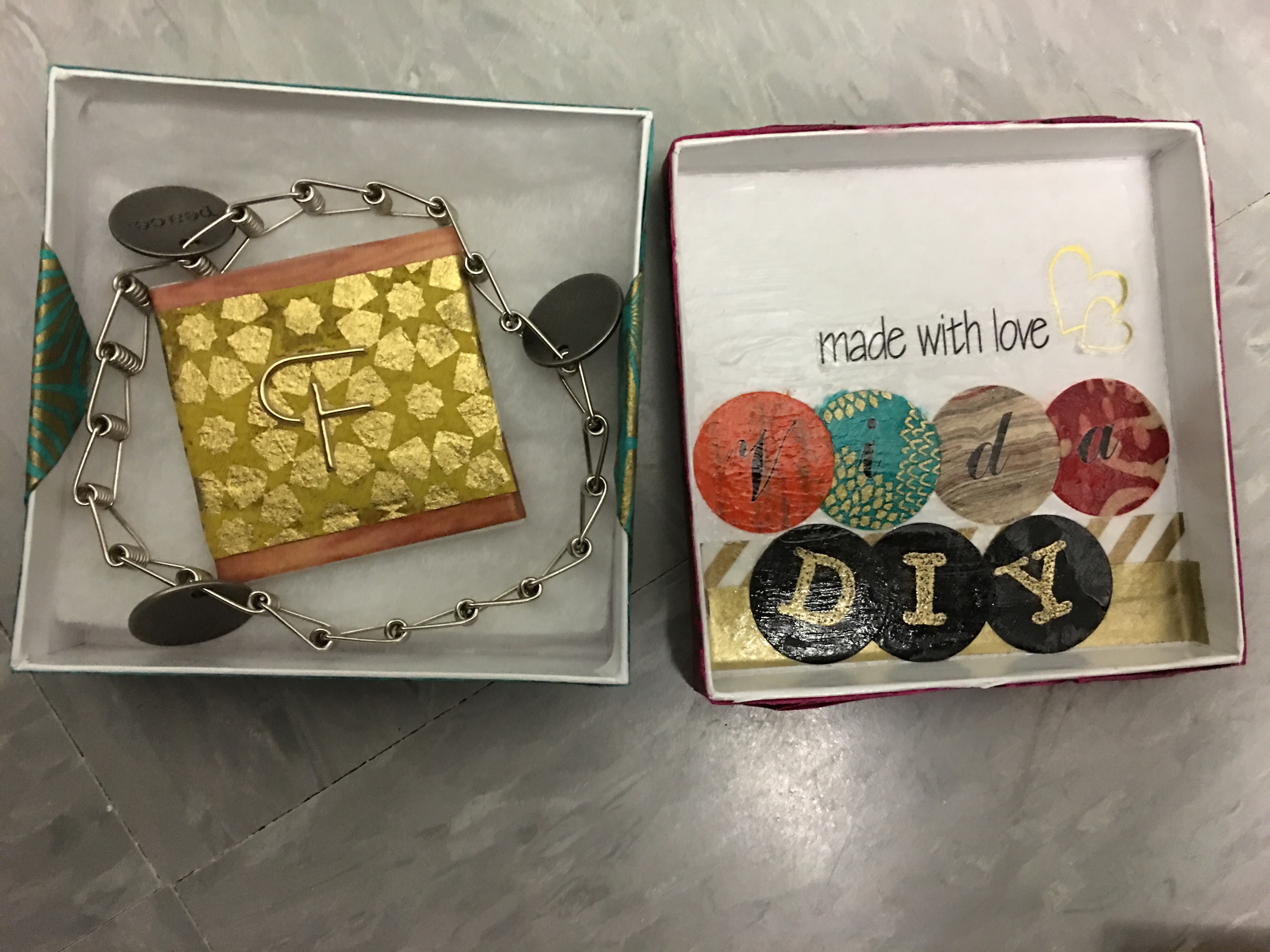 I added one of my 2×2 decorated monogrammed canvas squares. With a hot glue gun, I added magnets to the back so that Flurrie can stick it on her fridge (or on any metal surface).
I added another decorated circle tag with a black glitter F sticker to the box as well.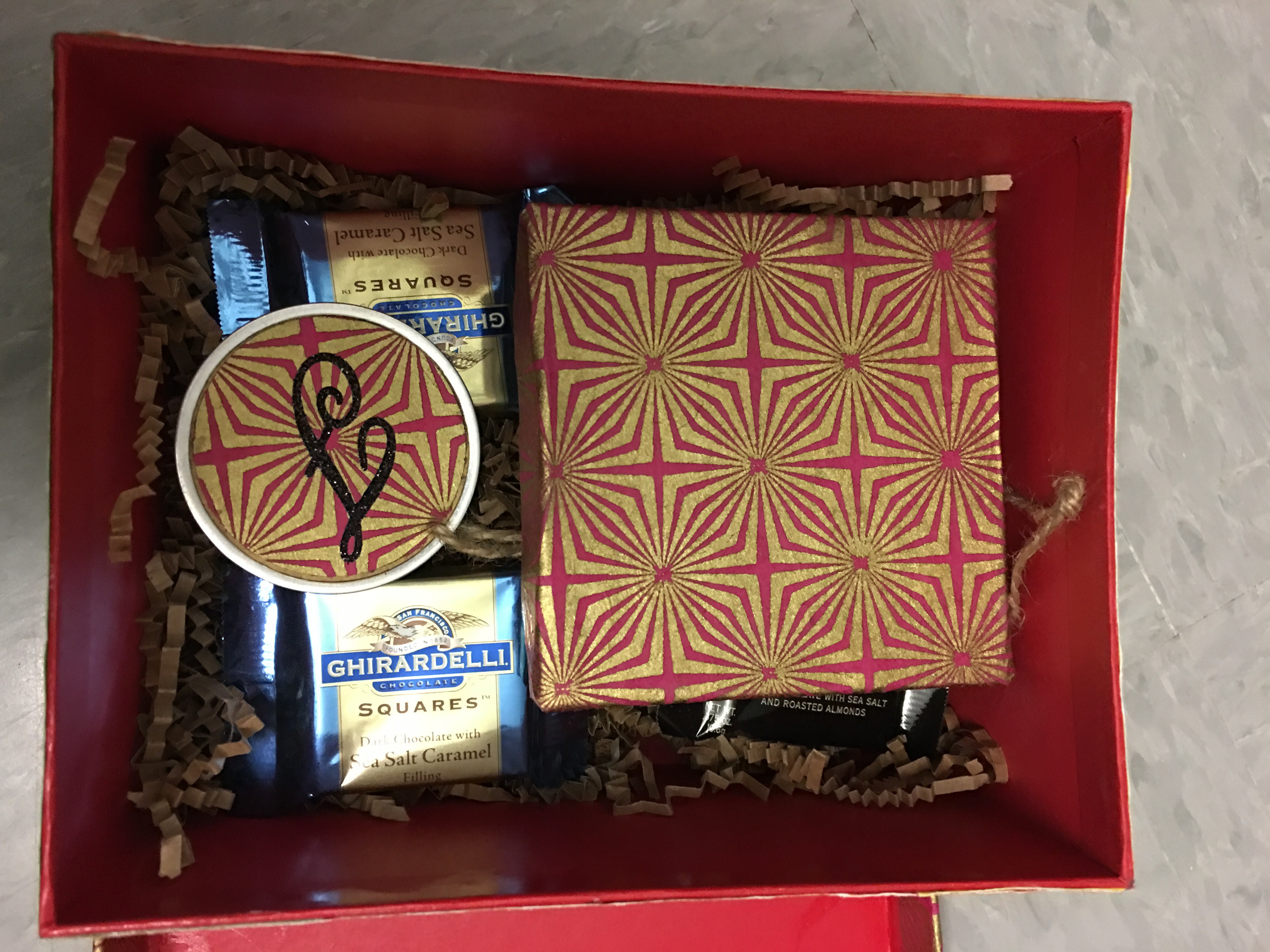 Of course, every birthday gift needs a card. And this one demands a Flurrie DIY design.
Using a brown craft paper card as my base, I cut a strip of red marbled paper and Mod Podged it to the front flap of the card (making it a banner).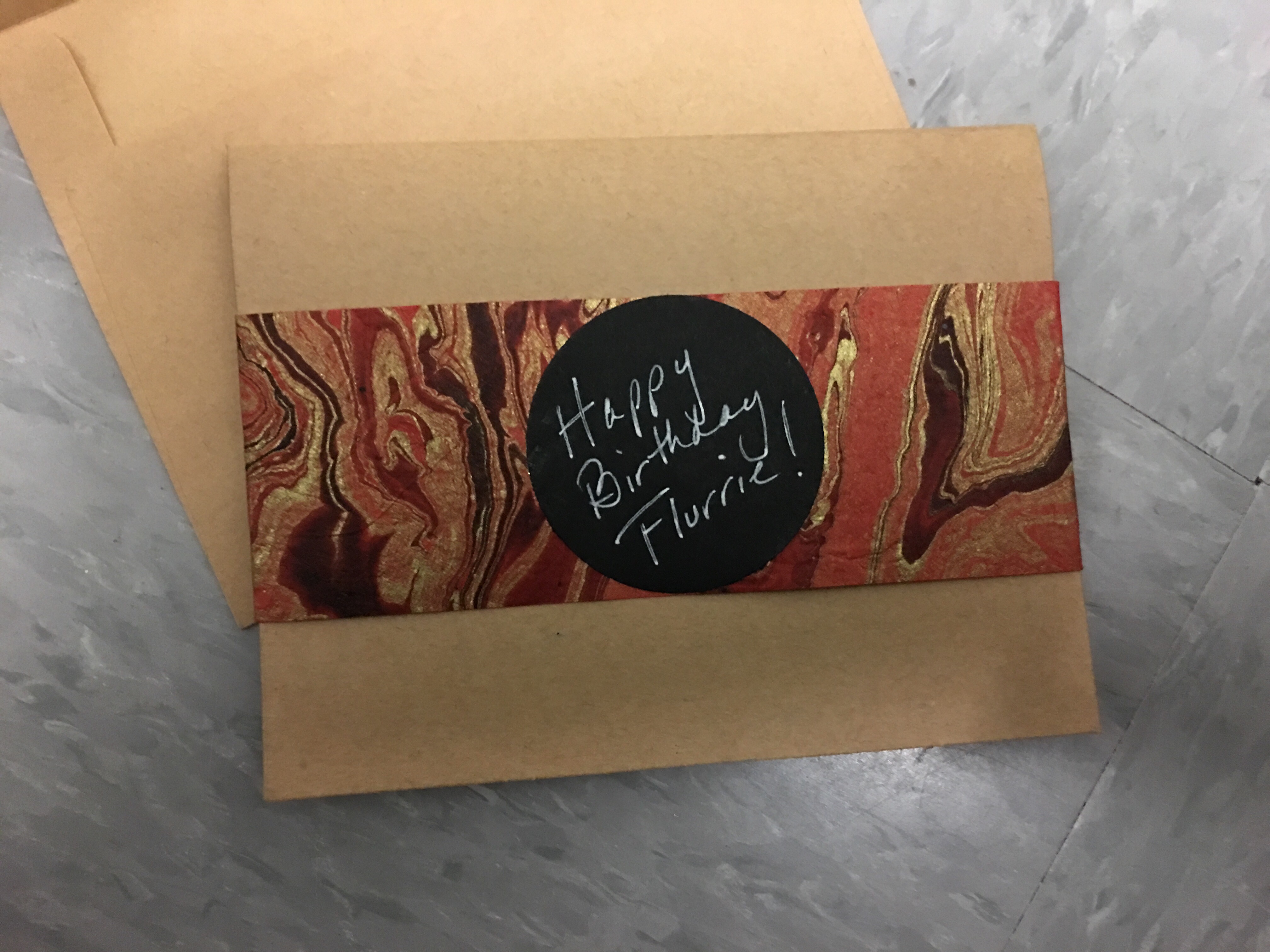 I added a black circle in the center and using a white gel pen, wrote "Happy Birthday Flurrie!"
On the inside of the card, I added red and black construction paper as inner lining using foam dot stickers. Then I penned my note with the white gel pen.

For the envelope, I labeled it with (you guessed it) a monogrammed circle tag and binder clip. The gold F sticker from Michaels.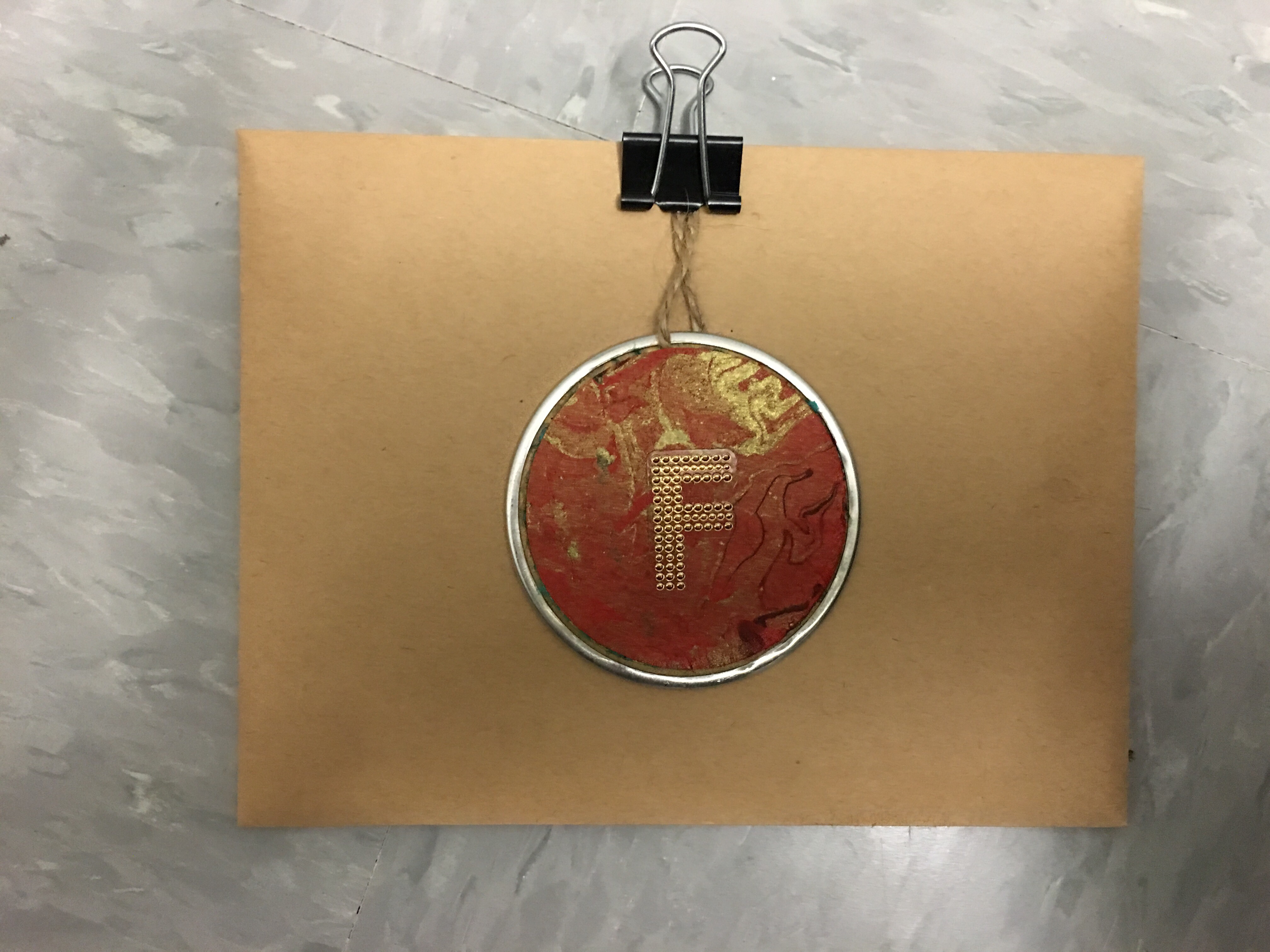 And for the back flap, my trademark office inventory circle sticker (inside joke between me and Flurrie). And a personalized scribbled note in white gel pen.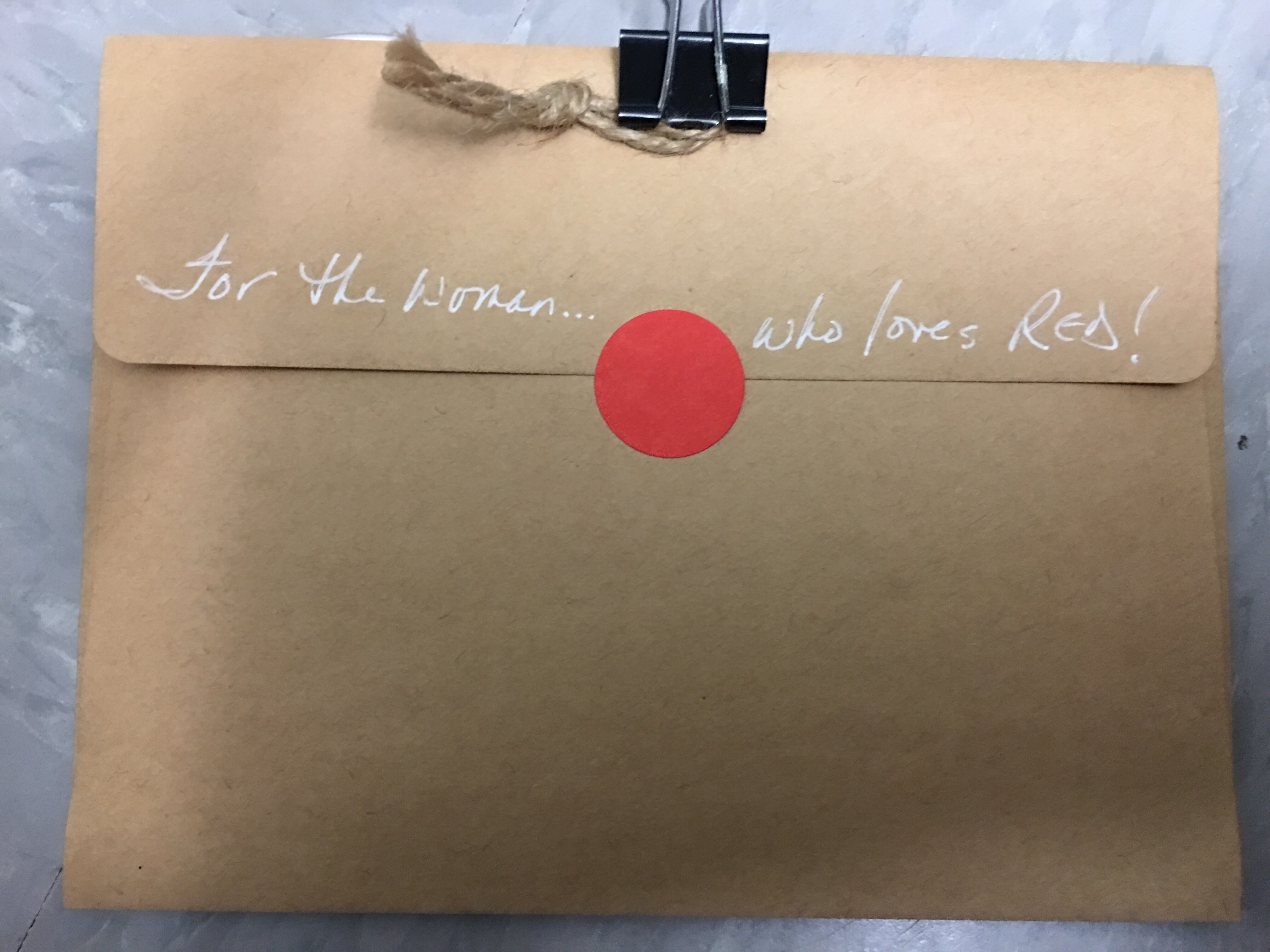 Chest puffed out, I was as proud as a peacock when I presented the box to Flurrie. Thinking it was yet another one of my quirky decorated box creations, she responded with a kindly, supportive "Oh, how nice." Then she opened the box, saw what was inside, and her expression changed to surprised, excited delight.
We had a big chuckle over that. 🙂 Needless to say she really likes her lovely little box (with the friendship bracelet and her racy red journal. V-