A Beautiful "Booze Box" for Marie
You may also like:
June 5, 2015: OK, before I launch into this post, let me just say that me, my family and my friends are NOT a bunch of winos. We enjoy our libations on strictly social occasions, OK? And let me just say this as well…my mother and her friends tend to be WAY more social than me! 😉
So imagine my laughter when after sending my mom Xenia a picture of my modest "$60 box of wine and hard cider, that she responded with a picture of her girlfriend's (Marie) superior booze box collection.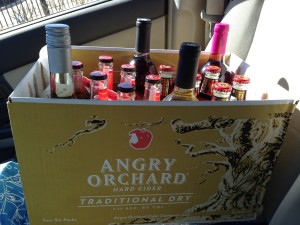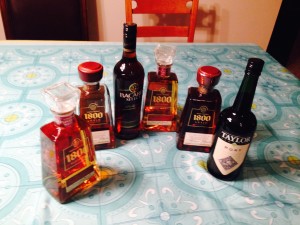 Marie is one of my most favorite people. She's amazing. She funny and smart. Worldly and wise. She's at the top of her career at New York City's Department of Human Resources Administration while being an incredible mother, sister and friend to everyone around her. She's a fantastic party hostess (so incredibly welcoming and gracious with sharing her home, her family and friends), and the ultimate city tour guide (whether it be Manhattan, Brooklyn, Las Vegas, Mexico, Barbados…). She's a church-going woman who's very active with her congregation. She the social outing organizer for her legions of friends and admirers (and is happy to take her awesome party-planning skills on the road, be it organized group tours, Mediterranean cruises, trips to Cabo, Florida…you name it!).
She knows all the best restaurants (and will take you there and treat you). All the best bars (will give you VIP treatment there as well). How to best stock your bar (see above). How to be fashionable (with attire, not time) for all occasions. How to embrace all those around her (many times, exercising extreme patience). How to be loving and caring. And how to be a loyal and supportive friend.
Her family loves her. Her friends adore and worship her. Her colleagues love working with her. Yeah, how can I stand her? I should hate this woman. But I don't. I absolutely love her to! She is the ultimate BFF for my mother Xenia.
While observing these two together (enjoying the closeness they share…just like two sisters who've been together for a lifetime), Marie has endeared herself to me. One of the many "Marie moments" that I love the most is when she agreed to emcee our Aunt Stacey's memorial service in July 2014. And, as expected, she did a wonderful job and was a warm, classy and elegant host, spokeswoman and friend for everyone at the event. Thank you Marie.
OK, what about the box?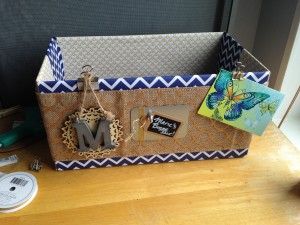 So, typical of Marie, she planned a fun group outing for the DC Jazz Festival in June 2015, and took care of all of the details (including driving my mother down so that she can hang out with me for the weekend, and arranging for our tickets!). So I wanted to thank her for all she is and all she does. I decided to treat her to a VidaDIY Booze Box!
The first step was a trip to the liquor store and collect all the items featured in her booze collection picture. I was planning to recycle the box given to me by the store to carry my bottles out, but I had a mishap with the box and the rum (hit the pavement while pulling the box out of the car, so there went both). So I used one of my Amazon shipment boxes that I happened to have lying around the condo.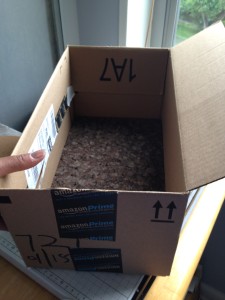 I lined the bottom of the box with cork and decorated it with a strip of washi tape. I then used Mod Podge to seal the cork and make it liquid-proof.
So here comes the fun part – decorating the box! I'm big on box decorating (my favorite way to recycle shipping and product boxes). Time to transform this Amazon box into a beautiful, crafty container with an elegant flair (to complement the gift recipient).
Apply Mod Podge to one side of the box using a sponge brush.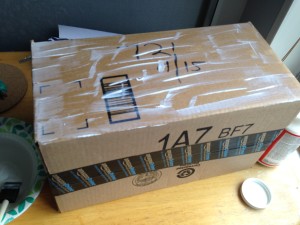 Affix a cut piece of paper, measured for the side of the box. For Marie's box, I lined it up at the bottom and folded it to over the rim to cover the box flap.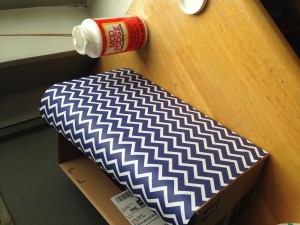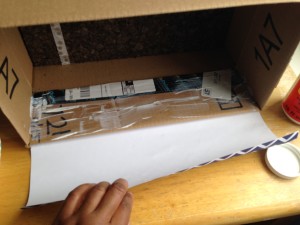 Repeat on other side of the box. For Marie's box, I used a different, but complementary paper color and pattern.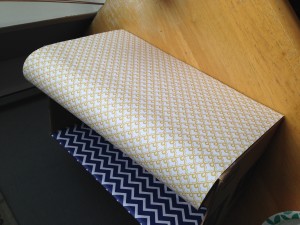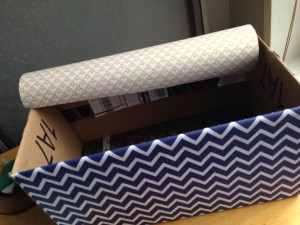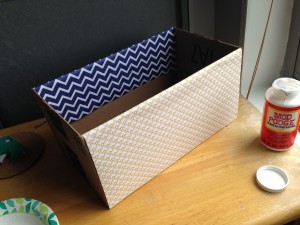 I then took each paper pattern and measured and cut them into strips so that they can decorate the shorter sides of the box side-by-side. Using Mod Podge, I decorated the box with the strips of paper.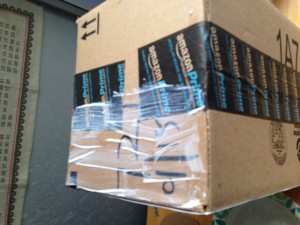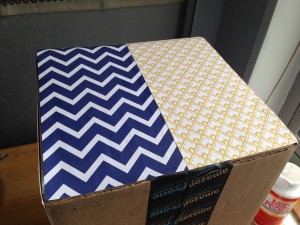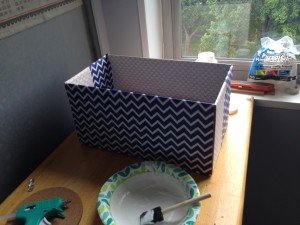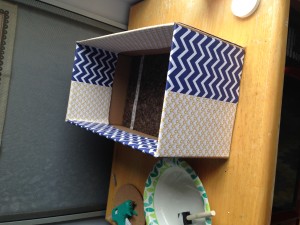 Once the box decoupaging was complete, I took a decorated burlap strip that I picked up from Michaels and wrapped the box with it using a hot glue gun.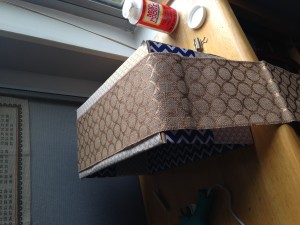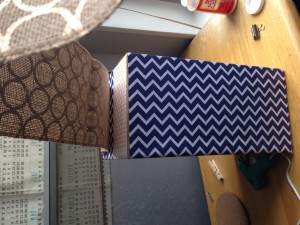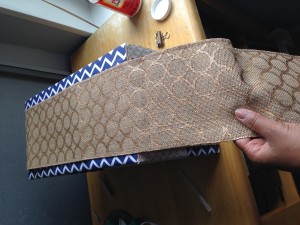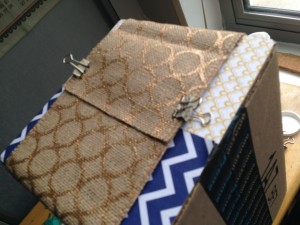 I then took a metal plate (left over from my Mighty Magnets package), decorated it with washi tape, and hot glued it to the front of the box.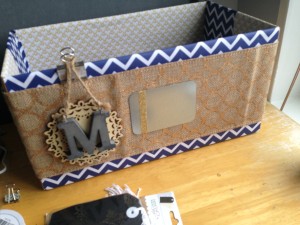 I used a magnet "push pin" to attach a "Marie's Booze Box" chalk label gift tag to the plate, and then binder-clipped a DIY "M" monogrammed ornament on the left and a butterfly thank you card on the right.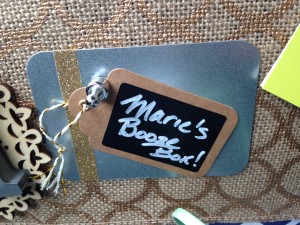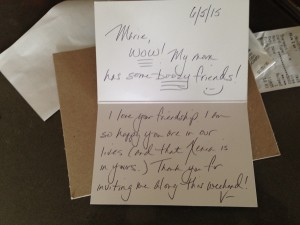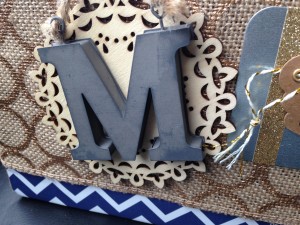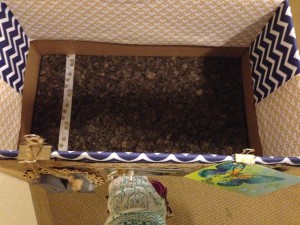 And not to brag, but I did this all in less than an hour. I was highly motivated to get this one done, since I only had time to do up the box and fill it before booking it to the car and driving up to Columbia to meet Xenia and Marie.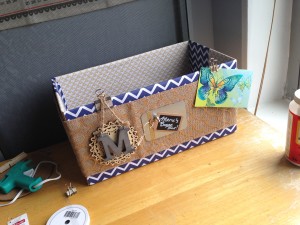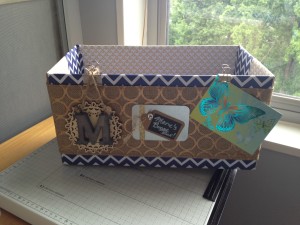 So what did Marie think of her booze box?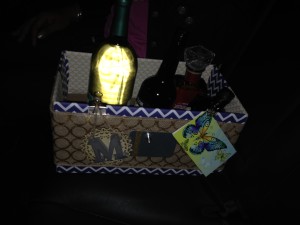 She absolutely loves it and uses it in her Brooklyn home on a frequent (social!) basis! 😉 V-
You may also like: