Hi! I'm Davida. Welcome to my first VidaDIY site – Condocrafting.com!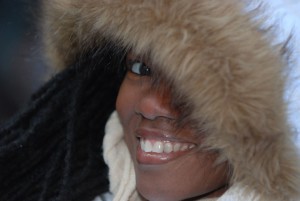 Here is where I'm making and building beautiful things in a condo space. Our condo in Bethesda, Maryland has become my ultimate VidaDIY canvas and workshop!
Follow me on my journey of creative discovery as I engage in my passion for artistic crafts, upcycling and space makeover DIY. I will also post tips and tricks I've come across (or have learned by trial and error) to add personal, creative touches to your home and office (and to get the most out of your space, no matter how big or small).
I love to share project ideas and solutions, so stick around and see what I'm working on!
Projects range from small tiny sparks (hand-crafted cards and magnetic picture displays) to big undertakings (75 foot floating shelf, anyone? Or a wood console table made by V?). Anything goes! If it fits in the condo and makes me smile, I'm all in!
Here's the story behind how I got started with my passion for "Condo Crafting". V-