You may also like:
March 8, 2015: While my mom, Xenia was visiting, I figured it would be fun to present her with a special memory box that contains pictures and invitation cards from her 60 Birthday party celebration.
The tin box is from The Body Shop. It contained a bath moisturizer kit I bought that weekend. I clean out the contents of the box, replaced it with Xenia memorabilia, and decorated the cover.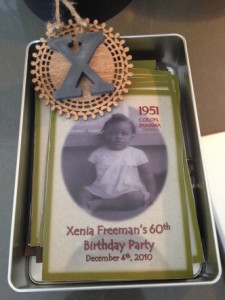 I used Mod Podge to apply a strip of decorative paper to the lid as a banner. I then used a hot glue gun to add a Make Market X tin monogram to a wood ornament (also from Michaels and stained with Early American wood stain).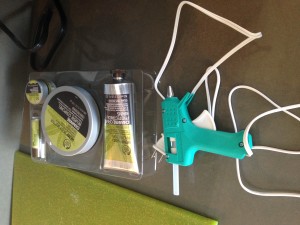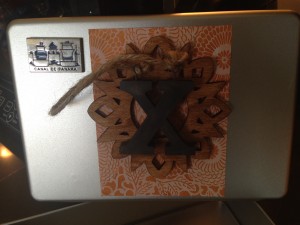 I then placed a Canal of Panama magnet on the lid (Panama is Xenia's birth country). I love that the metal box allows me to add a magnet as a fun touch.
I added another X monogram ornament to the box. She can hang this anywhere as a cute decoration. It looks especially nice on my fridge (using a magnet as a hook). V-