Condo Crafting in Brooklyn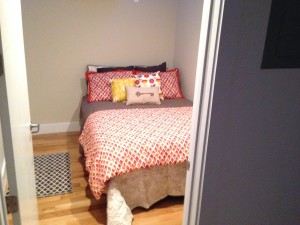 Thanksgiving 2014: As a condo housewarming gift for my brother Mal, I wanted to spruce up his bare guest room with some new bedding and pillows. I figured it would add some color to the space and would make it warm and inviting for anyone who stays in the room (Mal's friends, his kids, and, of course, me ;). I've been all about bed makeovers for the past two months, and up until then I only had my bed at home to dress up. So I was excited for the chance to do another room up.
So my mom, Xenia and I went on a shopping spree at Bed, Bath and Beyond and the Target in Brooklyn. Didn't quite find what I wanted for bedding at the triple B, but I picked up a few cute things, including this lovely "Do more of what makes you happy" wire sign.
We hit pay dirt at Target. I truly wish I remembered what this comforter collection set is called but it was perfect for his space. Not too feminine. Not too masculine. It turned out to be just right.
Along with the bedding, I of course invested in a few pillows. As we all know, it's really those pillows that truly make the bed. Two standard full/queen pillows for the shams. And three colorful accent pillows.
I also added a small accent rug from Target (these are great…I got another one of these in red from my bathroom space several months later). And a wall sign to add a homey touch.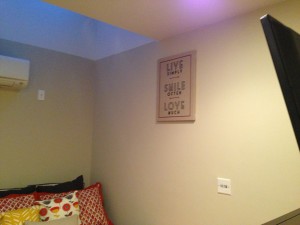 My nephew JD helped me dress up the room and he was so excited. He said, "Wow, Auntie V…this looks nice!". His and his father's favorite thing in the room was the wall sign.
Not to be left out, Xenia got an accent pillow for her already fabulous living room space.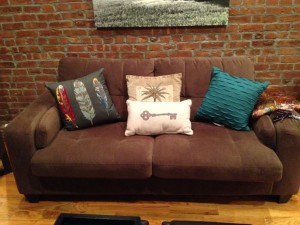 I'm hoping, with her permission, I'll get to showcase her showplace of an urban space in an upcoming condocrafting.com post.