Balcony love: The power of peppermint oil
July 15, 2016: I am so thoroughly enjoying spending time on the balcony. My new DIY bench corner cafe, my Envirotile floor covering, and especially my blooms (both hanging and free-standing), makes my balcony a beautiful haven for us.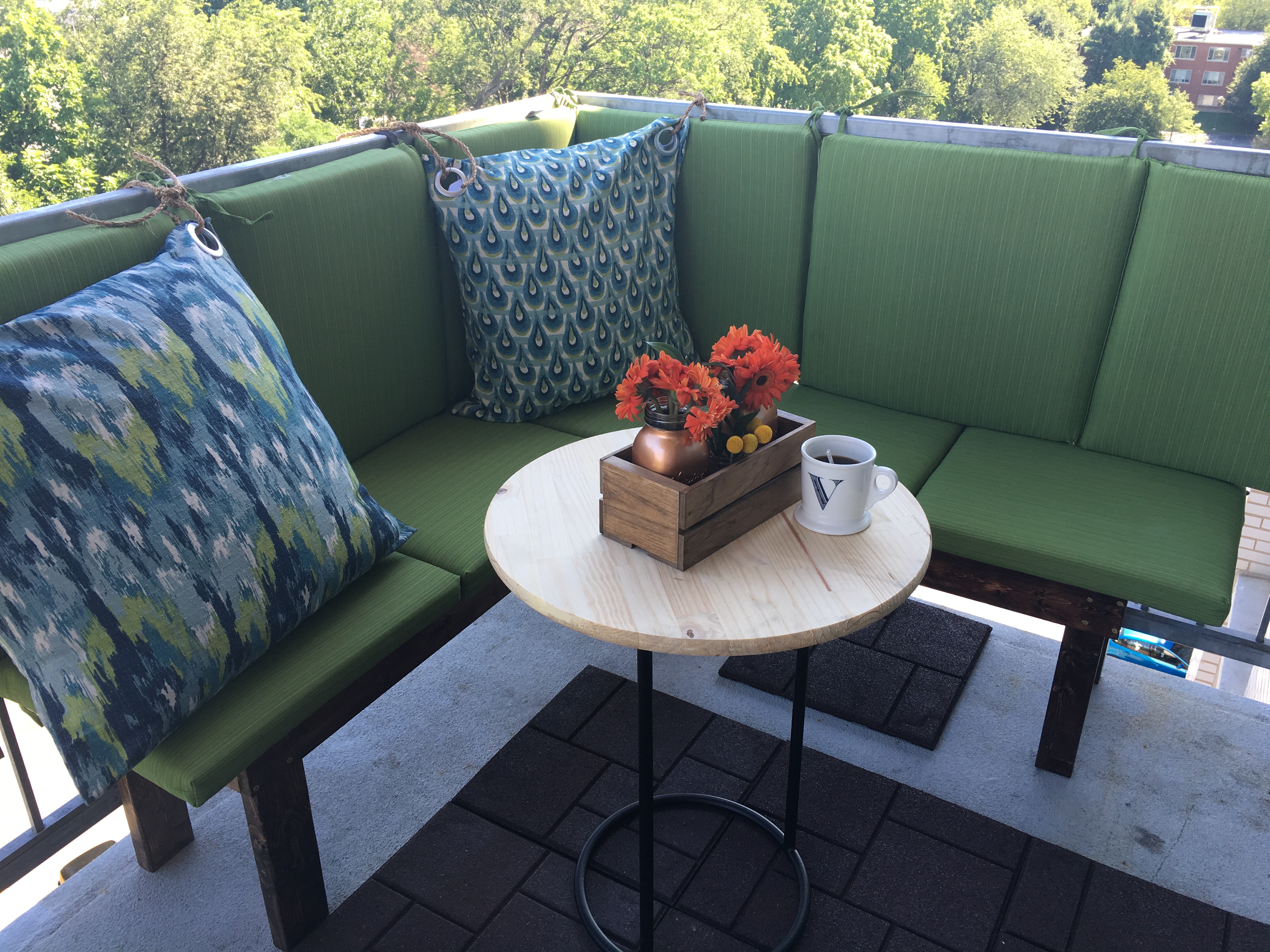 A living space where we can enjoy the outdoors (and the fantastic view above the NIH (National Institute of Health) campus. To take in the fresh air. Watch the sunset. Relax with a cup of coffee in the morning or a beer and cocktail in the evening. Listen to the birds. And watch our plants, herbs and flowers thrive under the sun.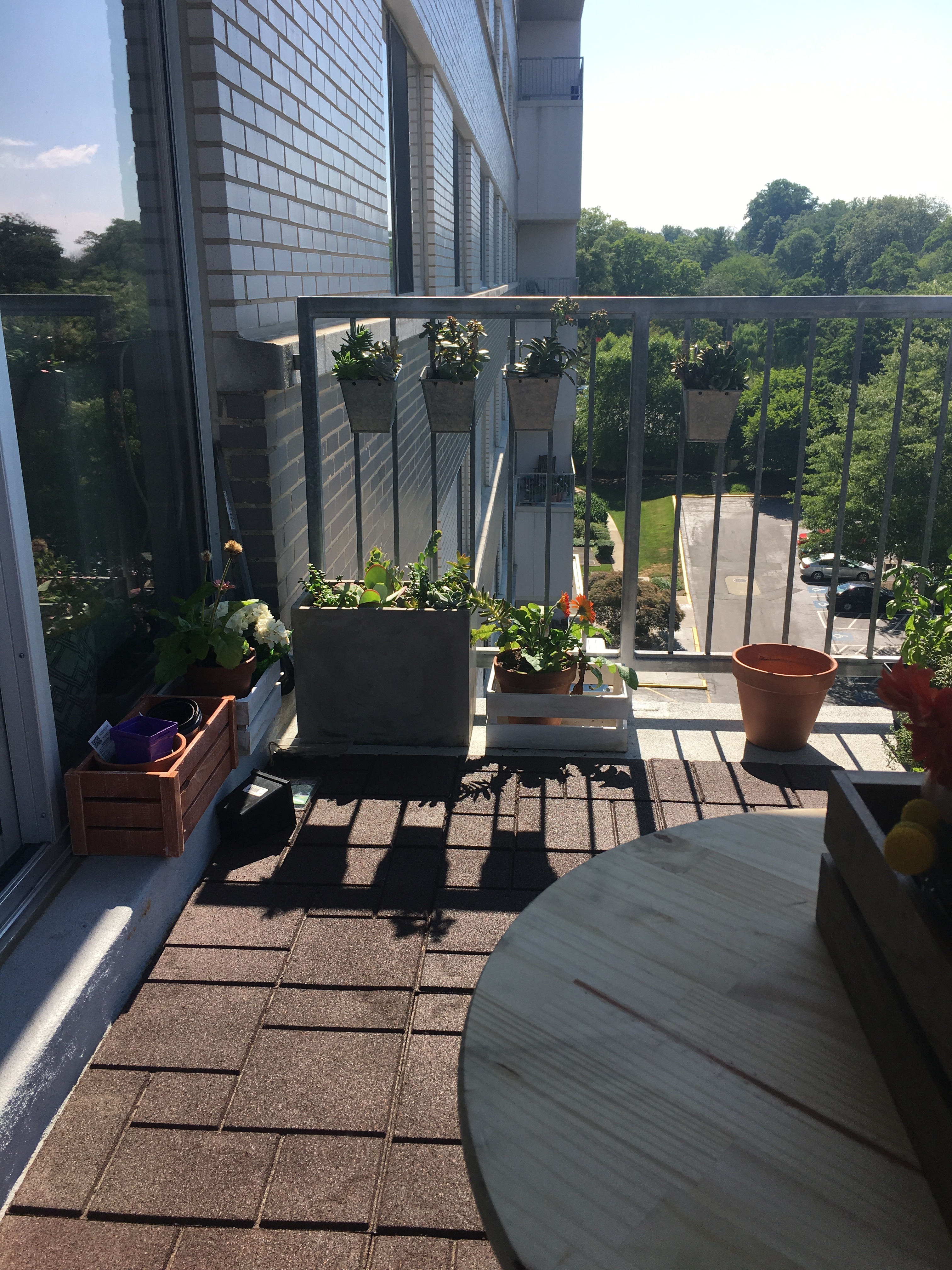 Sigh…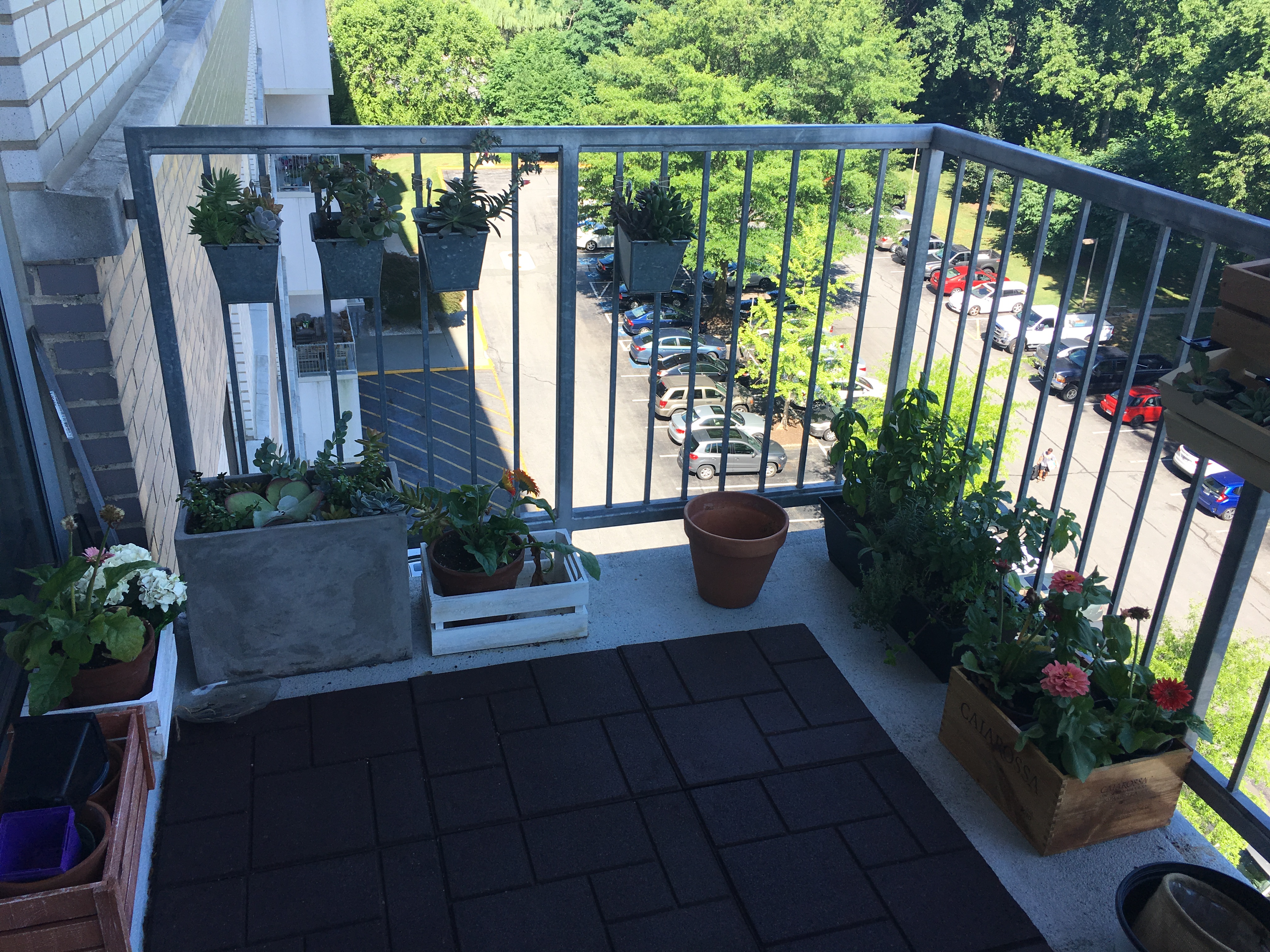 Why haven't we spent this time on the balcony before?
Two reasons: The wind. And the wasps.
I tackled the wind obstacle by securely hanging my planters and tying down my flyaway items (pillows) to the railing. And I added very heavy recycled rubber pavers to the balcony floor, along with weighted down free-standing pots, crates and planters.
But what about dealing with wasps (and bees and other flying pests)? Well in past years flying insects was a huge deterrent from spending any time in the balcony. For years I would try to venture outside and sit on the sliding door ledge to enjoy some fresh air (no furniture then, so I used this tiny little balcony stoop as my perch). However, two minutes later, wasps would come swooping in and hover ominously over the railing or door. Sending the message that the balcony is their territory. No condo-dwellers allowed.
The wasps (and the bees) came like clockwork. I could set my watch by their arrival. It's like they had radar.
There is absolutely no way for me to enjoy the balcony while worrying about wasps coming for a visit each and every time I would step out the door.
So as I planned projects for the balcony, I researched how to deter wasps and bees from flying over the space. The options I came across through my research include:
Making a DIY wasp catcher
Hanging a fake wasp next
Using peppermint oil as a deterrent
Peppermint oil?!!! Apparently wasps and bees cannot take the scent. Once they come anywhere near it, they immediately fly away.
Oookay. That blows me away.
So, of course, I had to give this a try. I LOVE the smell of peppermint. And I love the idea of deterring flying pests using a natural oil with a pleasant scent without killing or catching. No guilt about committing premeditated insecticide. And no carcasses to collect and dispose of. It's a win, win.
I ordered a bottle of Sun Essentials Peppermint Oil off Amazon in late May. I used the plastic dropper included with the order to sprinkle oil on the top of the balcony railing. I did not bother to dilute with water and add to a spray bottle – I meant business!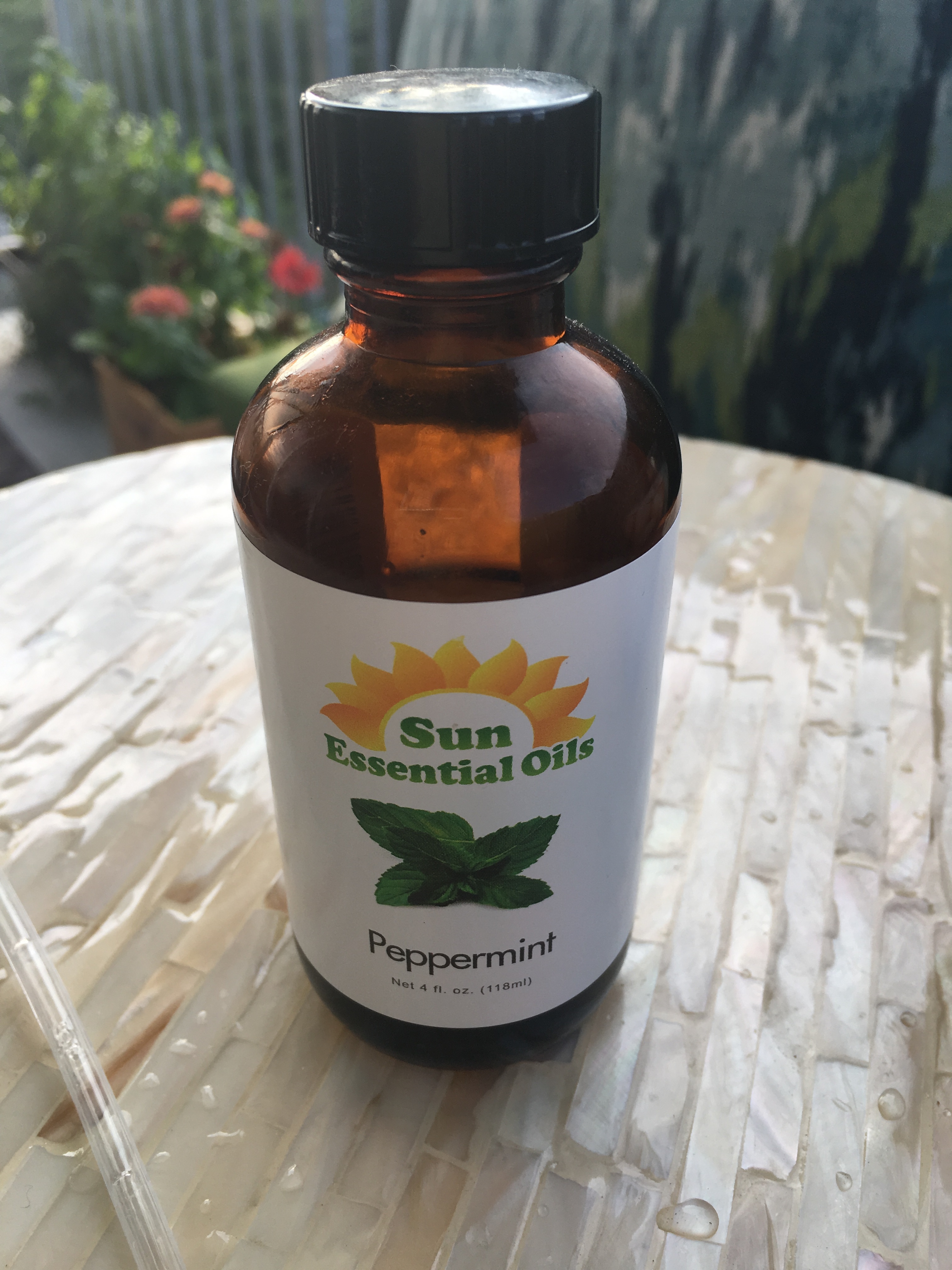 Yeah, the railing was a bit sticky for a while, but Bruce and I didn't mind this at all. Why?
Because to our amazement, the peppermint oil totally works! No wasps. No bees. Even with all of the plants and flowers out on the balcony.
We are truly enjoying a flying pest free existence on our balcony.
Two months later, I'm still amazed. I know they're out there. I've seen the wasps and bees on the ground. But here I sit on my balcony corner benches and watch pests fly towards, and then immediately away from the balcony railing. The peppermint oil turns the railing into an effective "no fly zone" barrier – it's like an electric fence.
At first I would nervously move towards the door when I'd see a wasp coming. But after observing how they would ping pong around the railing and then fly away, I began to relax and watch their behavior in fascination.
I've observed huge bumble bees take flight and make a beeline for my sunflowers and daisies.
They would then reach the railing, get a whiff of the peppermint, and say "Never mind". And they would turn right around and fly away.
I grin as I watch. It's AMAZING!!!!
Sometimes I do find one or two outlying pests that make their way through the barrier and begin to sniff around the flowers and herbs on the balcony. I simply add a fresh layer of peppermint oil on the railing (and a few drops on the rubber tiles) and off they go.
And I go back to enjoying my sweet balcony haven with a sigh of satisfaction and relief.
I strongly encourage you to give peppermint oil a try on your balcony, patio and outdoor living and lounging spaces. You will thank me. This stuff totally works! V-