Decorated wood accessories gifts for family
You may also like:
May 22, 2016: May has become "DIY-gift making shall travel" month for me. A couple of weeks ago, I made and transported wood and pipe shelves for my mother Xenia. As excited as she was about that, she was even more excited about the flower bloom crates I made for Mother's Day as well.
Well, this past weekend, I'm back on the road for another family visit – this time for a wedding reception. And I'm getting to see family that I haven't touched base with in over two years. It got me thinking about my DIY and craft project-making and how I make a little something special for two of my favorite aunts – Cynthia and Betsy.
A decorated floating frame for Aunt Cynthia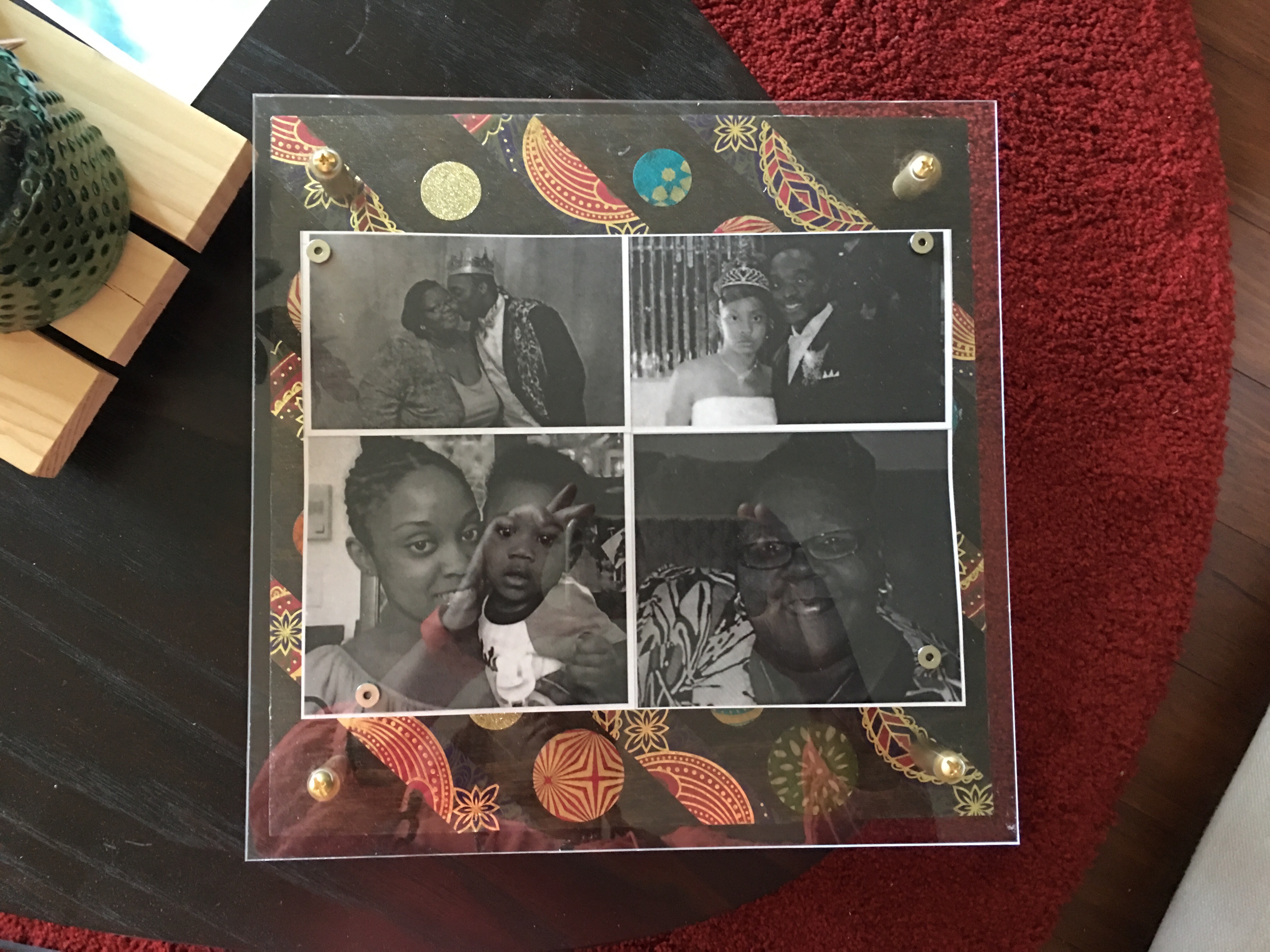 Aunt Cynthia actually lives in Coney Island, Brooklyn. So she didn't get to see me on this road trip. But she always expresses a very strong desire to see me more (and as often as possible). Aunt Cynthia has always been the social and spiritual center for our family, the Freeman clan. Cynthia my father's youngest sister and from when she was young she has taken charge of keeping the family connected through Sunday dinners, calls, greeting cards, reunion events, and plenty of prayer.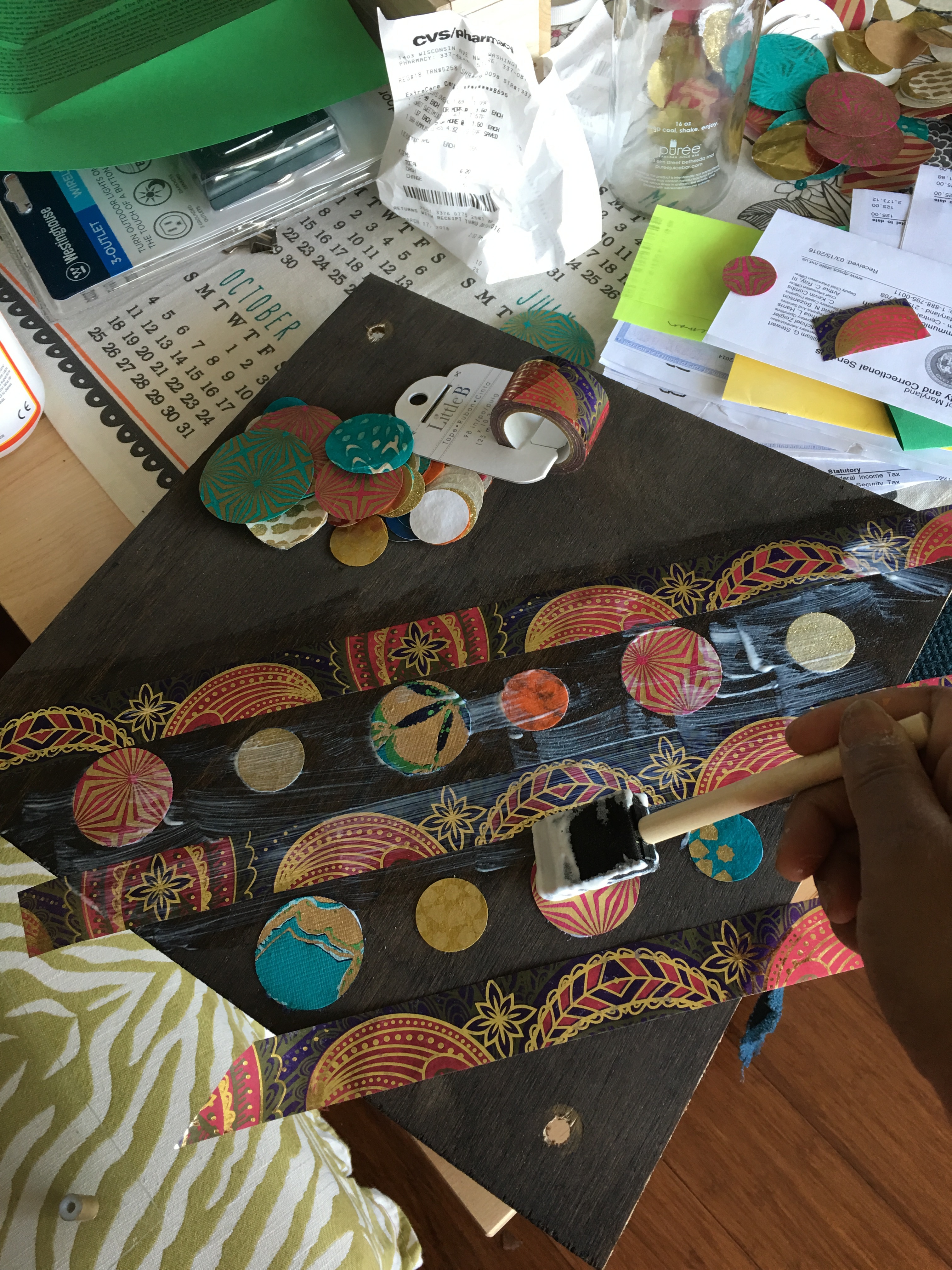 Another outlet that Aunt Cynthia has become a natural with is texting and social media. Yes, she has truly embraced modern technology when it comes to communicating and connecting with family (and although I work in the field of Information Technology, she is FAR better at this than I!).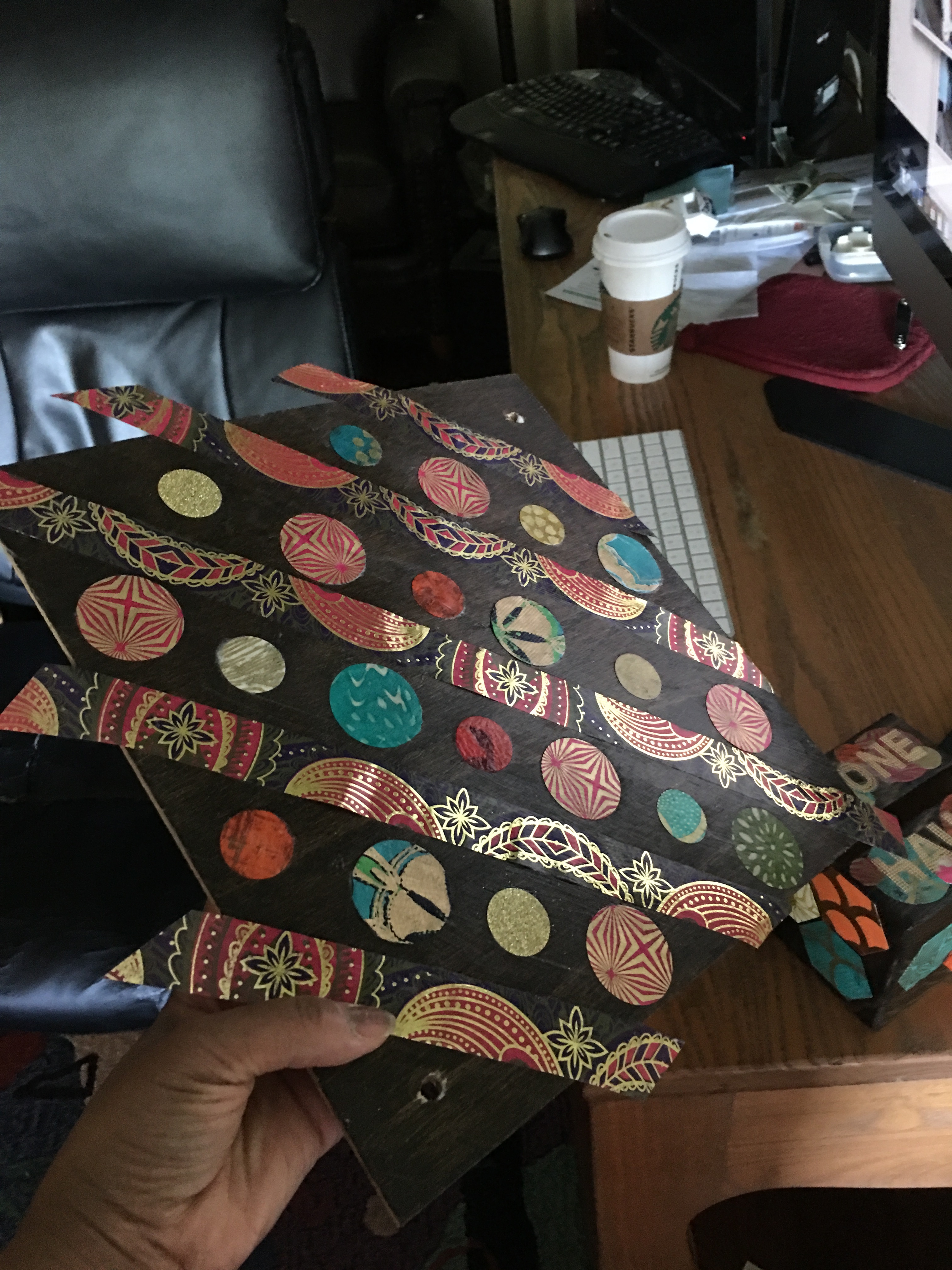 When I began sharing my VidaDIY projects online, Aunt Cynthia has been my biggest fan and most fervent supporter. Always the first to like, to pin and to comment on my posts with positive praise and loving support.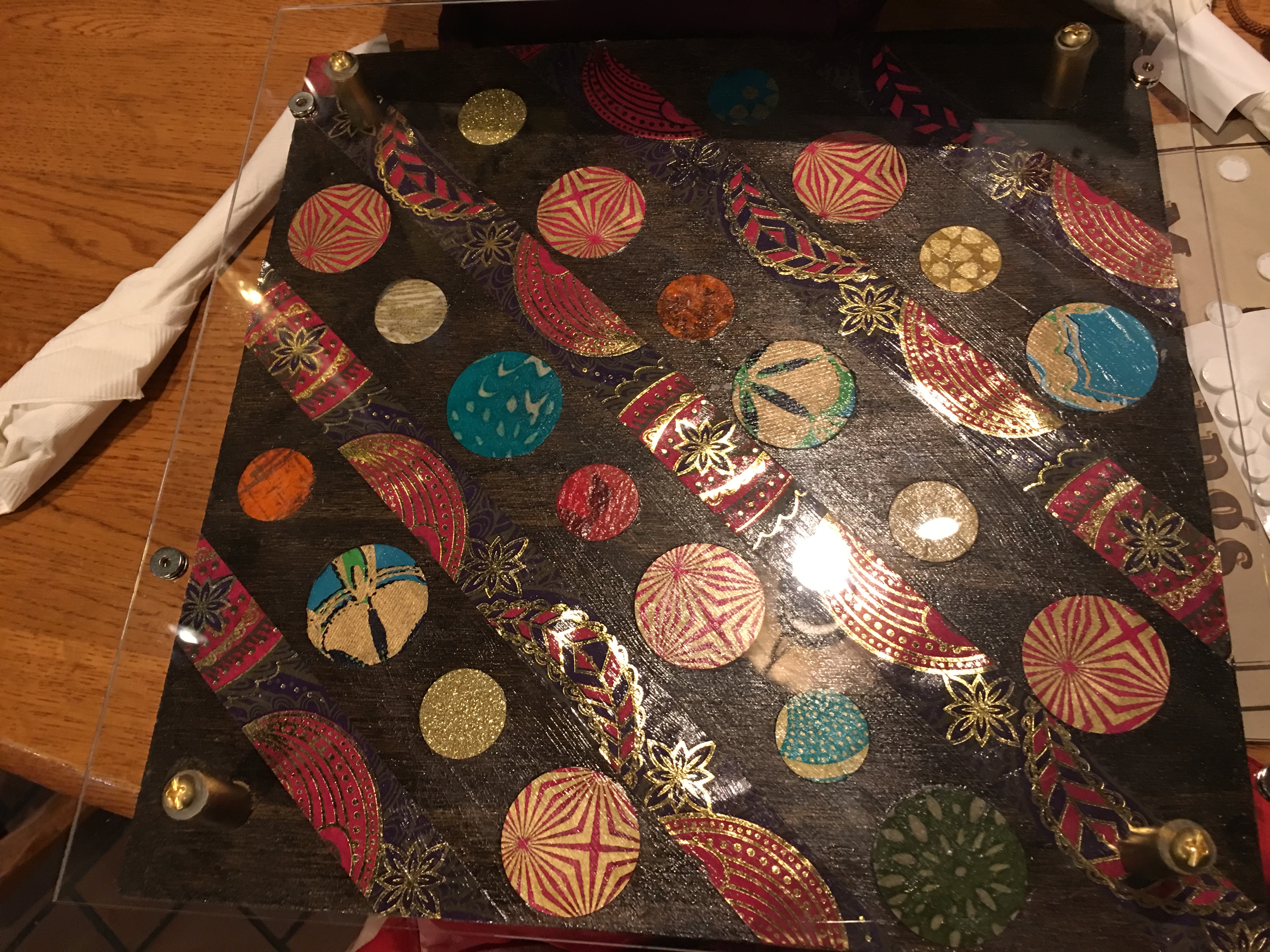 Although I won't be heading her way this trip, I wanted to make Aunt Cynthia a little something to show my love and appreciation for her and her wonderful loving and generous spirit. She commented of a decorated floating frame that I shared a couple of weeks back and I responded to her post with "I'll make you one!"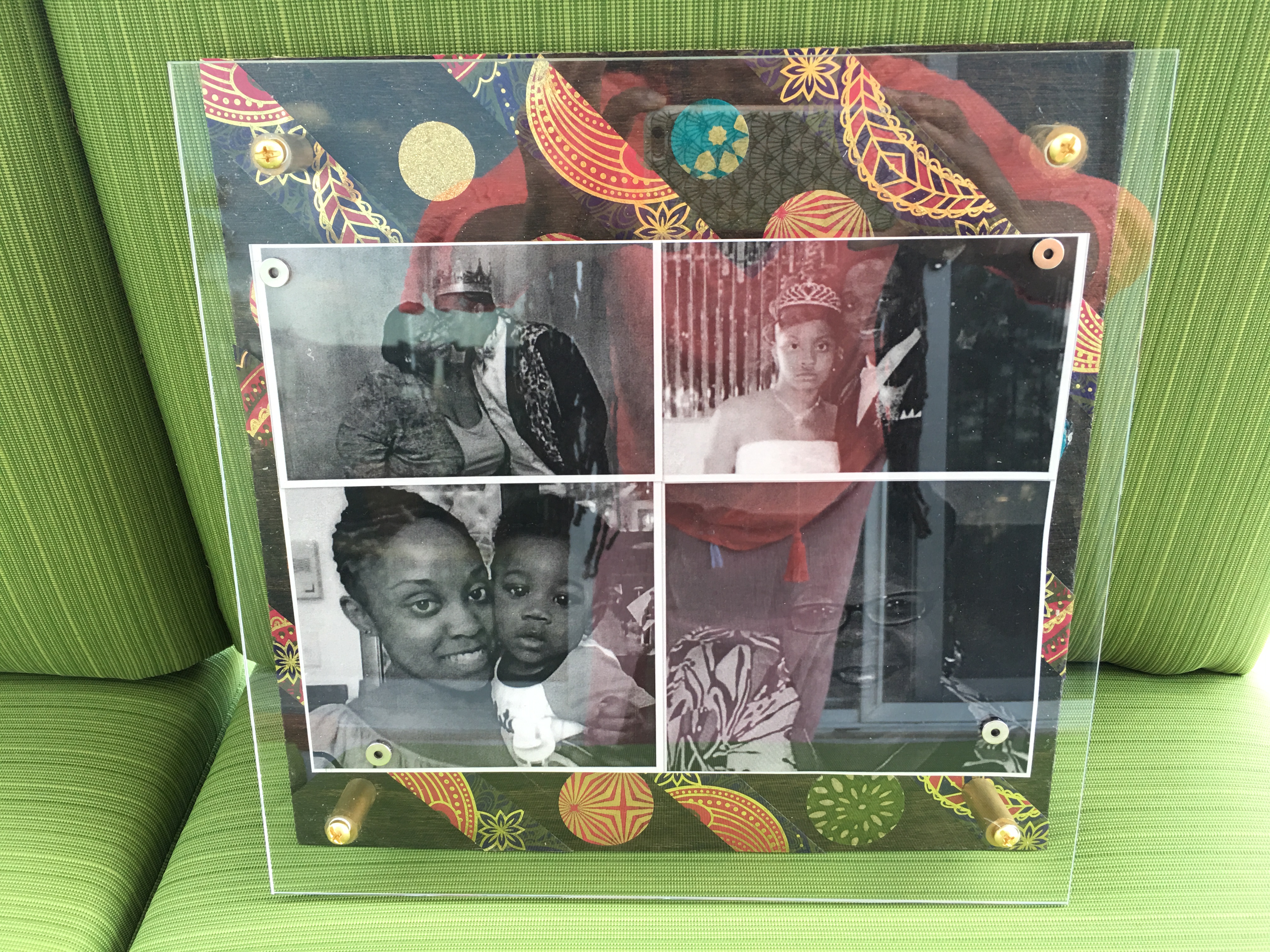 So my plan was to make her a frame on Friday before hitting the road South, bring it with me so that I can give to my brother Malik. And have him bring it back to Brooklyn and to my Aunt Cynthia.
So the floating frame is made in the same way as the frames I made for my kitchen. The two key differences are decorating the plywood panel for this project. I added strips Little B washi washi tape (doesn't it look great?!!!) and paper decorated circles. The other difference is the acrylic panel is bigger (the same size as the plywood background, 12×12.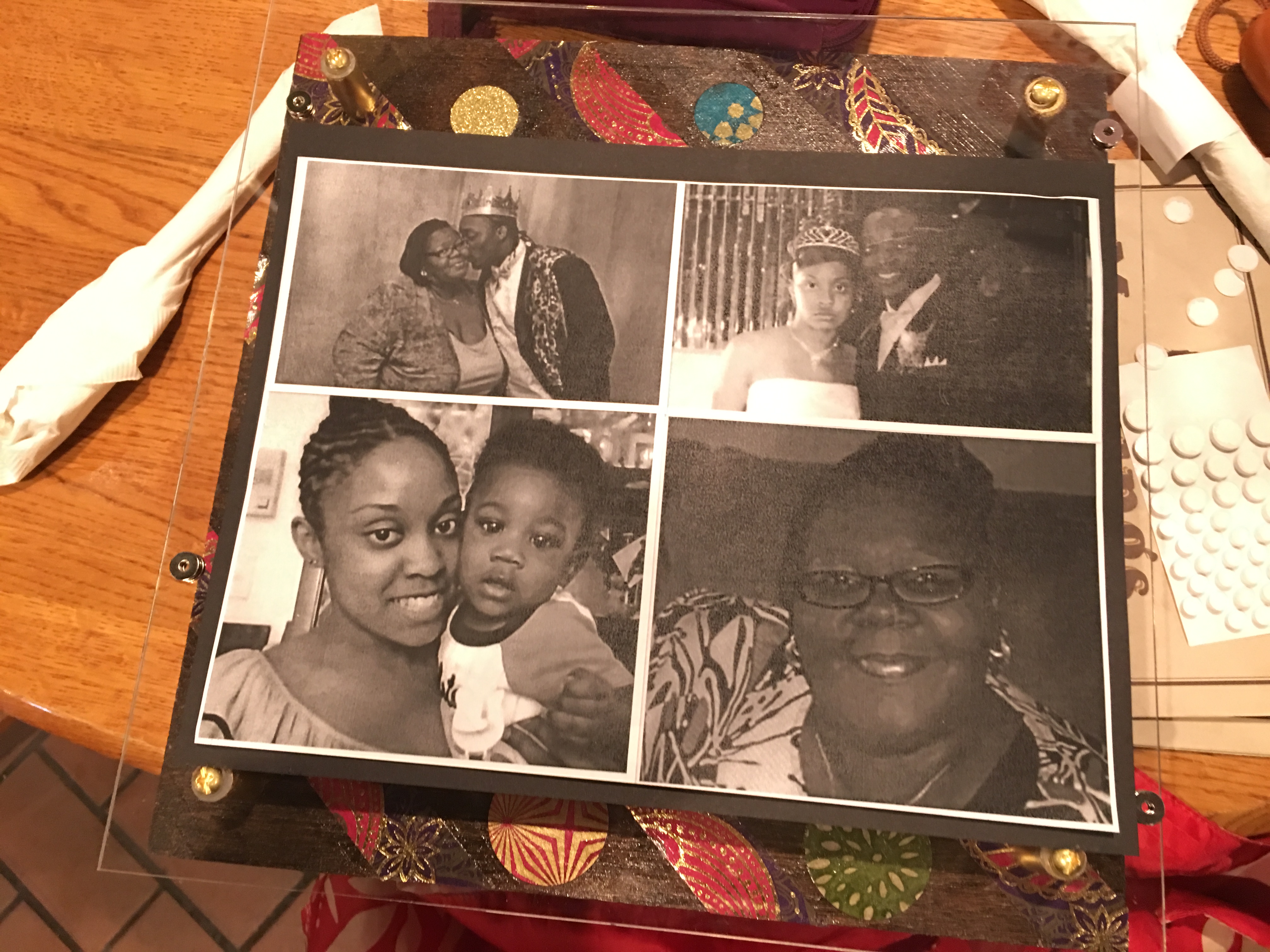 And here's one final look before handing it over to Mal for transport from Virginia Beach to Brooklyn. I used photocollage.com to showcase four of my favorite photos of Cynthia and her family (her two children, Howard and Kelsey and her grandbaby Kelso). I placed it on a black cardstock matte and used foam stickers to pull it together. And I used tiny magnets on both sides of the acrylic panel to position and hold the picture in place.
A "Betsy Bloom Box" for Aunt Betsy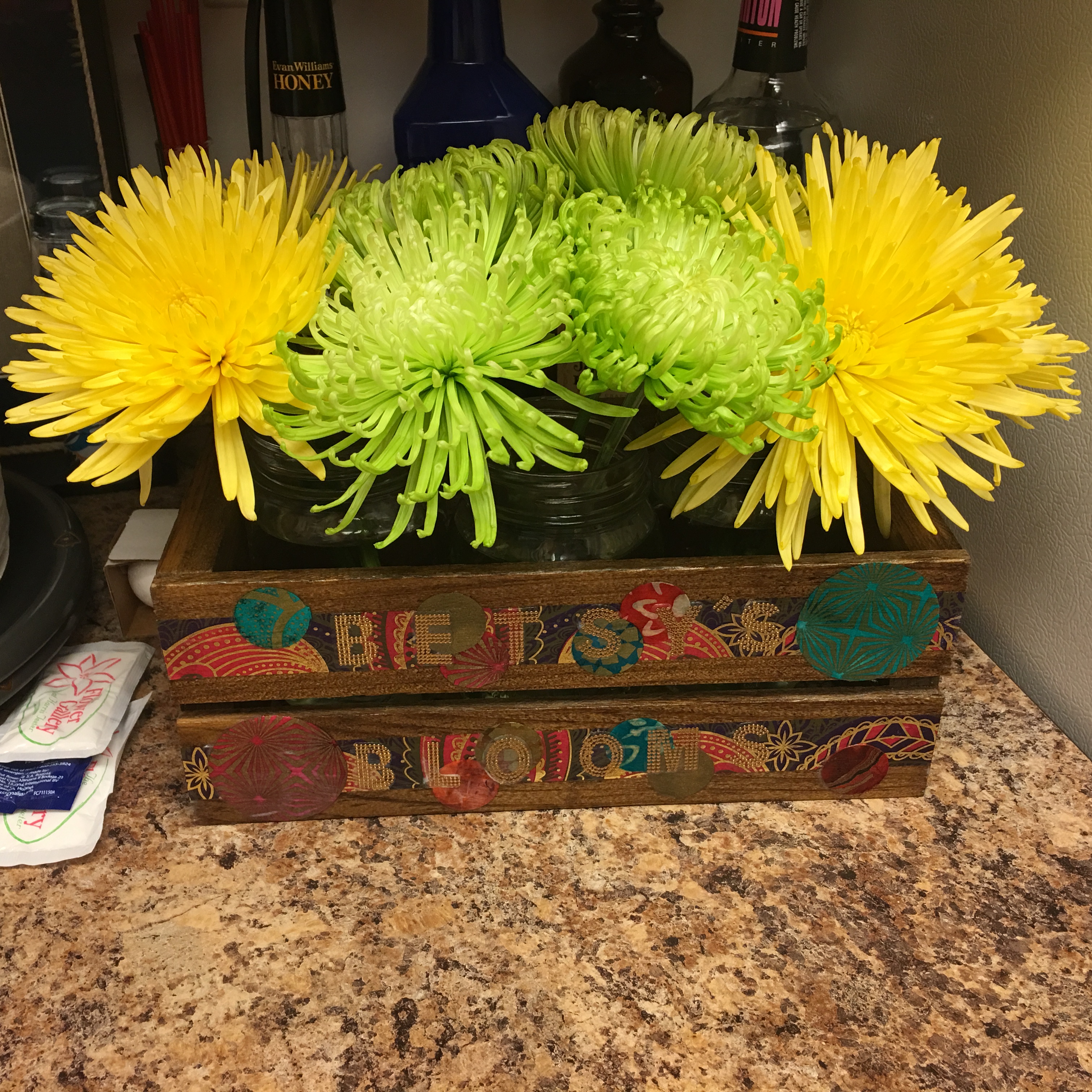 Aunt Betsy lives in Cheseapeake, VA with her husband, Leon. Although her sons are grown with families of their own, Betsy is surrounded by her kin. She's in a constant swirl of her sons (eight of them – six adopted), their wives or girlfriends, her grandbabies, and cousins, nieces, nephews and long-time friends who always comes to town for family gatherings and casual get-togethers.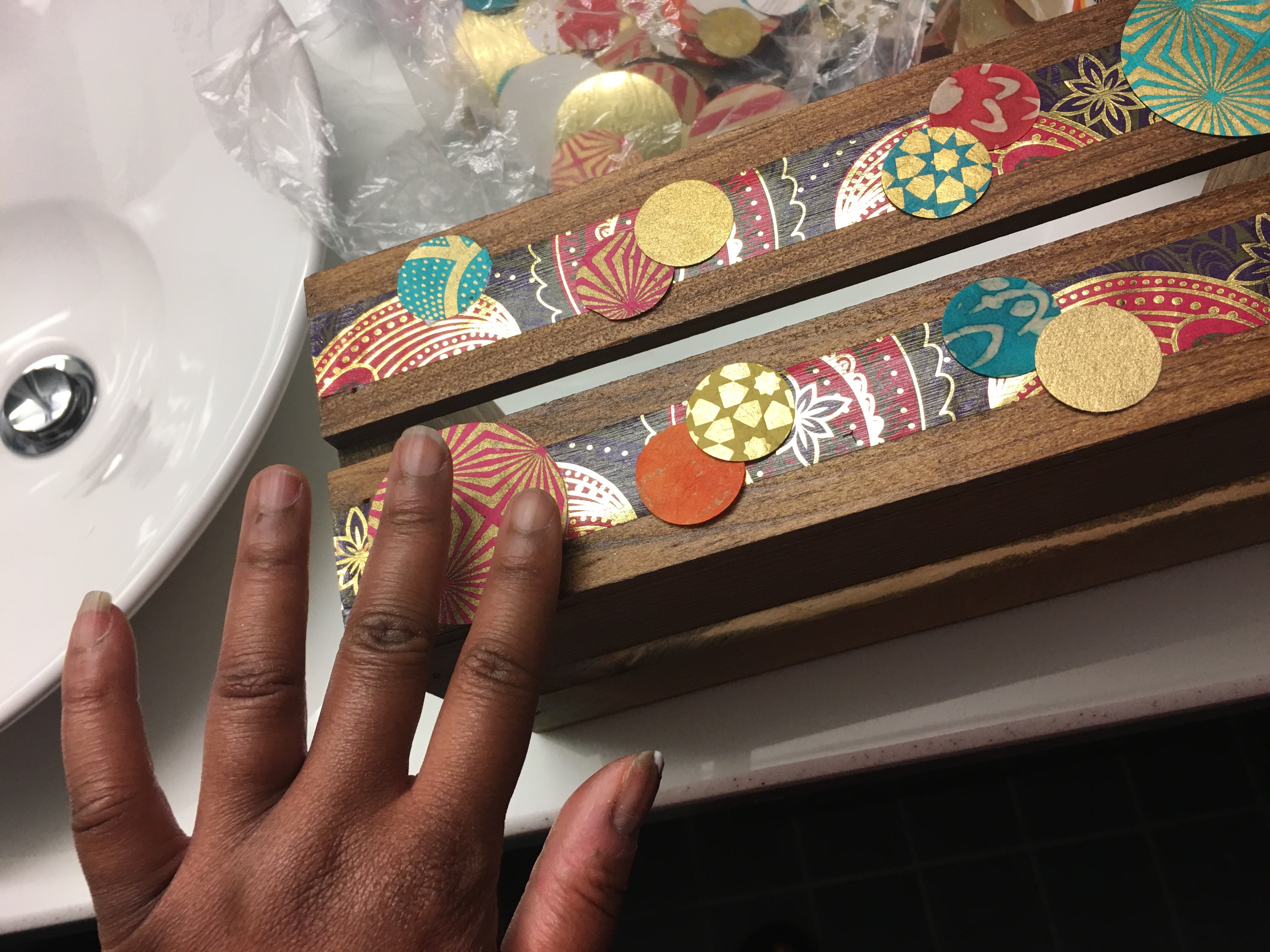 But the friend who have always been near and dear to her heart is my mother Xenia. Since they met over 35 year ago, Betsy and Xenia have been as close as sisters – and Betsy has embraced us all as part of her family. My Aunt Betsy always took pure delight in having us over at her place, watching us grow up alongside her sons, seeing everyone connect and gel into a strong extended family unit (which continues to grow and grow).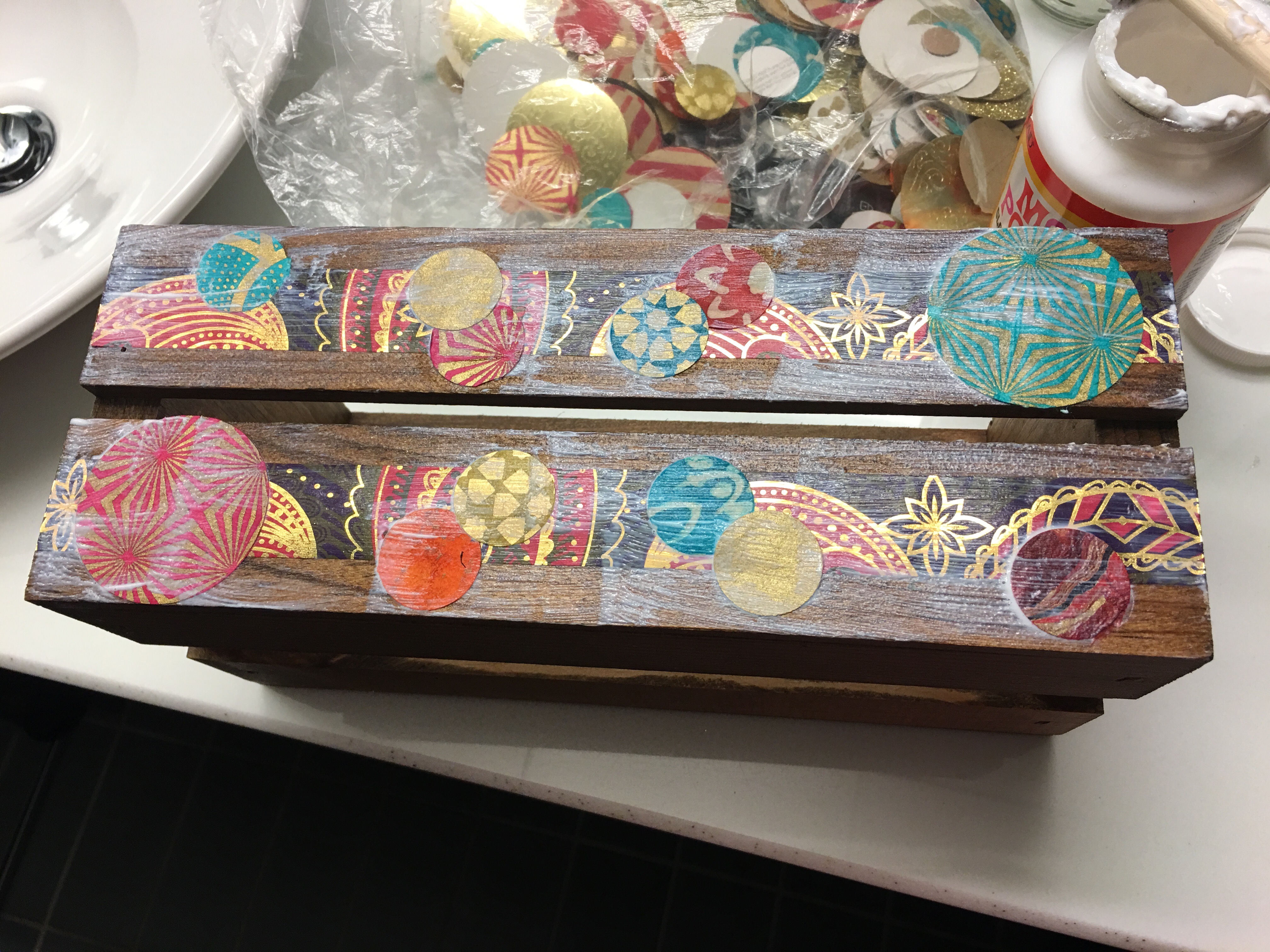 Doing a bloom box for Betsy was a natural project choice for this trip. It's two weeks after Mothers Day (and, like the flower boxes I made for Xenia, I had to do something similar for Betsy…as a mom, she's simply amazing). And Betsy has a huge heart and loves to plant beautiful, positive seeds in the world and watch them blossom.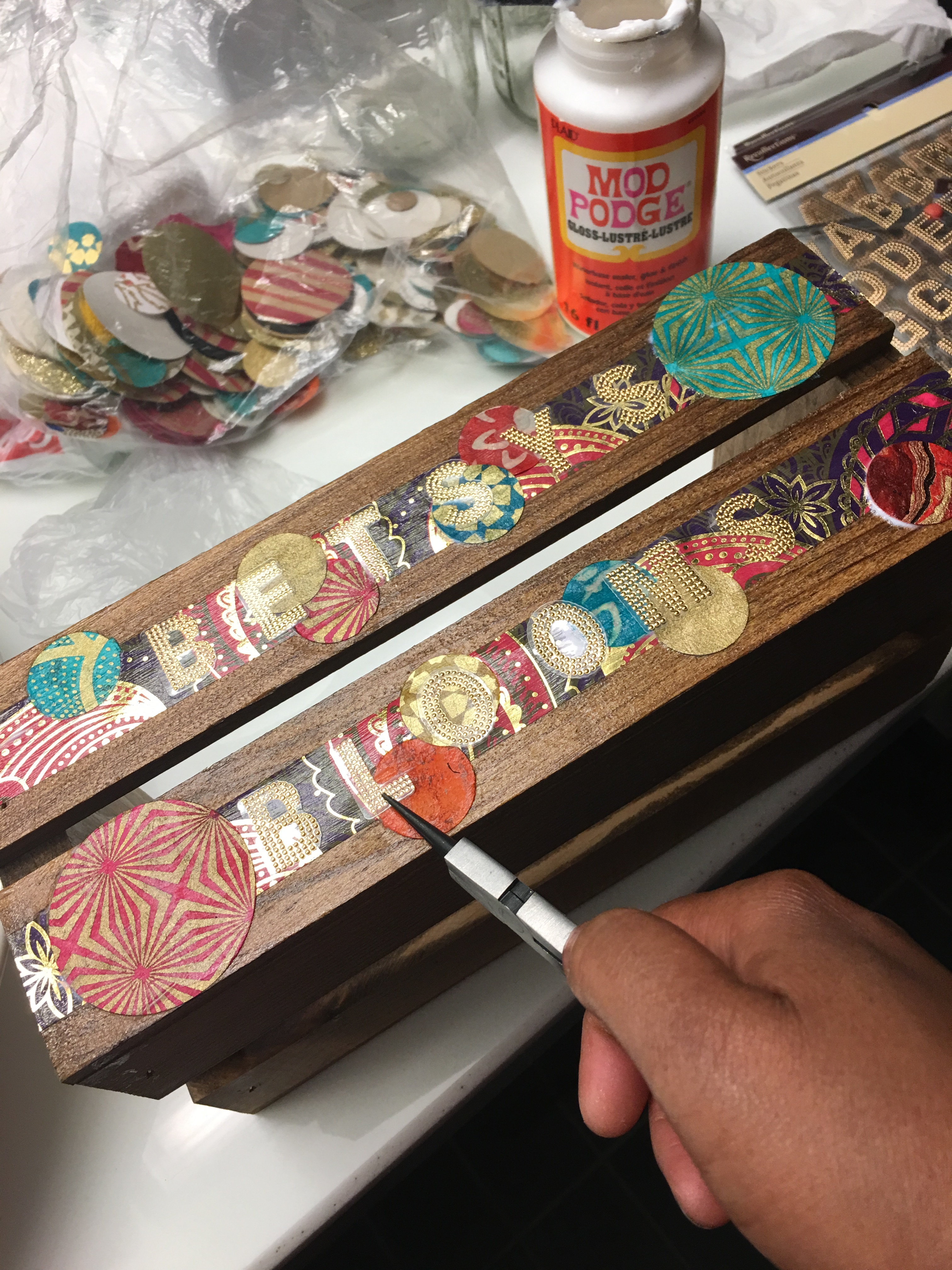 And therefore I naturally made a "Betsy's Blooms" wood crate and added mason jars of spray mums to give to this beautify lady.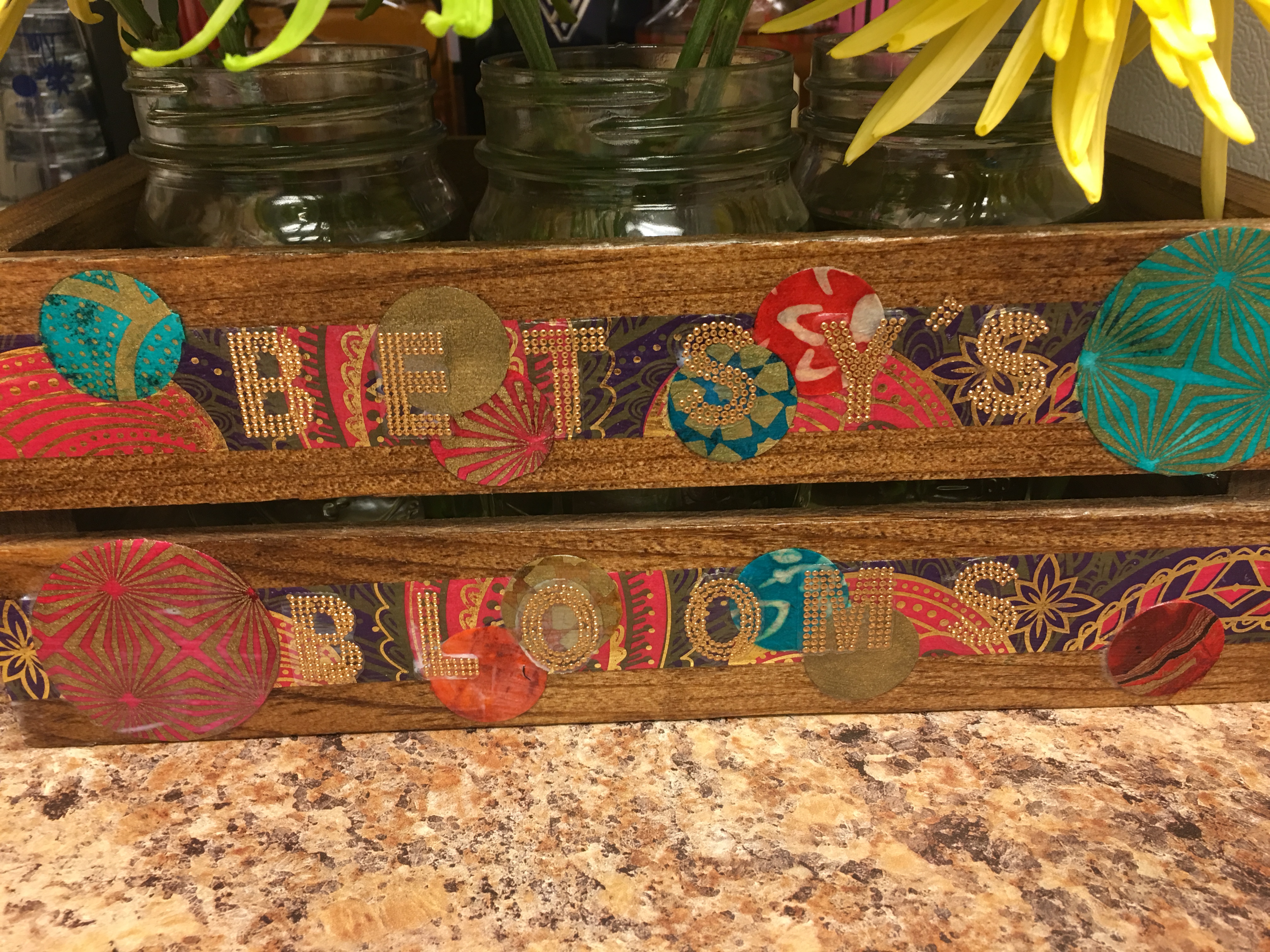 Betsy loves her box. She has it out on her balcony and plans to enjoy the fresh flowers I added to her jars. I finished the box in my hotel room Saturday morning and, after a quick trip to the floral department at Harris Teeters, finished it off with a flourish.
At some point, Betsy says she will find beautiful faux flowers to grace her bloom box. I think that would be perfect!
I love making these gifts. It's a nice way to show my appreciation to those I love and cherish. I look forward to many more DIY gift-giving (with wood, paper and Mod Podge in hand). V-