My Keurig vs. my French press
April 19, 2016: During my stay at the Blue Moon Rising (BMR) Resort in February, I got to experience what it's like to spend time in tiny houses. The resort has 14 tiny homes available that can be booked for overnight stays, weekend getaways, weddings and other special events, or for longer term stays. They are complete homes (with full kitchen, bathroom, twin and queen size sleeping nooks or lofts, front and or back porches, and an outdoor shower.
We stayed in two tiny cabins with BMR during our week-long Deep Creek, Maryland vacation in February – the Luna Bleu and the Bella Donna cabins. Each are fully equipped with everything you need in a cabin – pots, pans, towels, pot holders, glassware, dishes, dish soap, dish rack, hot plate, etc. – while staying true to the simplistic nature of tiny house living.
One bare necessity that I require for any stay is fresh coffee. And BMR provided exactly what I needed in the most simple, yet charming way.
An electric kettle. A French press. And coffee (pre-measured in a compostable pouch).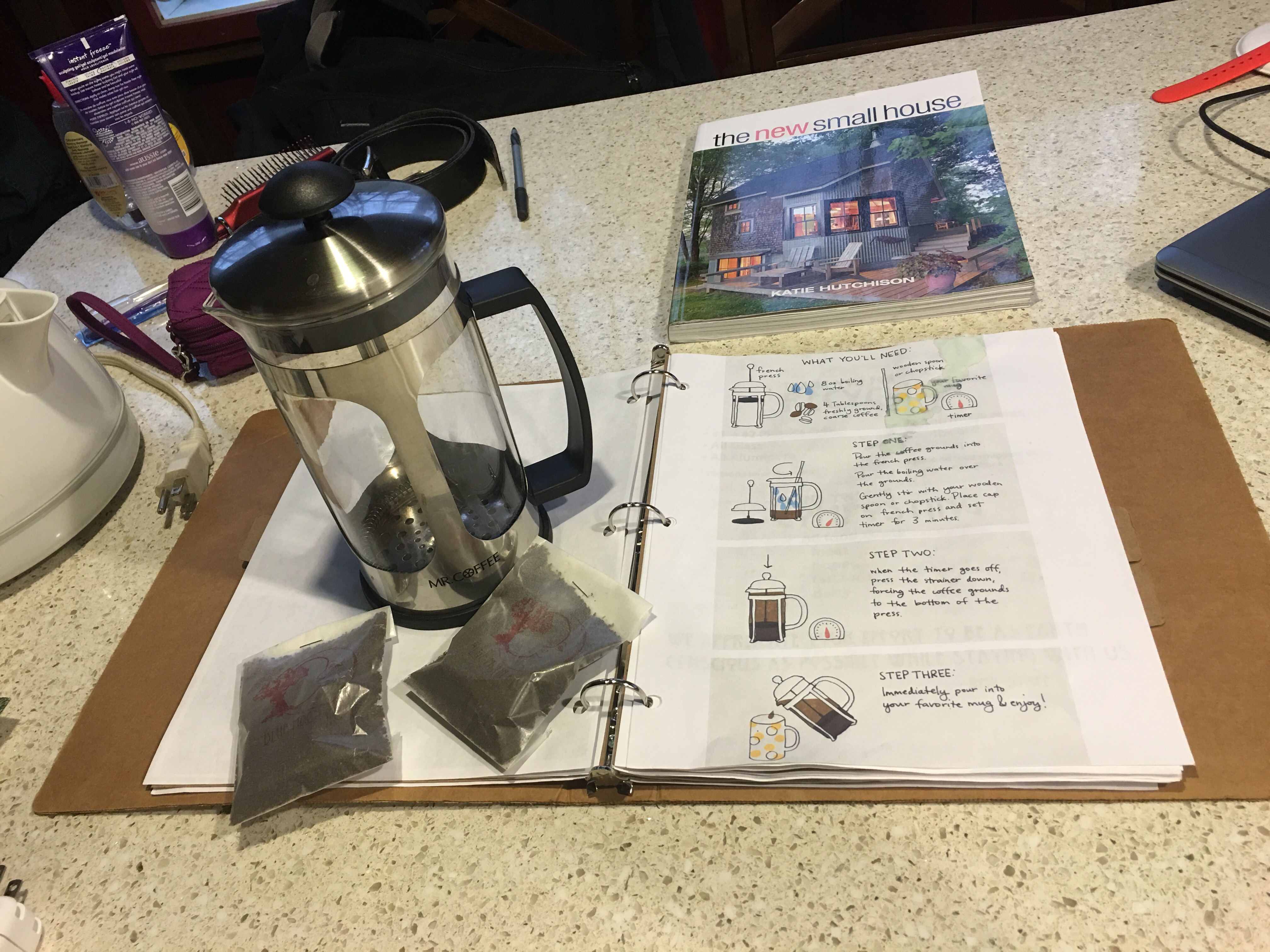 I had never used a French press up until then. But BMR provided great instructions (in the form of hand-drawn diagrams with hand-written captions).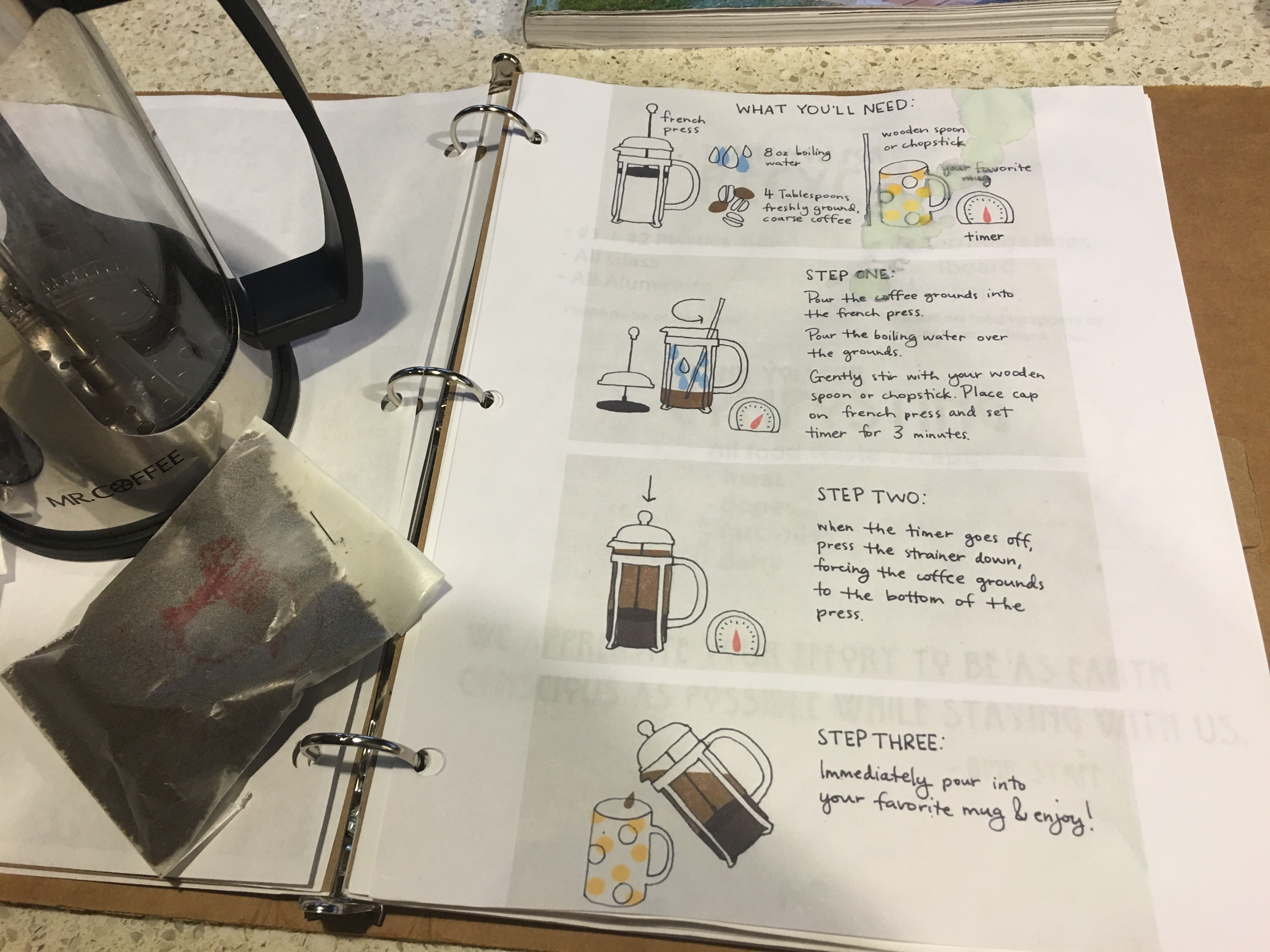 My DIY and crafting spirit soared when I saw these fantastic directions in their guest book.
Making coffee using the French press, it turns out, is easier than using my Keurig (which I swear by).
First you add the coffee grounds…
…fill it up with hot water. Stir. Wait for 4 minutes.
Then press the coffee with the plunger.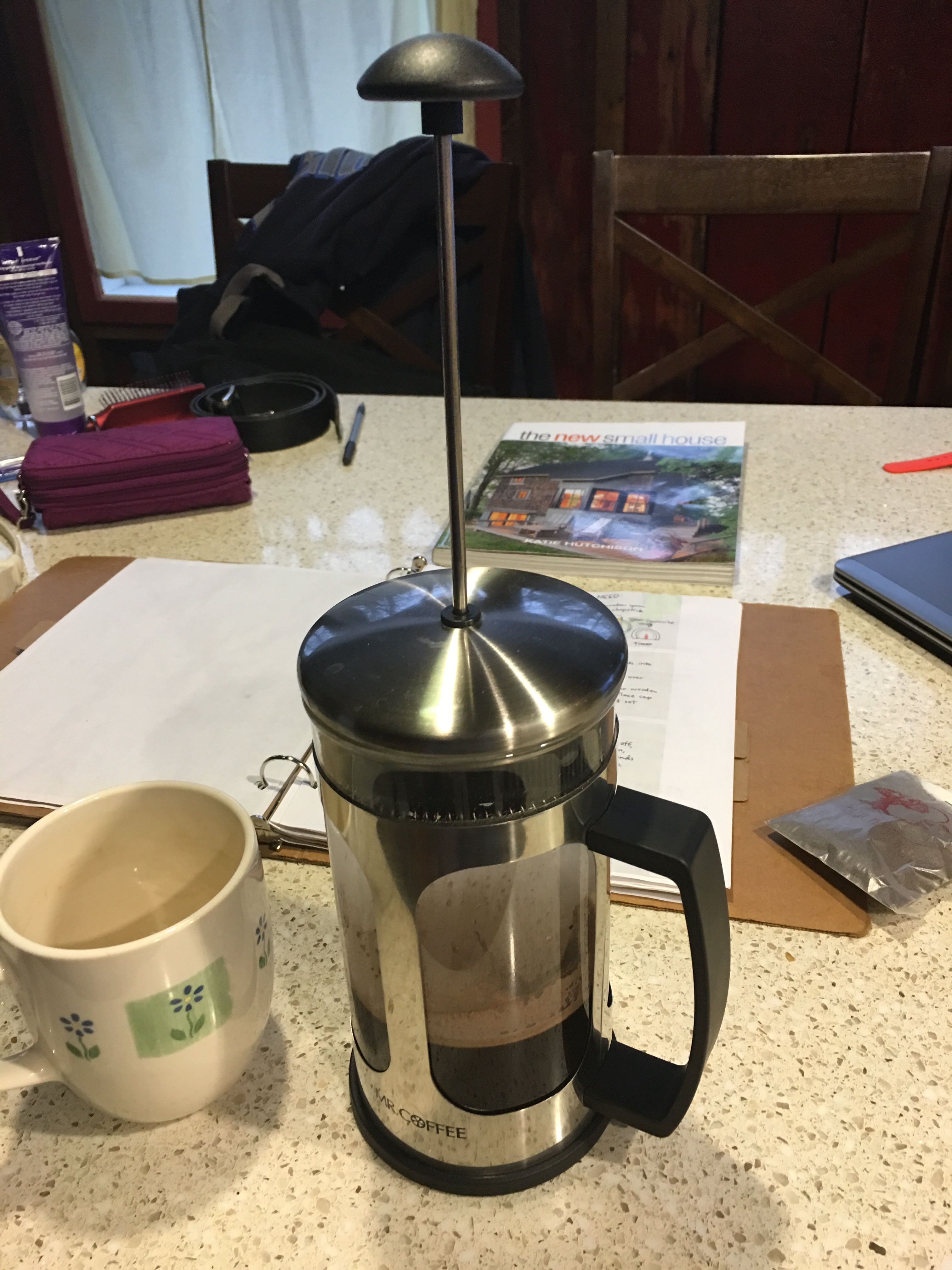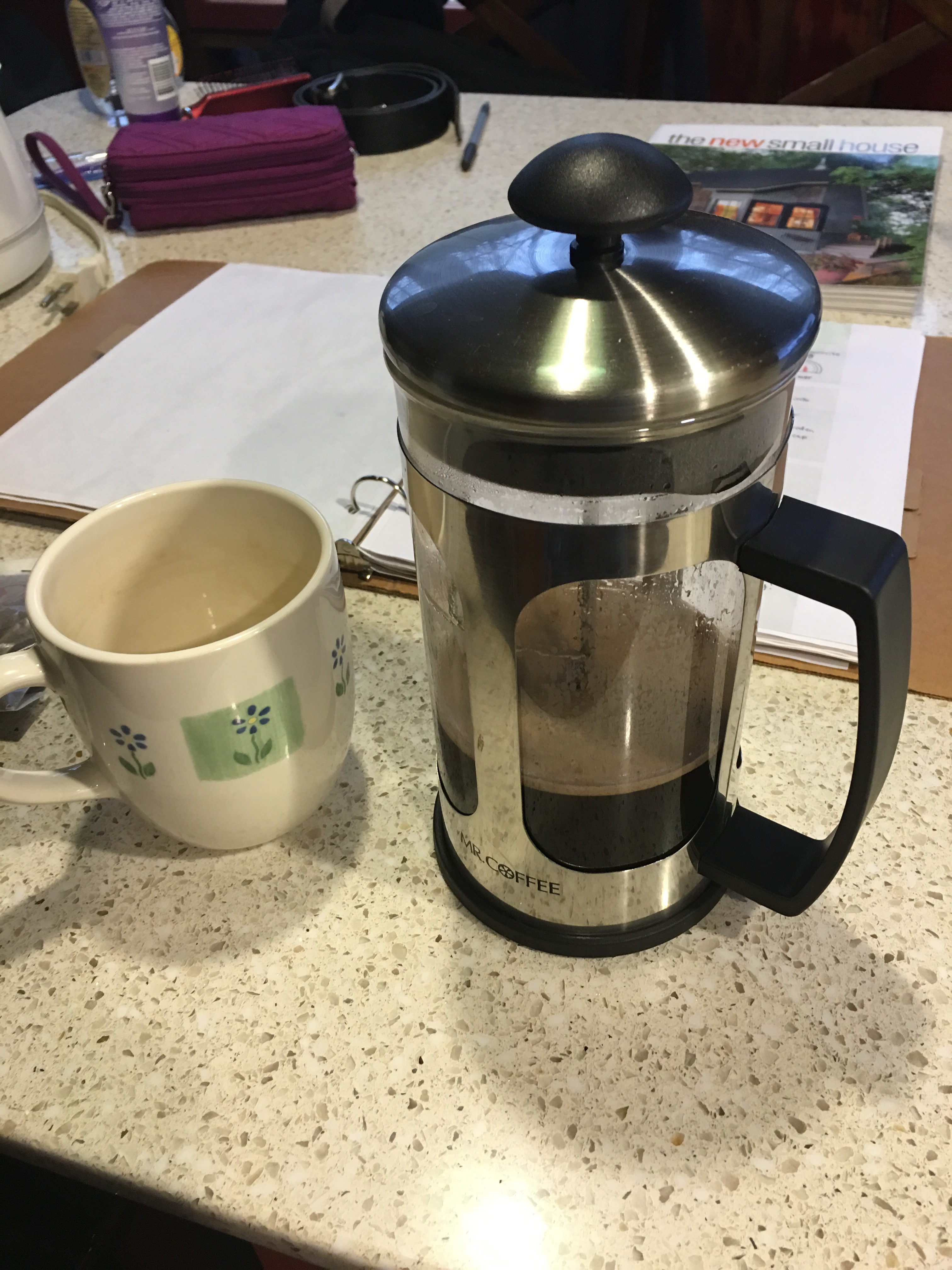 Voila…a fresh brewed cup of coffee every time.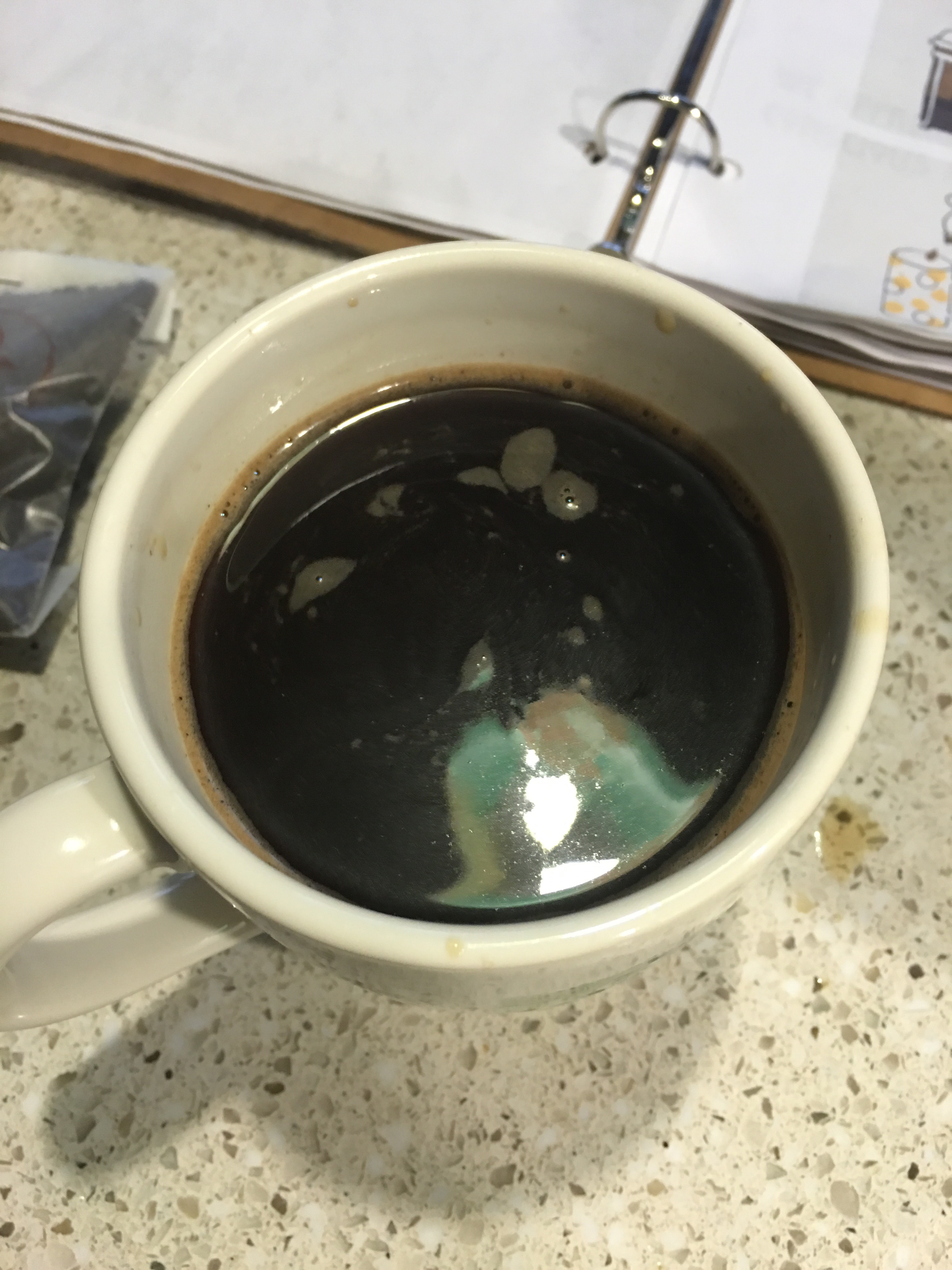 Since making coffee using the French press in the cabins, I found it hard to justify ordering more K-Cups for my home Keurig machine. I began to take closer notice of French press coffee makers while out and about.
Here's one sold by IKEA.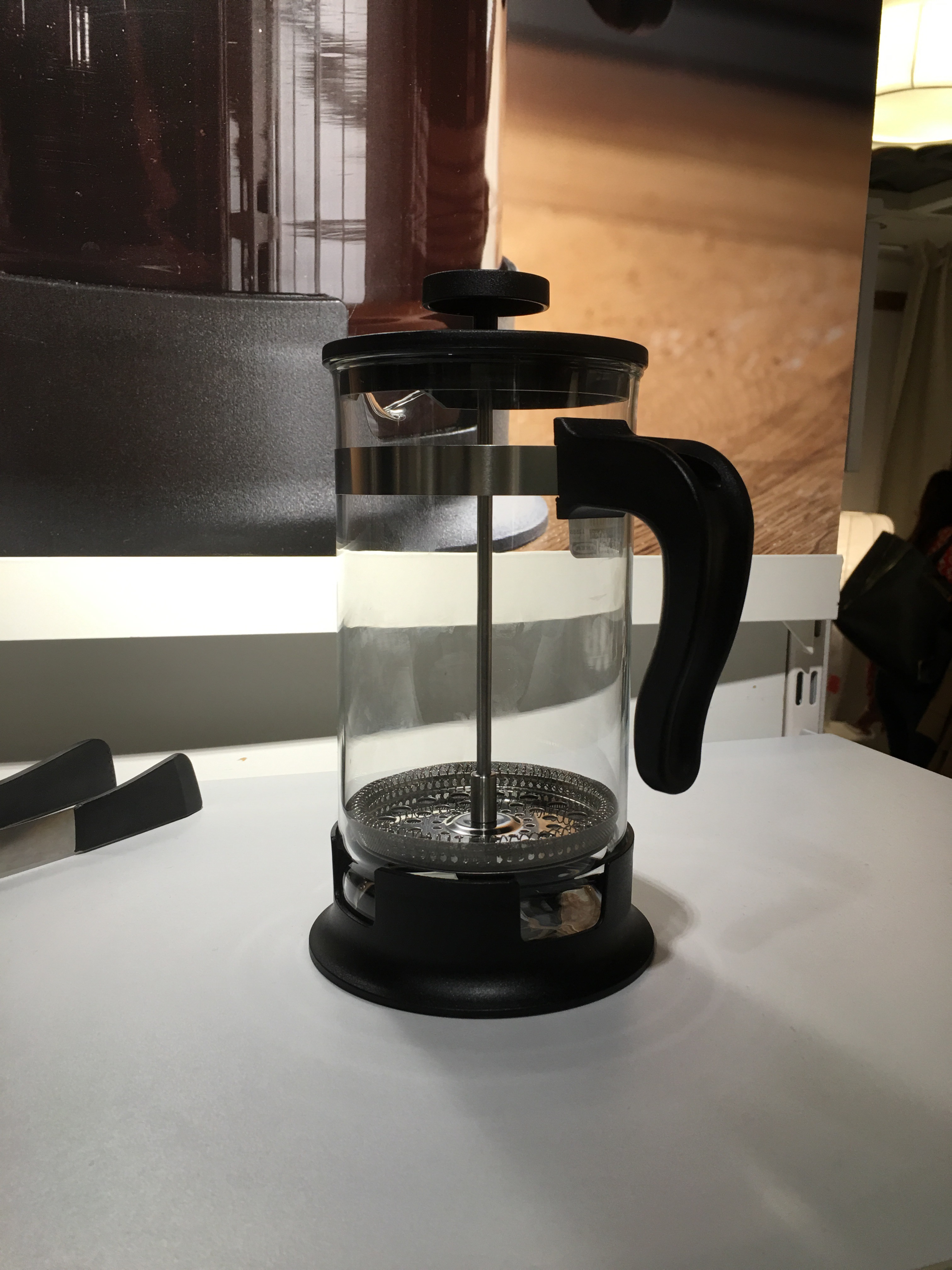 Available for a mere $10 bucks. And yes, important reminder…a French press can also be used to brew loose leaf tea. Another beverage often enjoy (and pay good money for).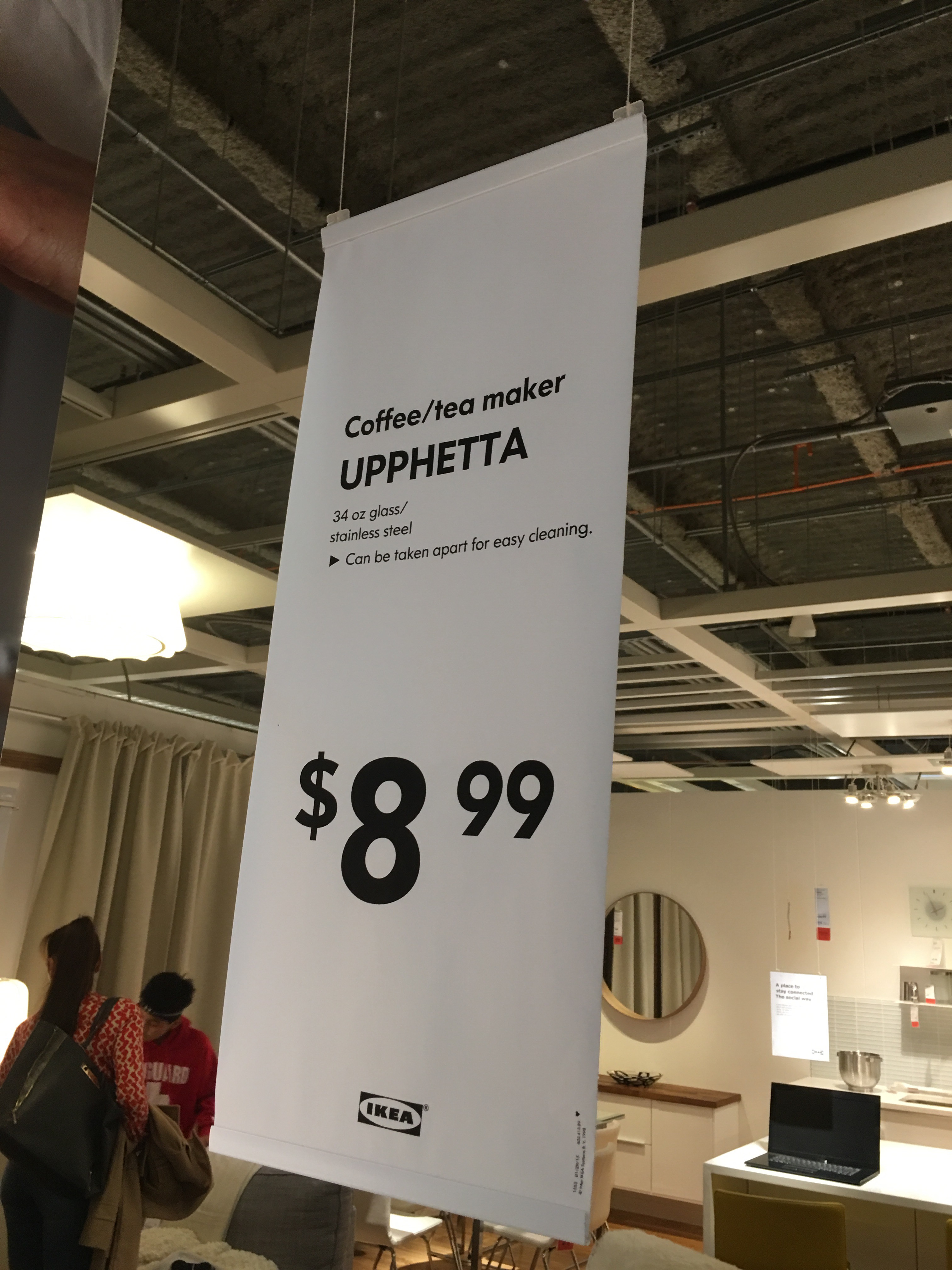 I usually enjoy fresh brewed coffee and tea while visiting Quartermaine Roasters in Bethesda. I like this Russian Caravan loose tea that they make with the French press (and I happily wait for the required 5 minutes for it to brew). So, in March, during a visit to Quartermaines, I decided to purchase a Bodum French press and bring it home.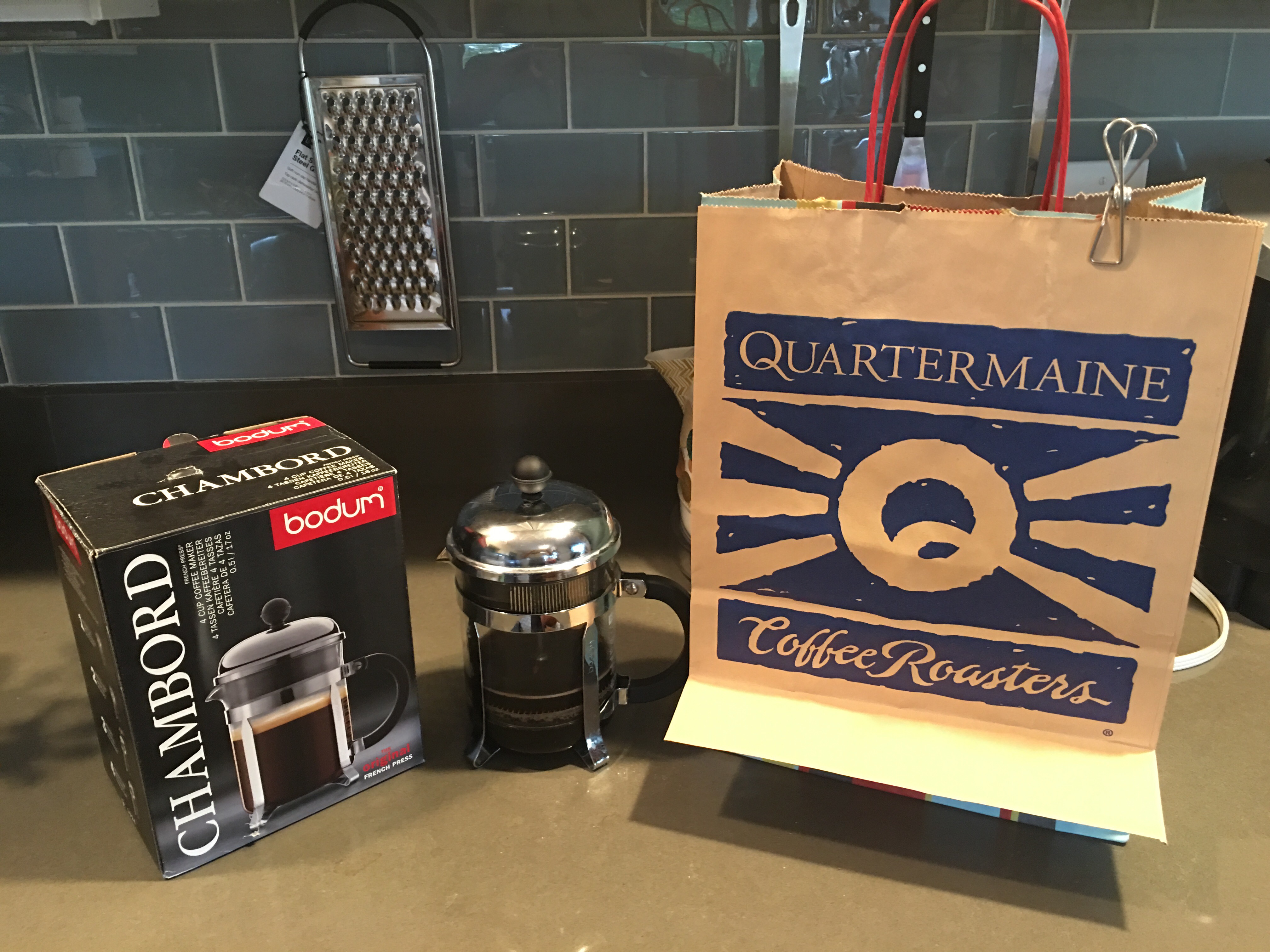 So how does this work? Well, exactly the same as the Mr. Coffee French press at the cabin (and everywhere else in the world).
I like to illustrate with photos (as you know), so here's how I use my beautiful new French press at home.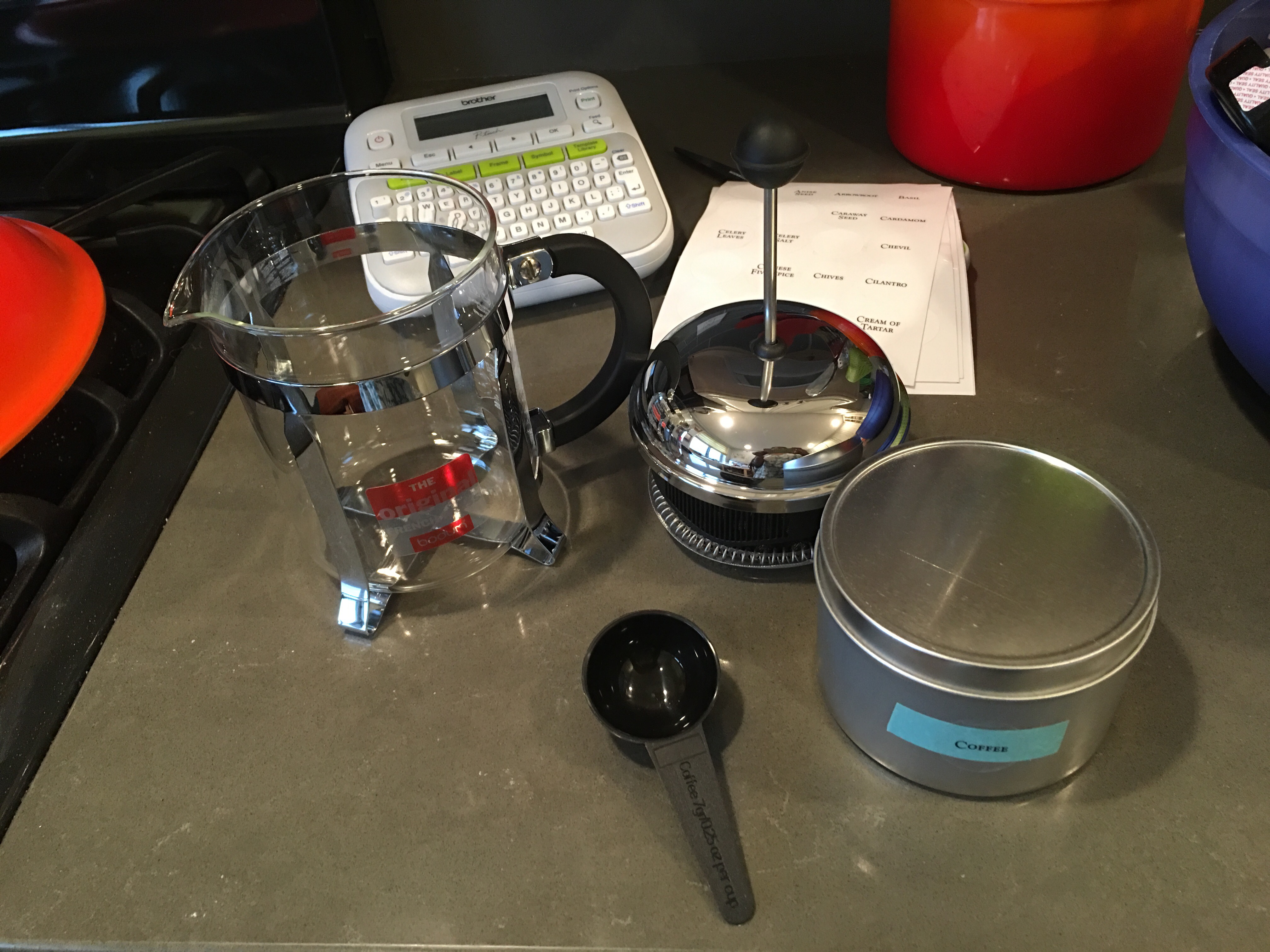 I add coffee.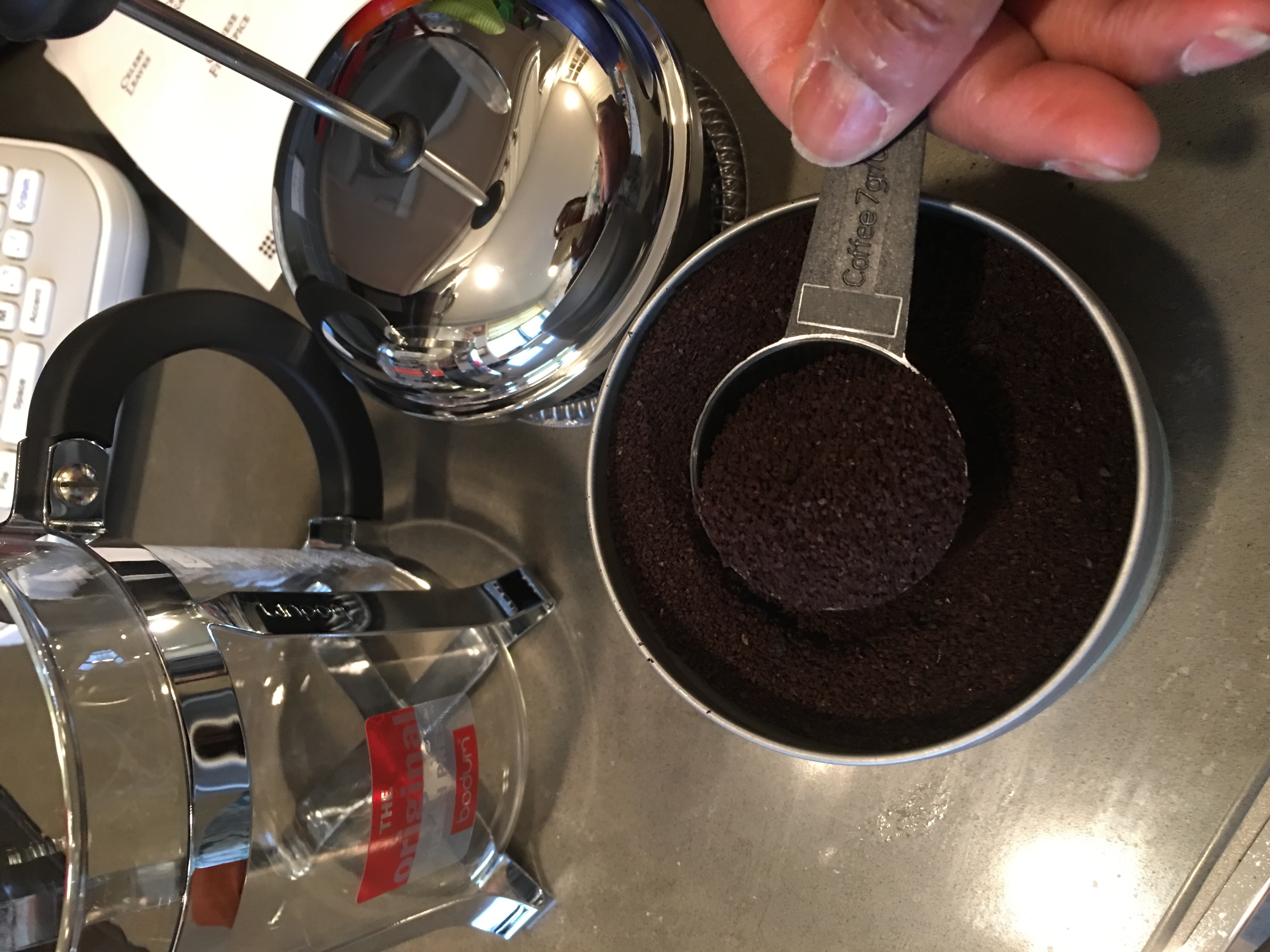 I add hot water and stir. Then wait for 4 minutes (using the microwave kitchen timer).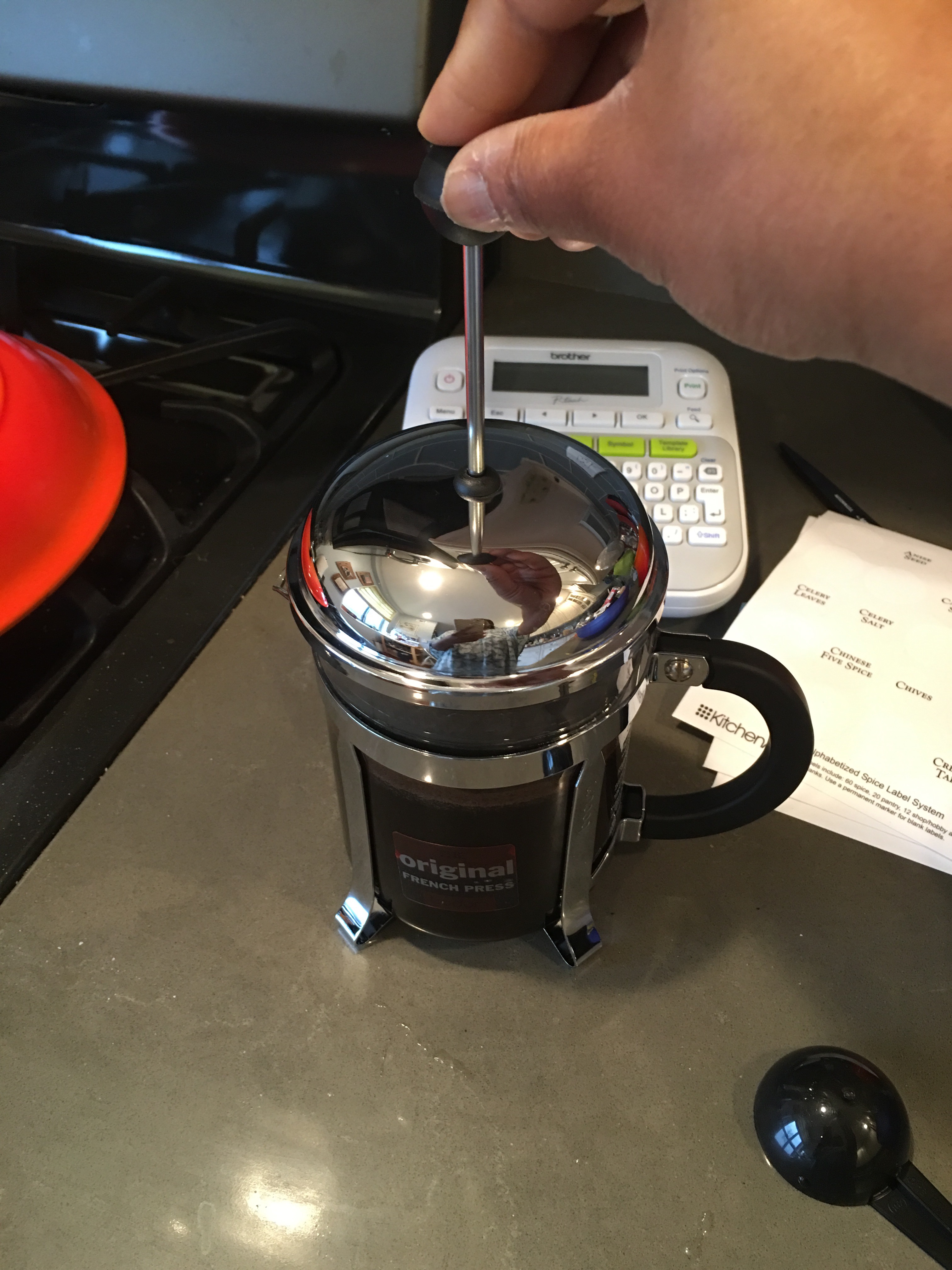 After the four minutes are up, I push down the plunger.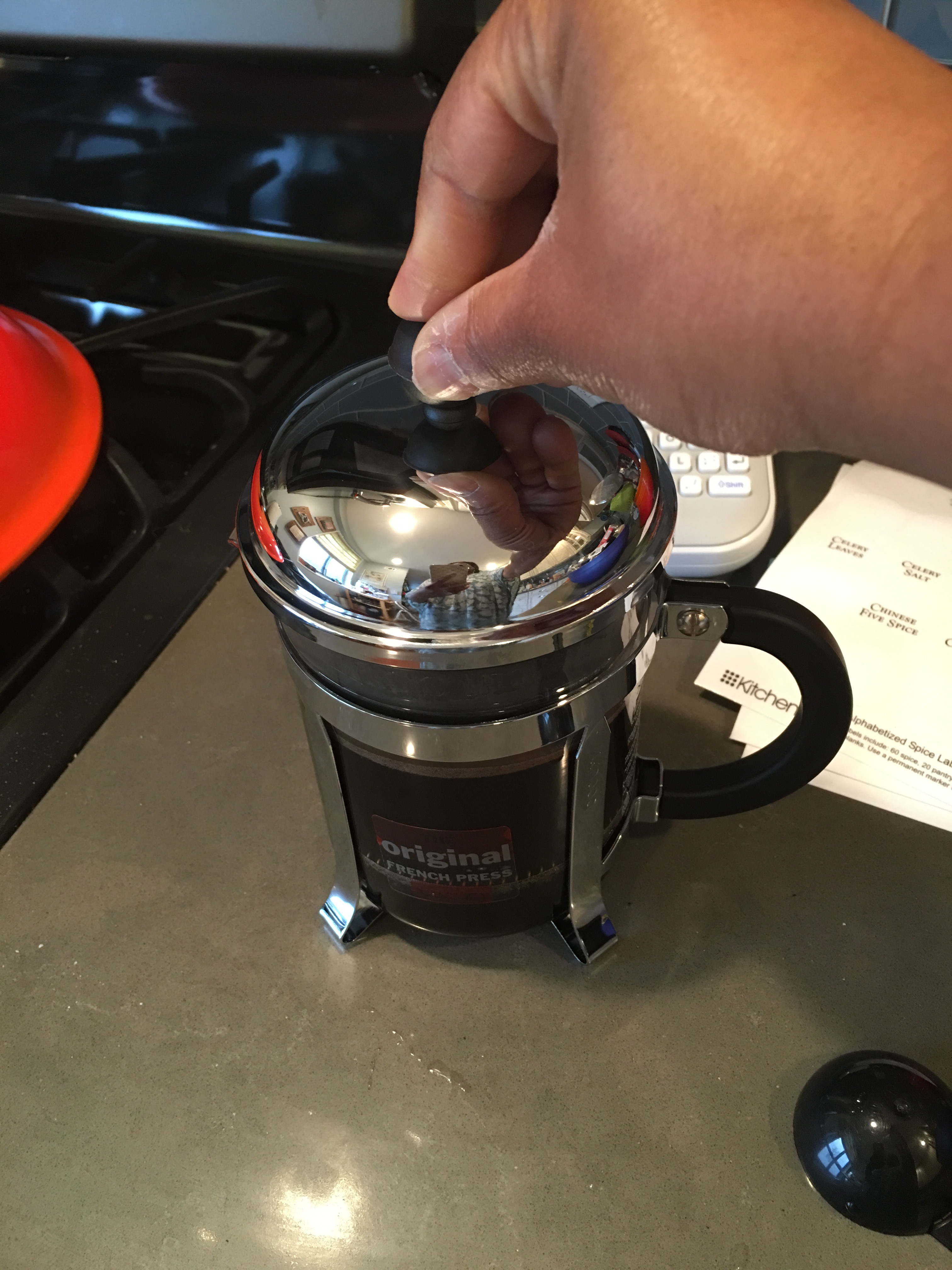 And pour.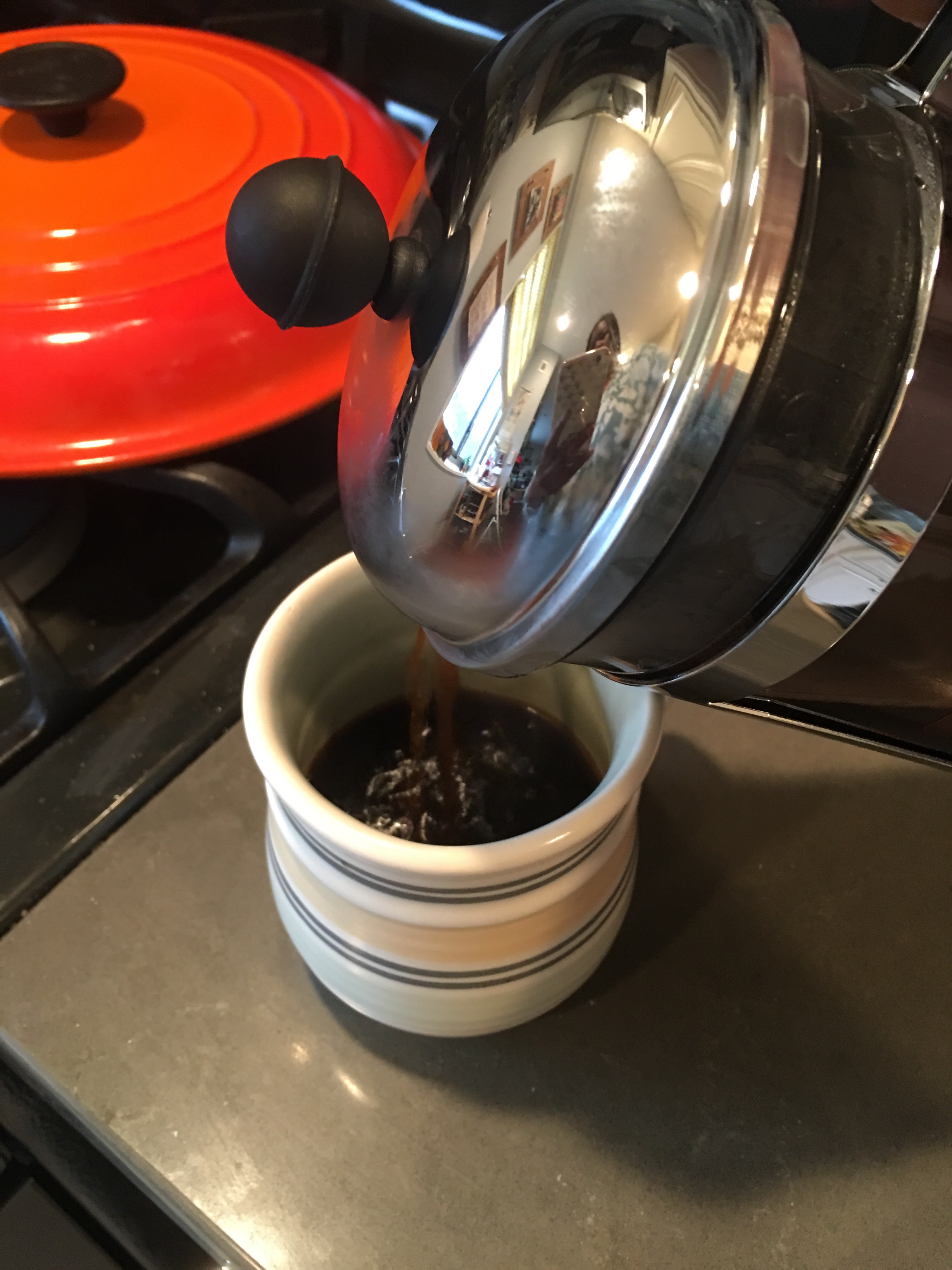 A nicely brewed cup of coffee. No technology. No bells and whistles. Pure simplicity.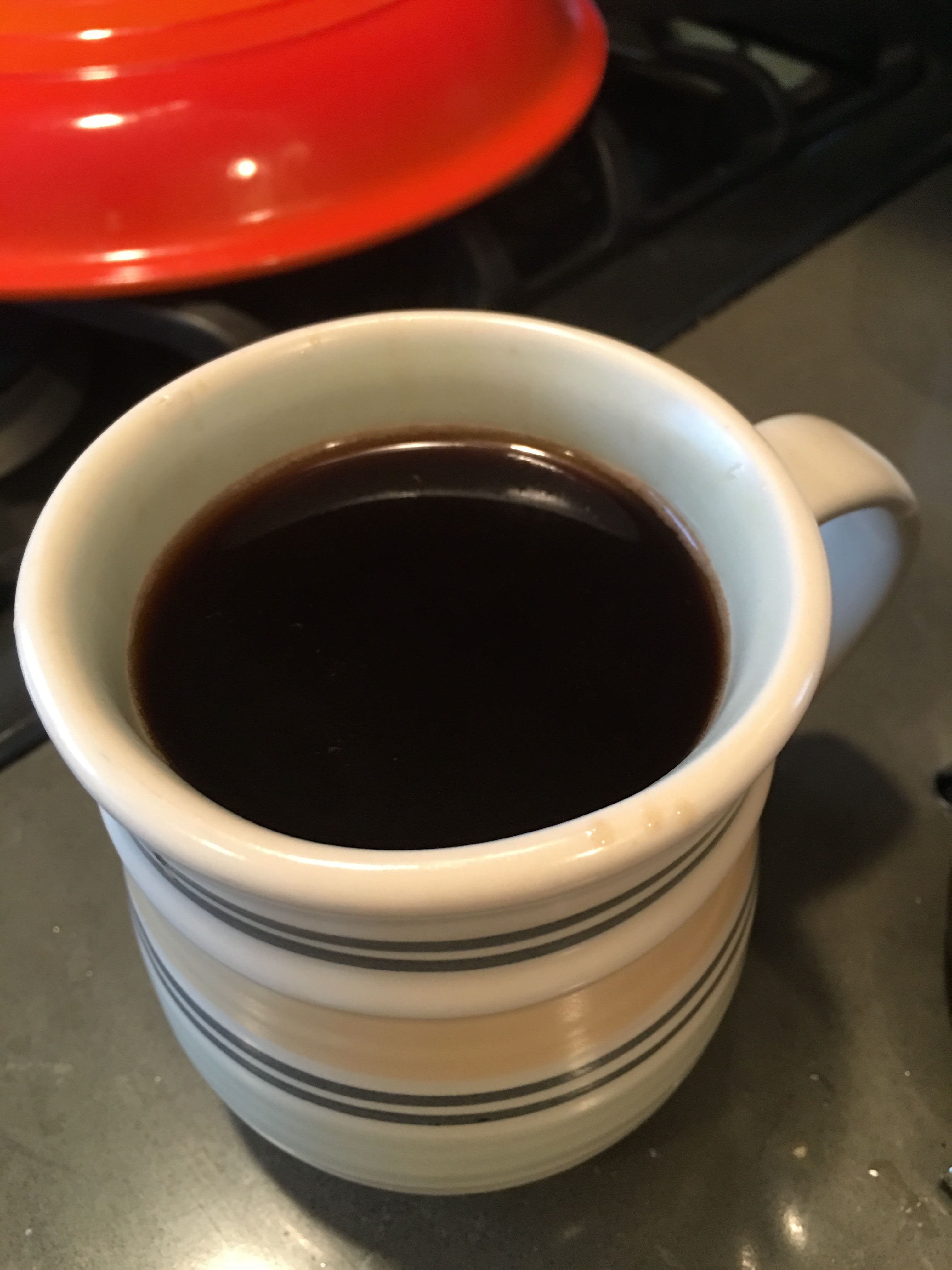 I have not ordered another set of Italian Roast K-cups off Amazon since bring the French press home. I instead have the ground coffee I purchased from Starbucks in the pantry and have been using it up. I make, on average one to two cups of coffee a day using the French press now.
So, how does fresh brewed coffee taste in a French press as compared to a Keurig (which I still love)? Well, it's different. A bit milkier (if that makes any sense). I drink my coffee black, so I can pick up on the difference right away.
If you really like how brewed coffee tastes in a traditional, percolator coffee maker or in a Keurig (or other single brew coffee machines), then French press coffee will taste noticeably different. It was an acquired taste for me at first, but it has become a flavor that I grew to appreciate more and more over time.
I'm not yet ready to give up the Keurig yet. I have plenty of decaf K-Cups left in the pantry (and I decided to give the Ekobrew K-Cup filtering insert another try.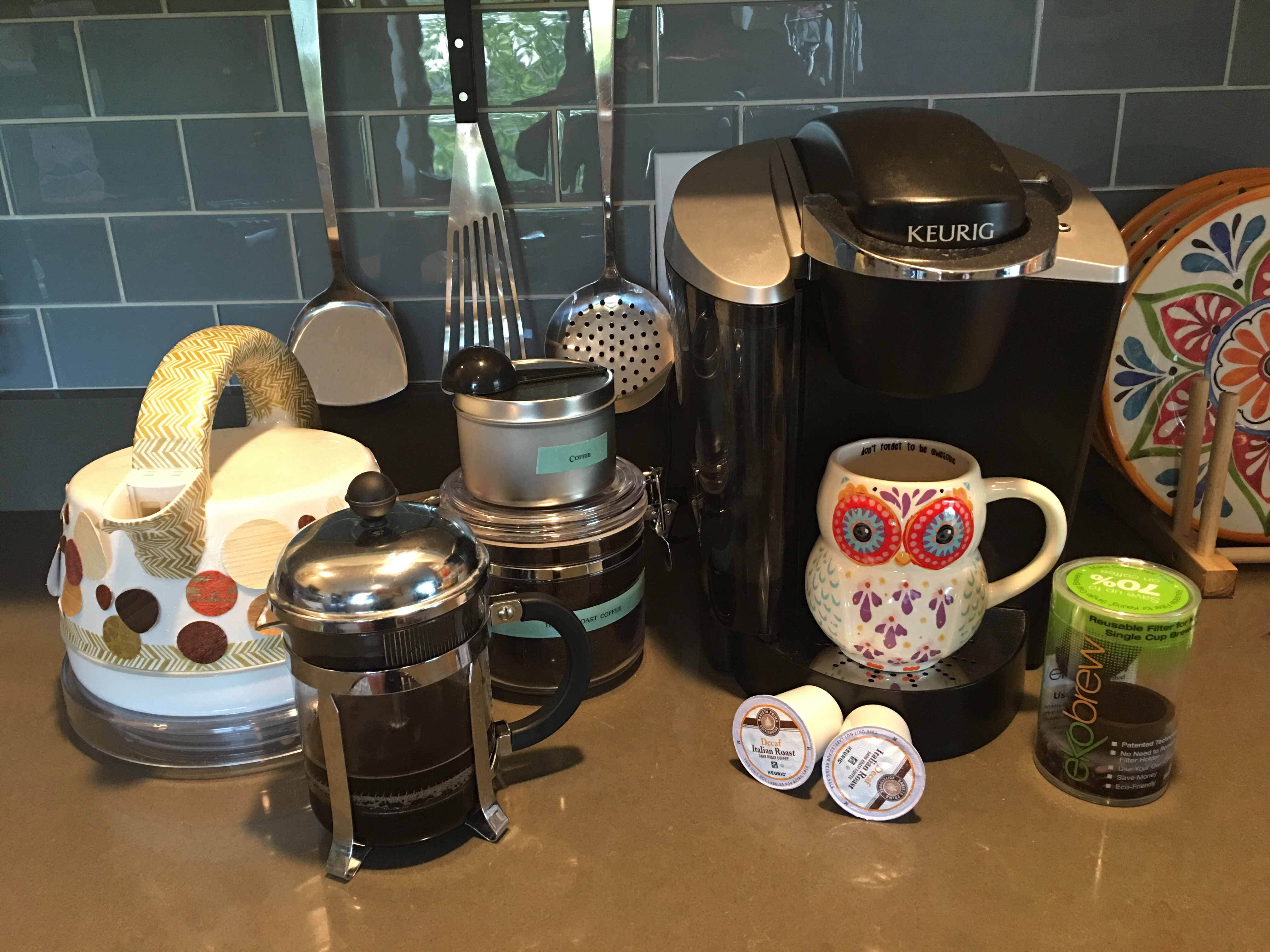 I have not yet done the French Press vs. Ekovbrew taste test…I'll be sure to share my verdict in a future post.