Kitchen Organizing: IKEA with a twist!
You may also like:
March 21, 2016: Happy Spring!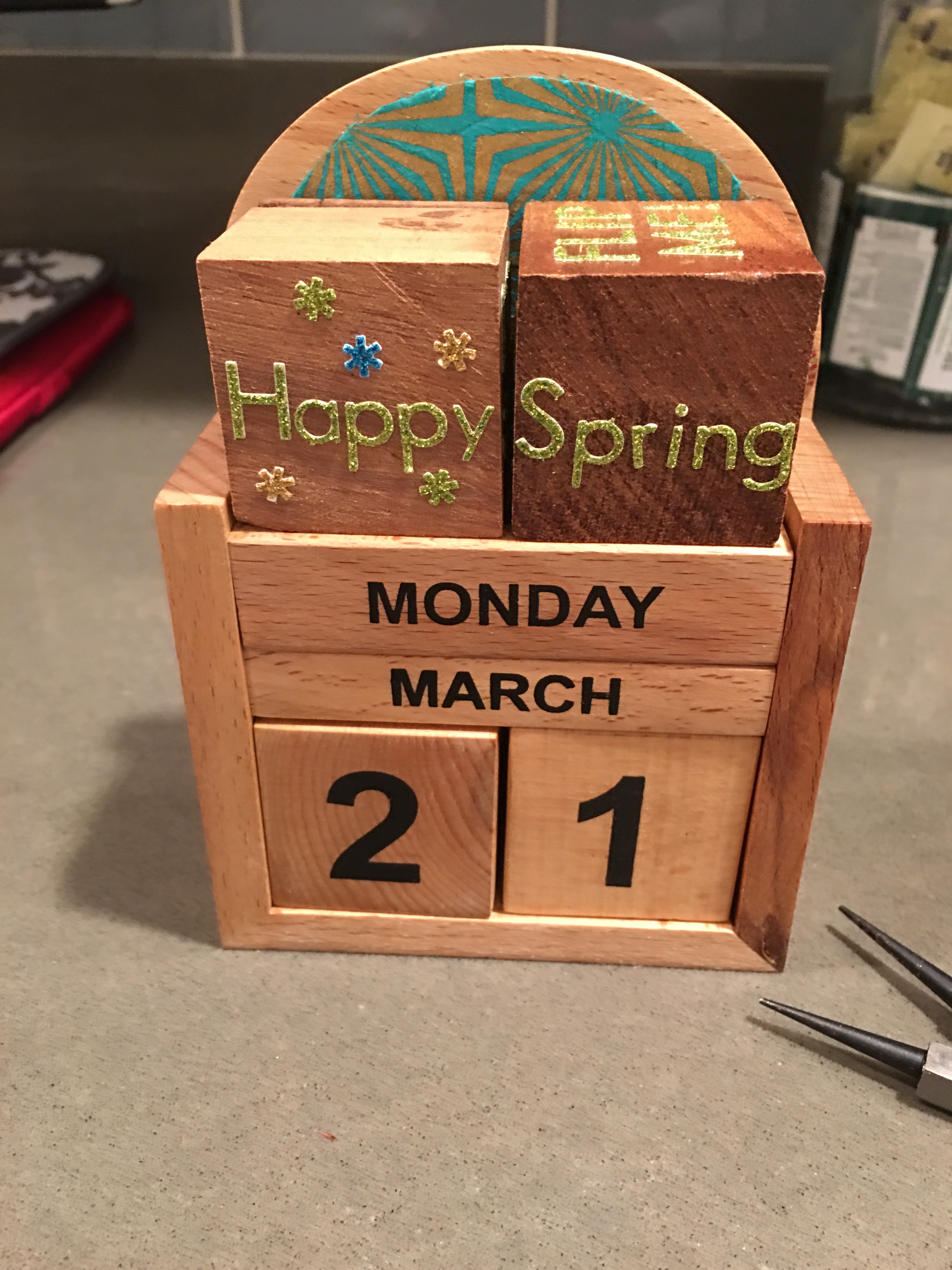 So I went to IKEA yesterday, finally ready to invest in a wall organizing solution for kitchen. There's this half wall in the kitchen that faces the stove. A wall that could not be torn down because it holds the electrical wiring for the condo (and contains the conduit for electrical circuits for all units in our building tier from top to bottom.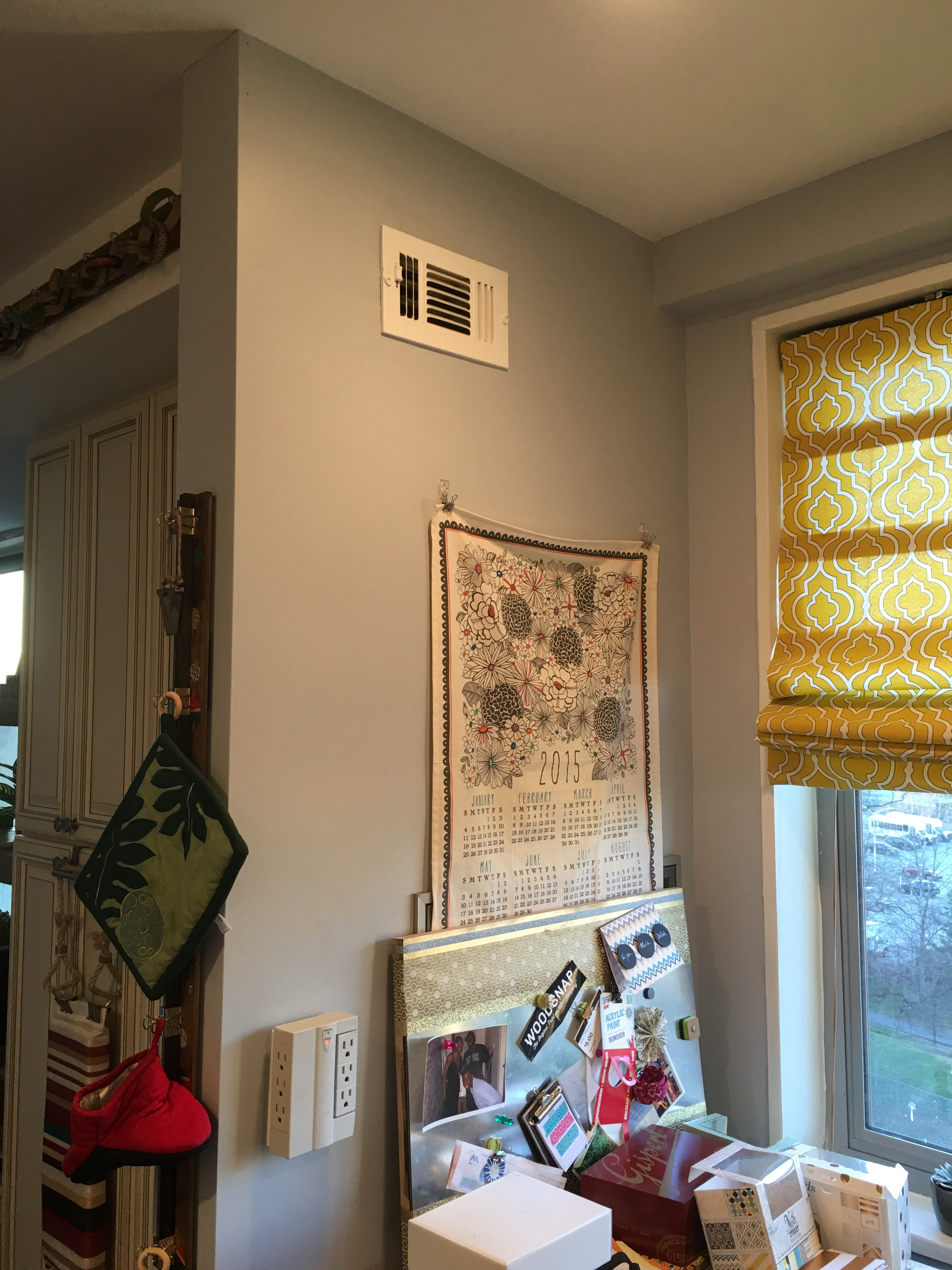 This half wall separates our cooking area from the pantry. There's a vent overhead (which is displayed at the top). And a circuit box (cleverly hidden by a 2015 tea towel that my mom, Xenia has given to us as a tiny "congrats on the kitchen reno" gift.
Yes, a change for this wall is long overdue.
So I was nervous about mounting any shelving or platform solutions on this wall. But it needed something on that wall that is functional, but also enhances the decor that I've worked on slowly integrating into the space.
So yesterday, after winding down my spice pantry organization project, I turned my focus on these walls. I'm in full on kitchen organization mode after working out my spice storage solution. Although I ran out of tin containers, I have not run out of steam.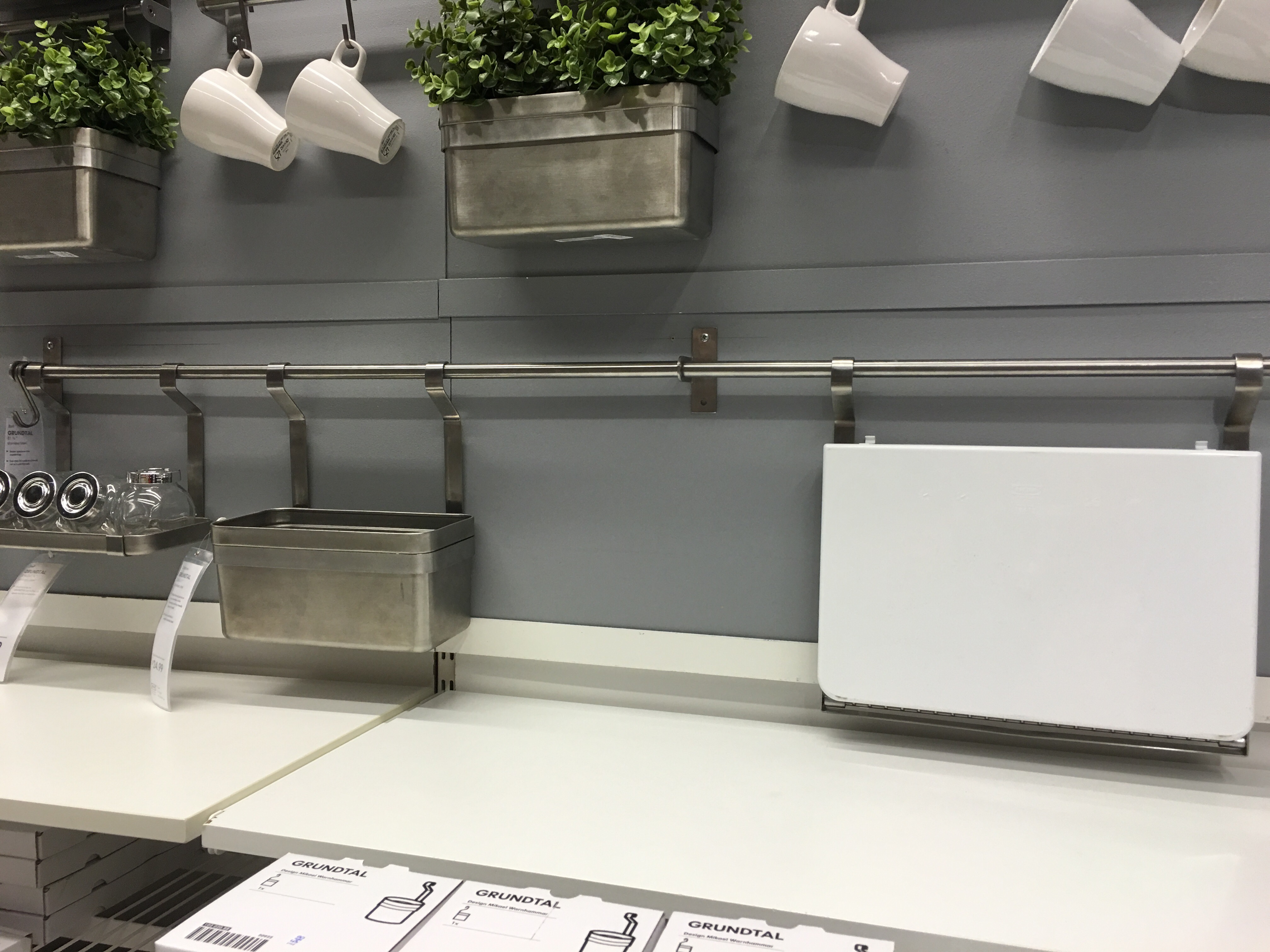 The solution I've been thinking about a lot for our kitchen are the IKEA Grundtal bar and hook solution. I've always loved the look of these in the IKEA showroom (and in homes that they are featured in.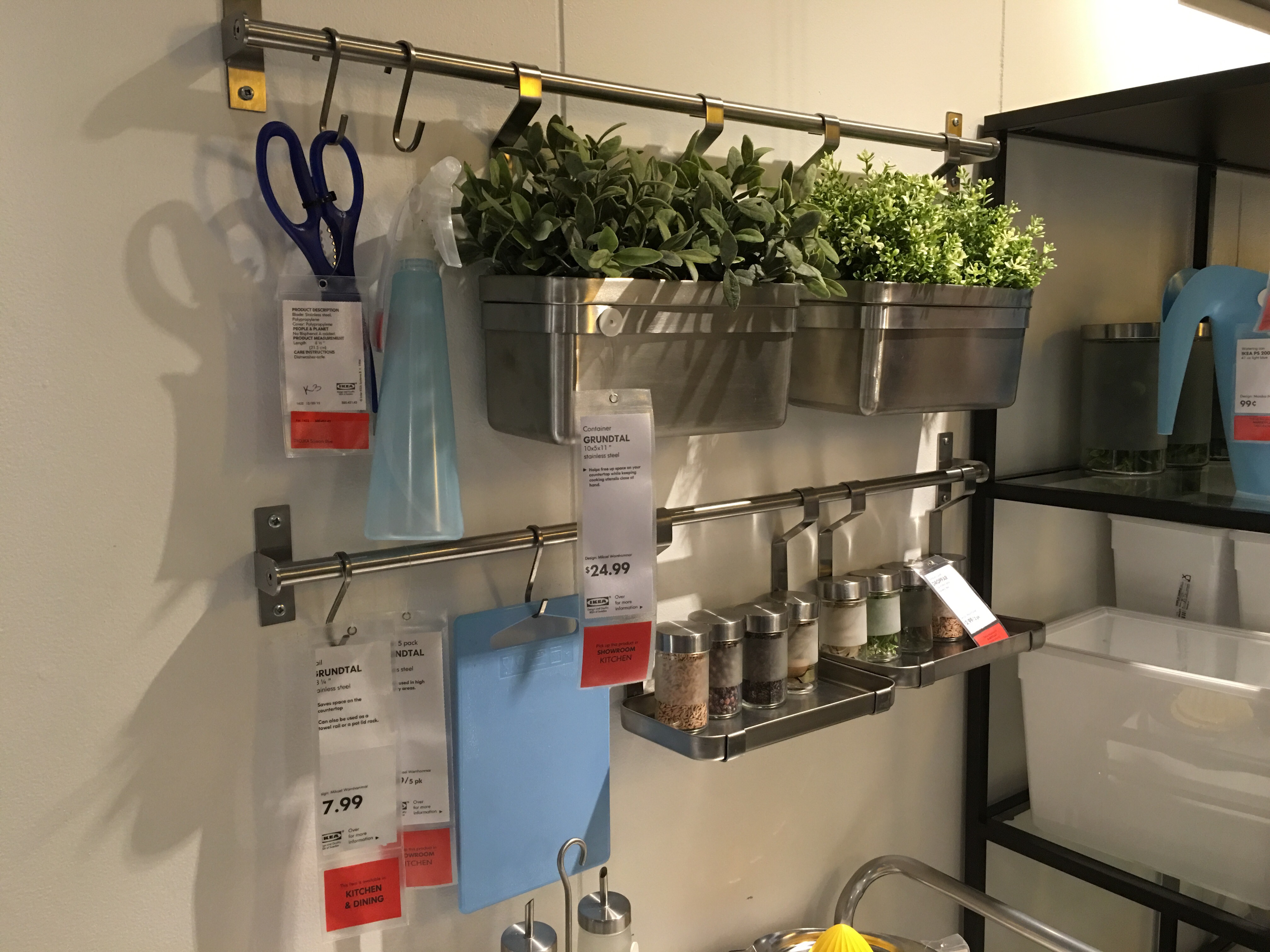 I love the versatility of the solution. With these hooks, you can hang any number of kitchen items. Utensils. Pots. Cups. Trays (with hold jars, plants, tubes, you name it). All of which are modular and inexpensive.
And the best part is that mounting the bars is very simple and easy. Two screws on each end. That's it!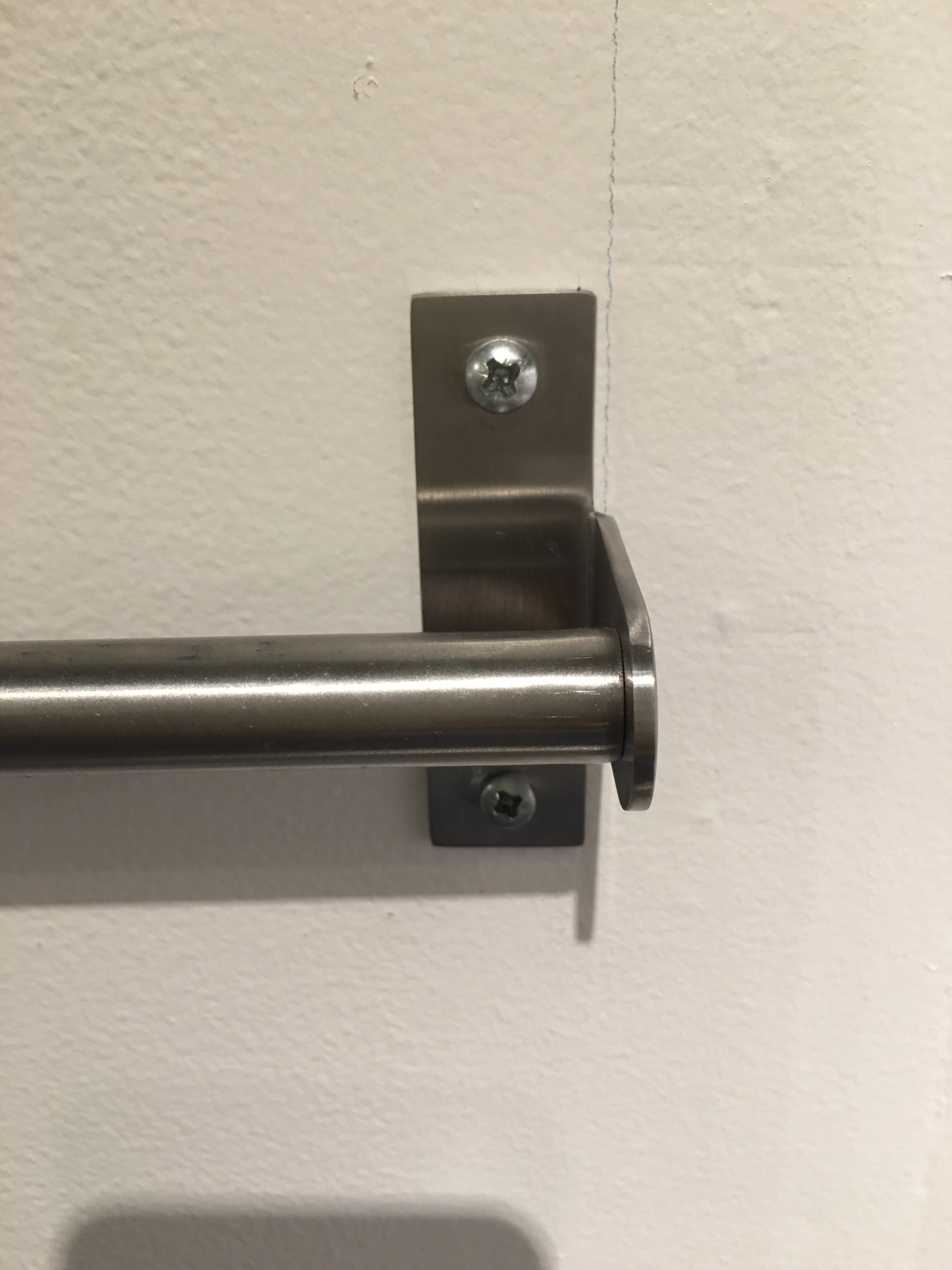 Characteristic of me, especially while browsing through IKEA, I took tons of pictures.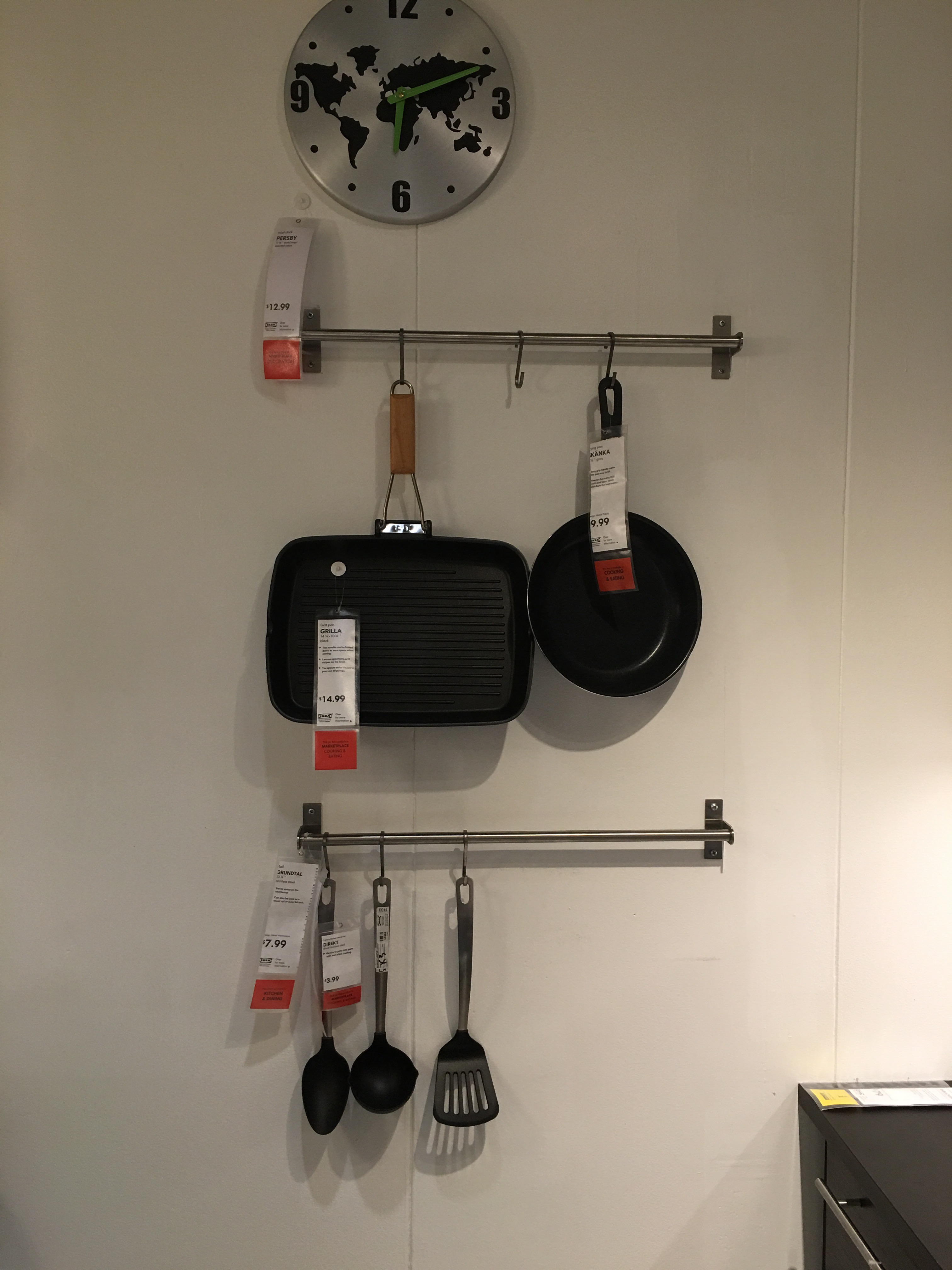 I took pictures of other hanging solutions (such as this Grundtal multi-bar shelf option). This offers both a shelving and hanging solution. I did not go this route for the kitchen wall because I didn't want a shelf that extends too far away from the wall surface (and thereby block the window).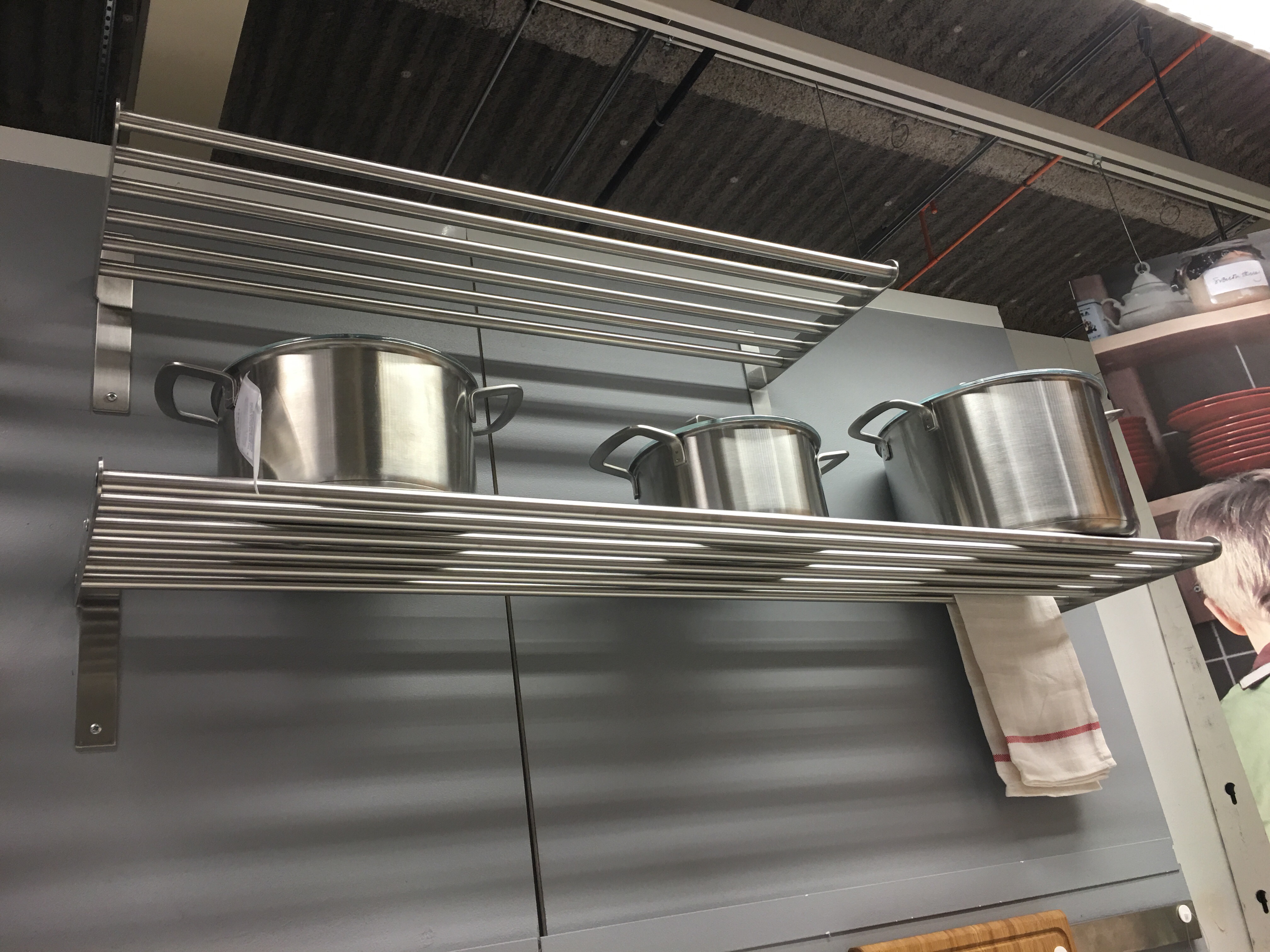 Here's a Fintorp bar and hook option as well. I chose Grundtal instead because I like the look of the stainless steel metal and think it will complement the coloring and decor of the kitchen most.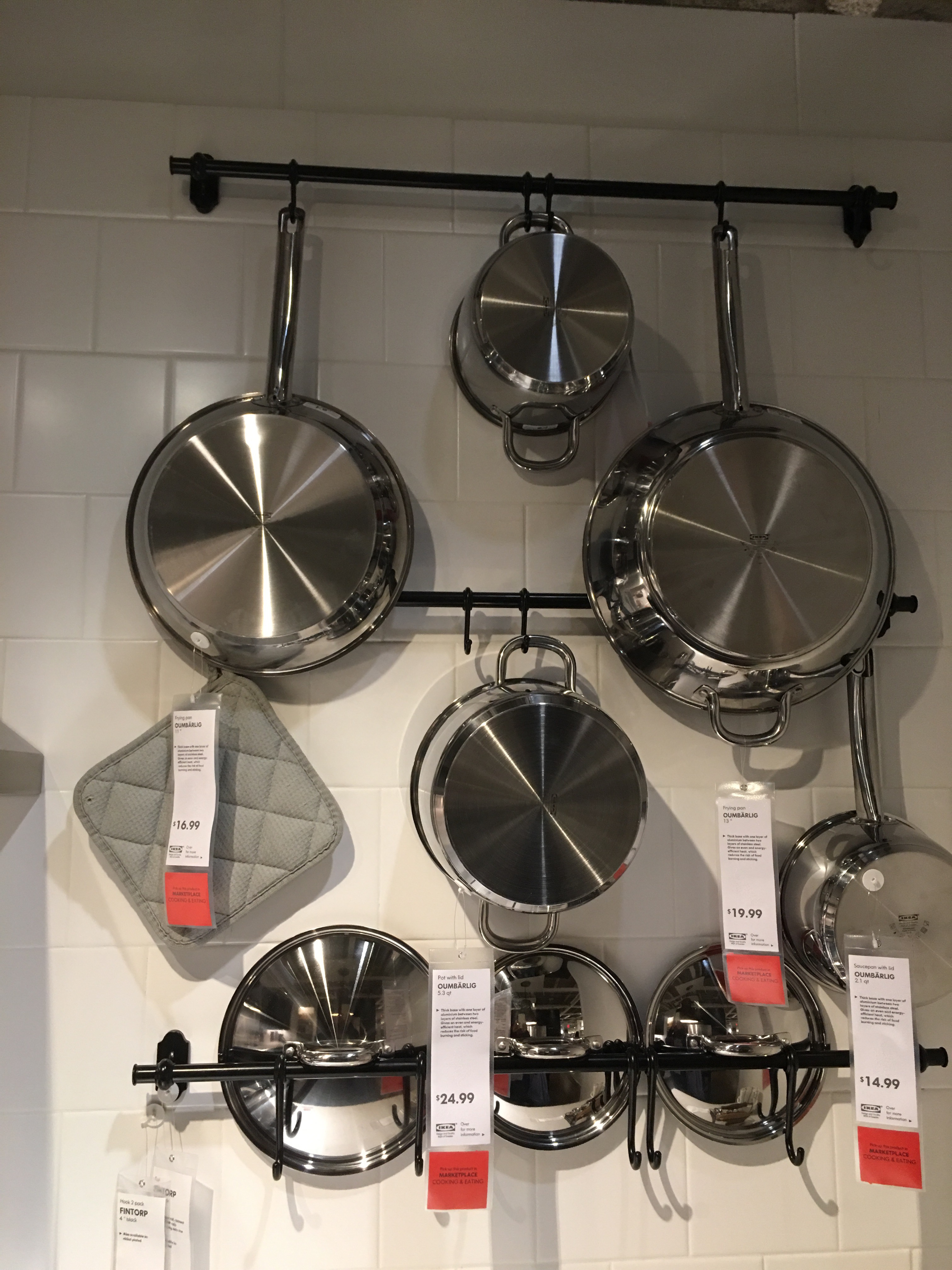 For the kitchen I bought two long (31.5″) and two short (15.75″) bars. I got four Grundtal "S" hook packages as well – two large and two small packs.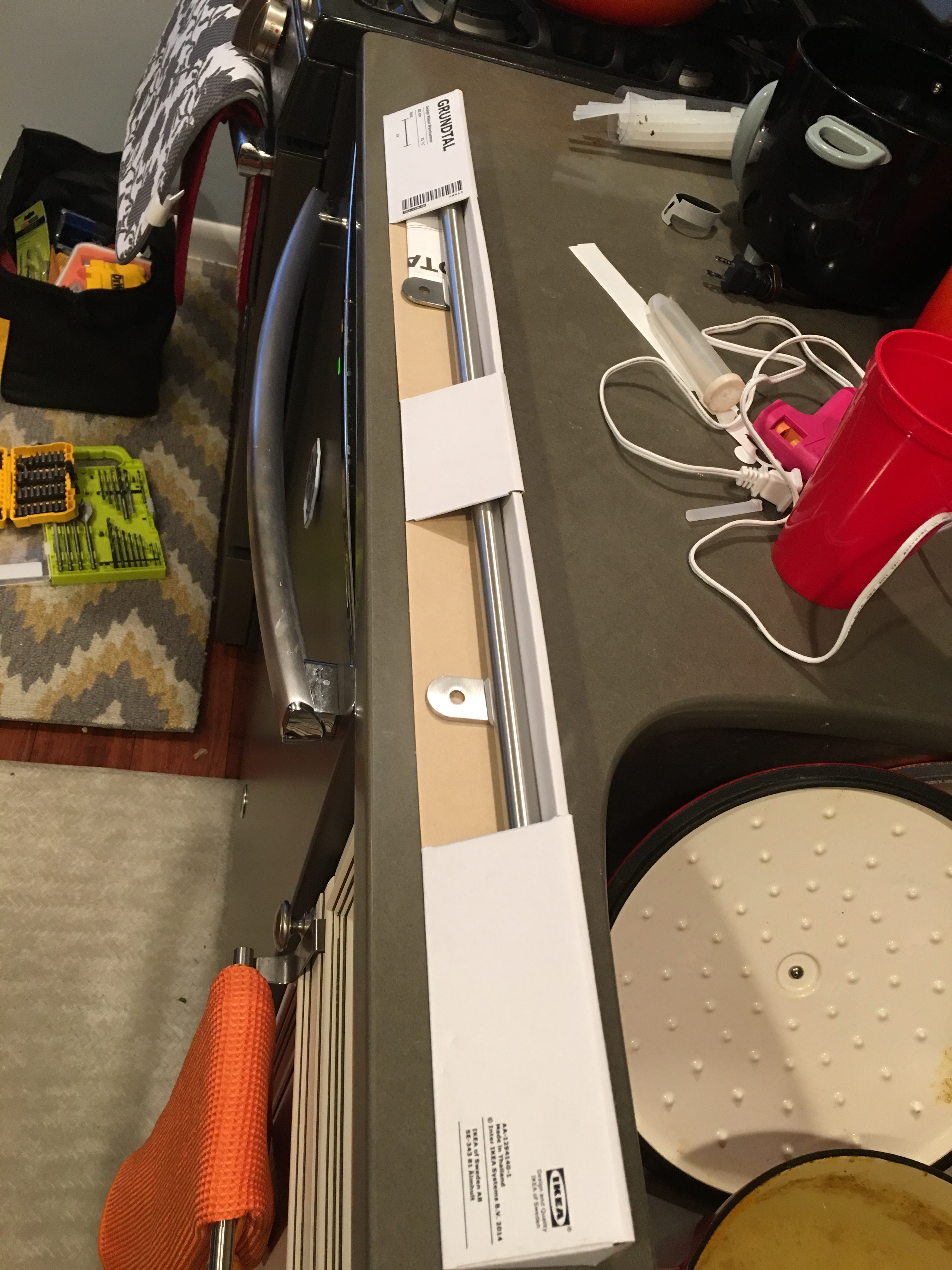 I first went to work on the wall next to the stove (to the right of the window). I thought the small bars would be a nice design complement to the kitchen wood floating frames. I staggered the two bars between the three mounted frames (carefully positioning each one so that they would clear the open cabinet door.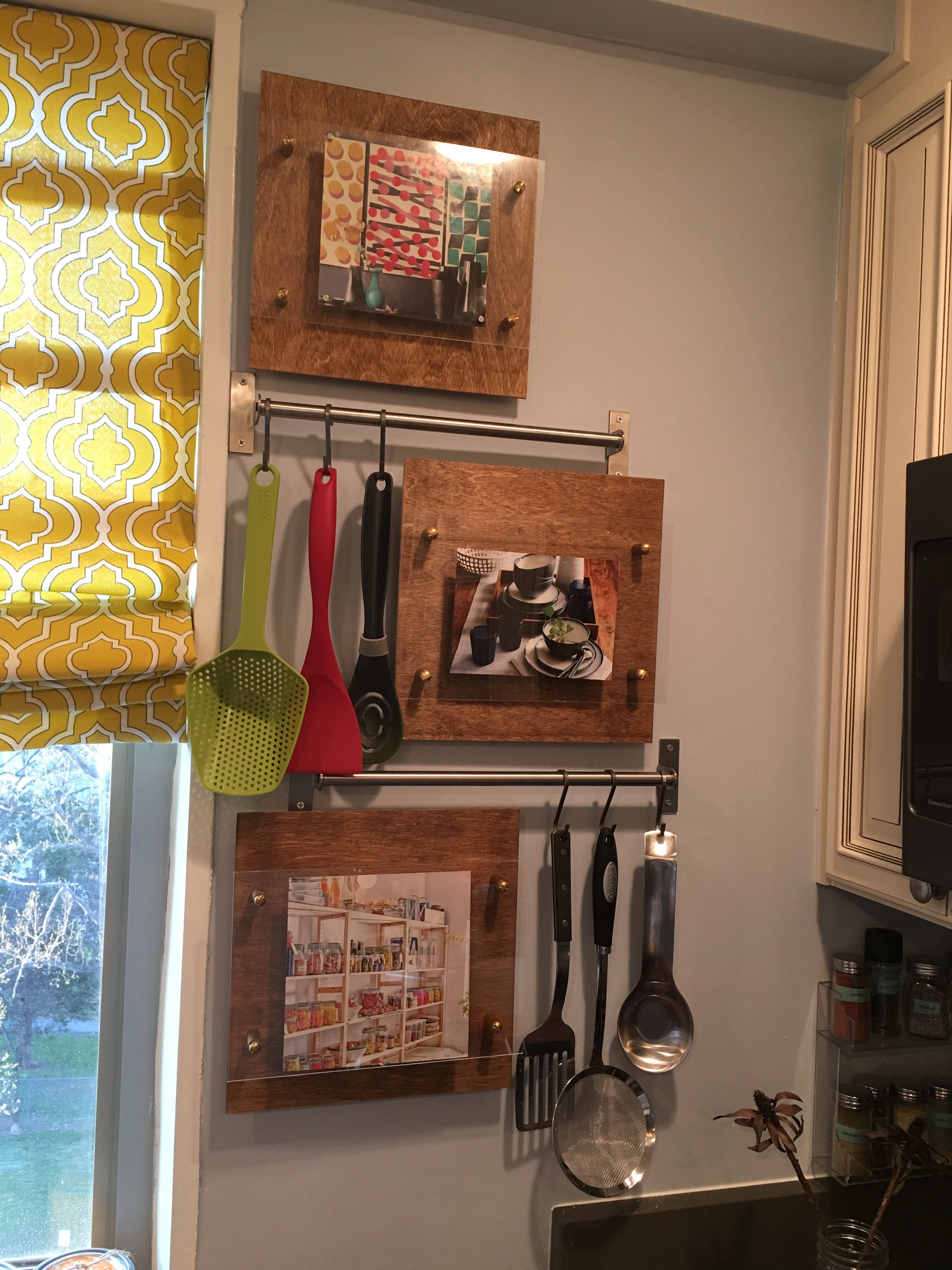 I hung utensils from the bar where there is free hanging space below.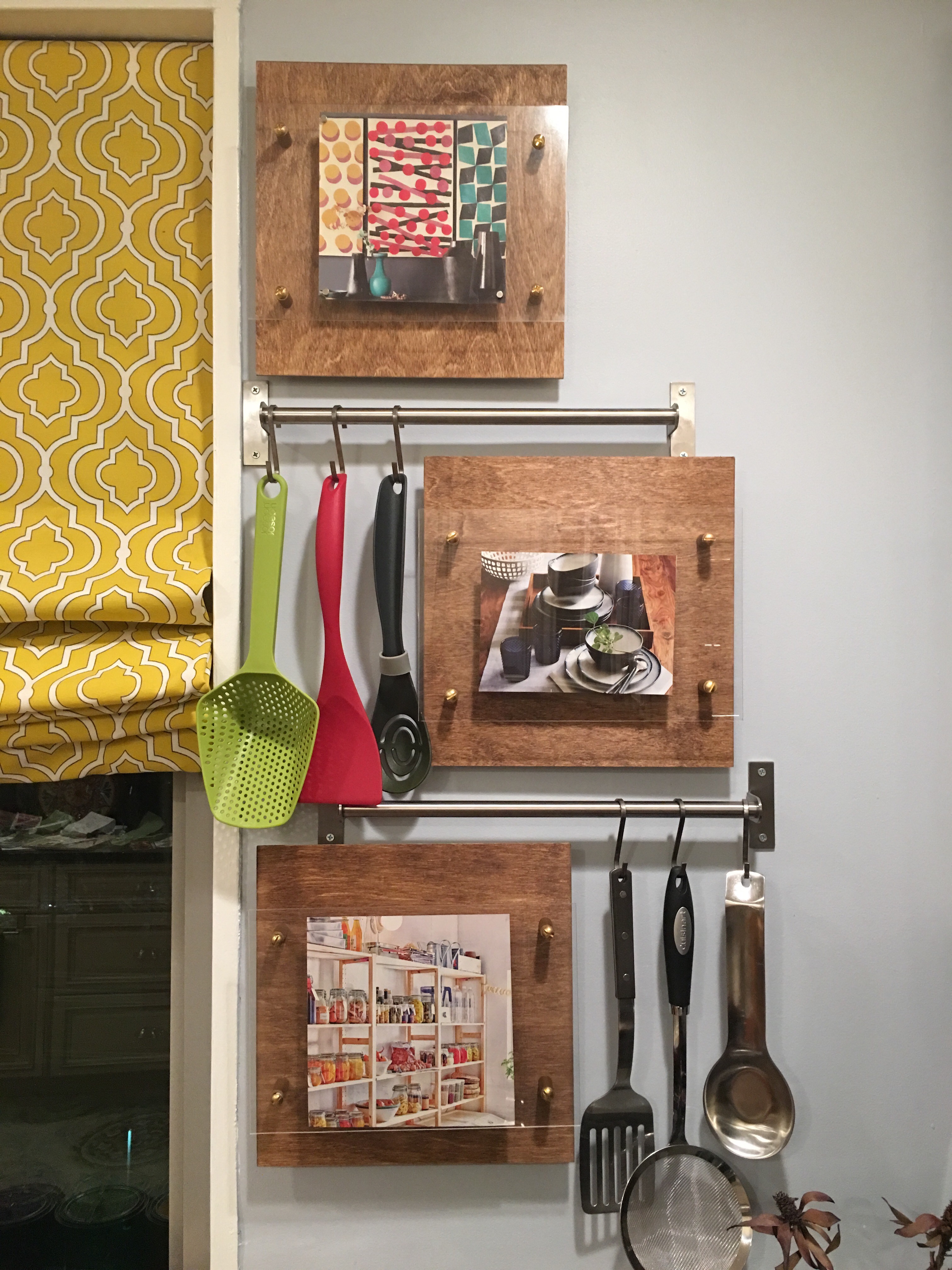 Although this solution does not allow for full use of each bar (due to the position of each frame), I loved the look of the wall once it all came together. The hooks and hanging utensils add color and interest to the wall (and complements the images in my floating frames nicely). It's my unique spin on use of the bars, so it blends perfectly with my DIY gallery (and also happens to be bracketed by my DIY roman shades ;).
So moving on to the wall to the left of the window, I first added some color and texture to the wall by hanging a couple of printed linen pillowcase covers using Command hooks and binder clips. So this extends the design theme that I started on the other side of this walls with my cabinet pillowcase wall gallery.
These two pillowcases were just lying on my couch unused (and unloved)…up until now. And they serve an important purpose…hiding unsightly flaws and elements. The top case is strategically hiding a missing patch in the wall paint caused by removing a Command hook (used to hang the 2015 tea towel…yes, it happens). And the bottom case hides the circuit breaker.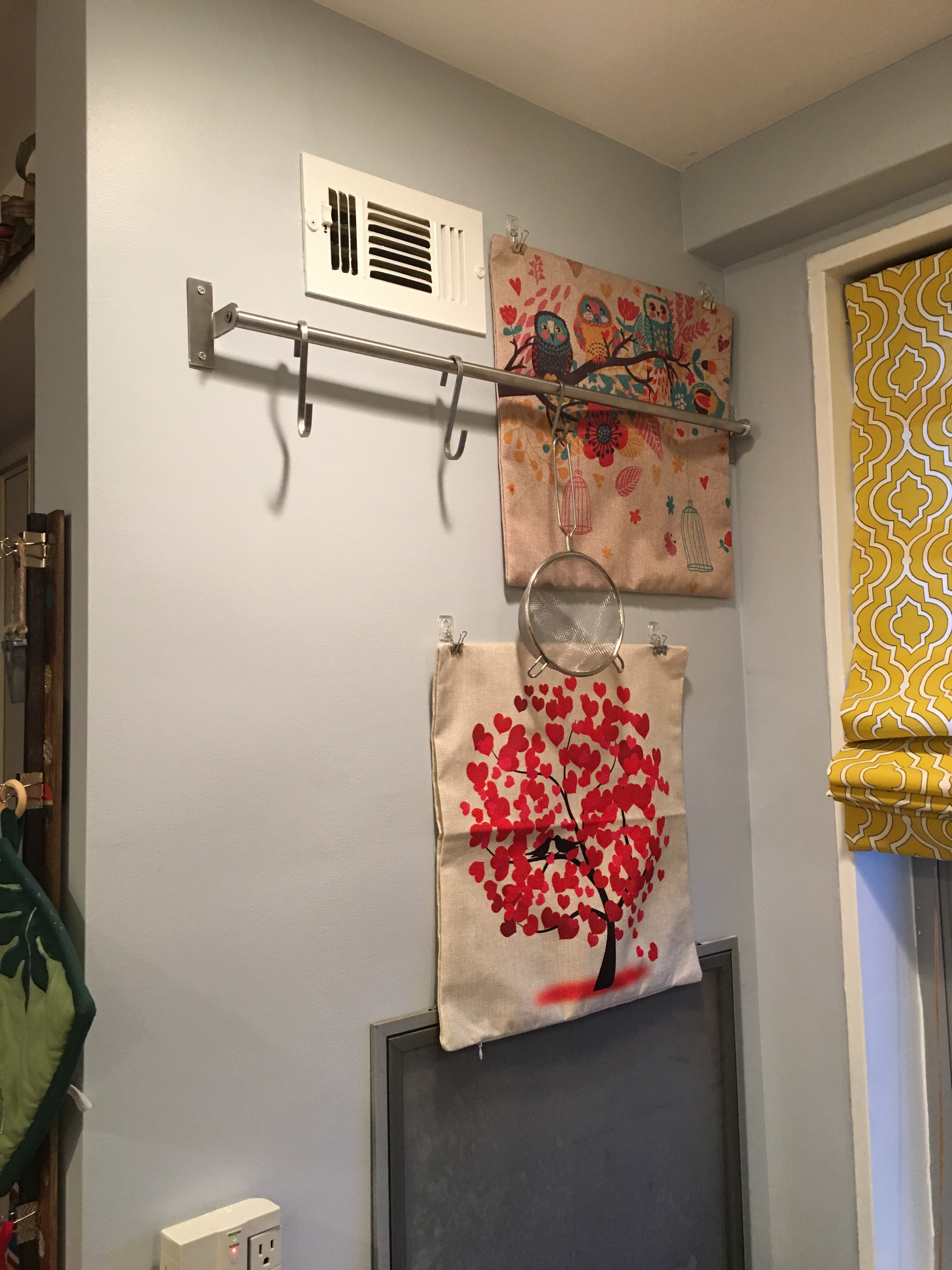 I then mounted the first large Grundtal bar over the top pillow cover. Once I added the hooks and hung a few pots and utensils, I saw the wall shaping up to be the beautiful, unique showcase that it deserves to be.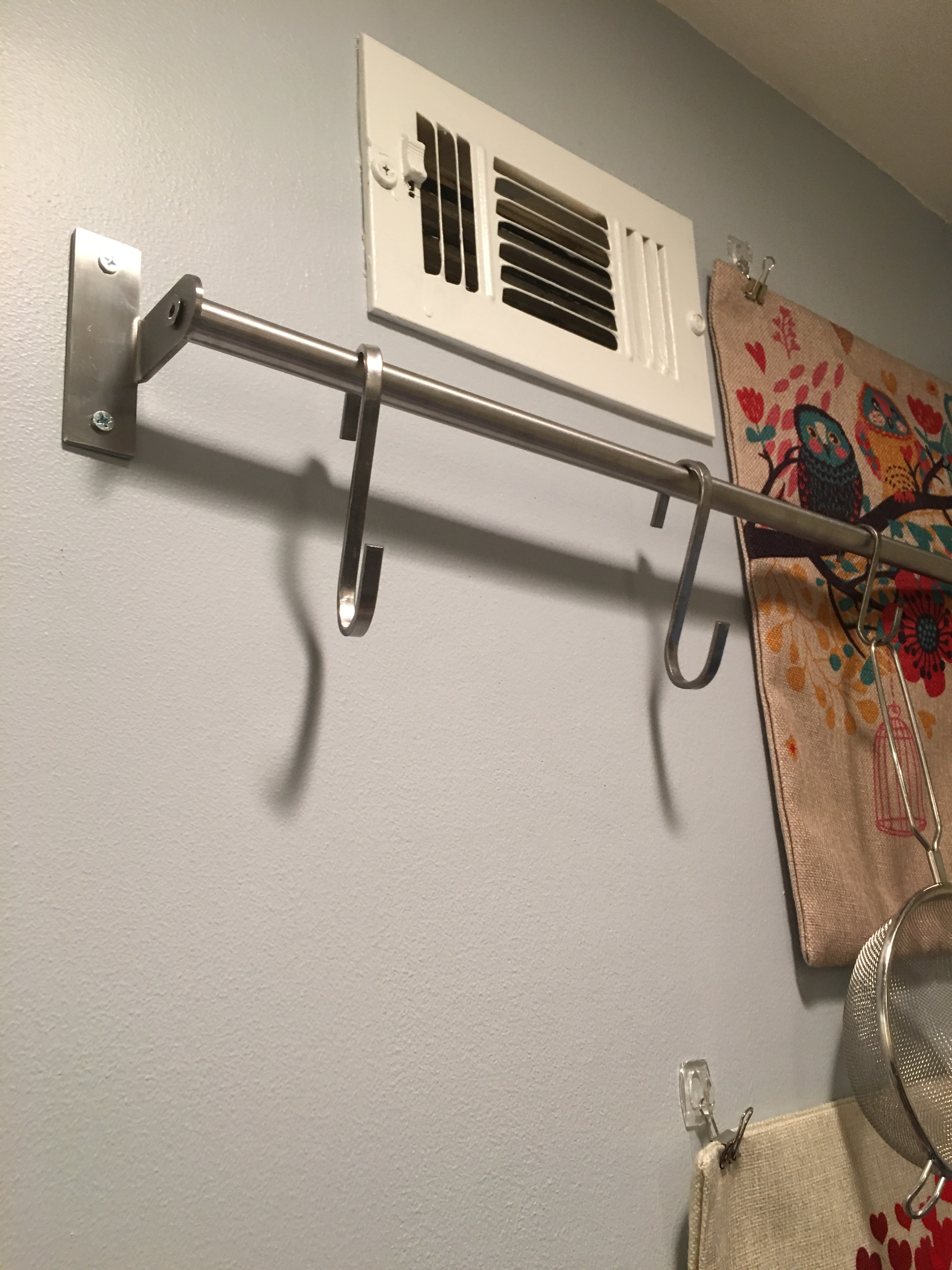 So here's the wall in progress. Halfway there. The look of the hanging utensils and pots look fantastic over the linen pillow cover squares.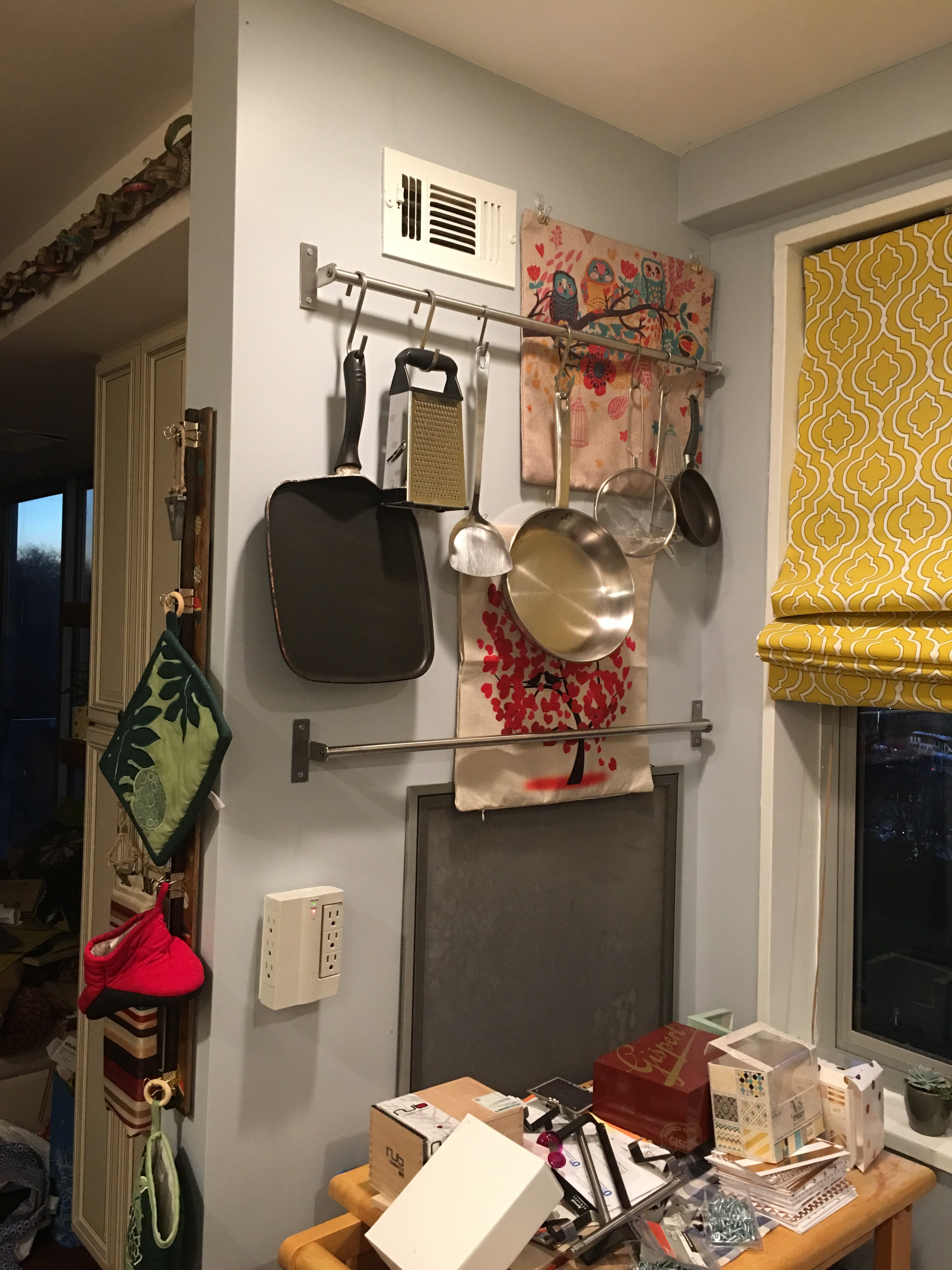 I removed the kitchen window screen (which will soon be finally replaced…it's been propped against this wall for way too long – since our kitchen redo, over a year ago!). Then I mounted the second large Grundtal bar.
And hung more hooks and utensils. Must find more pots and pans to hang. It's time!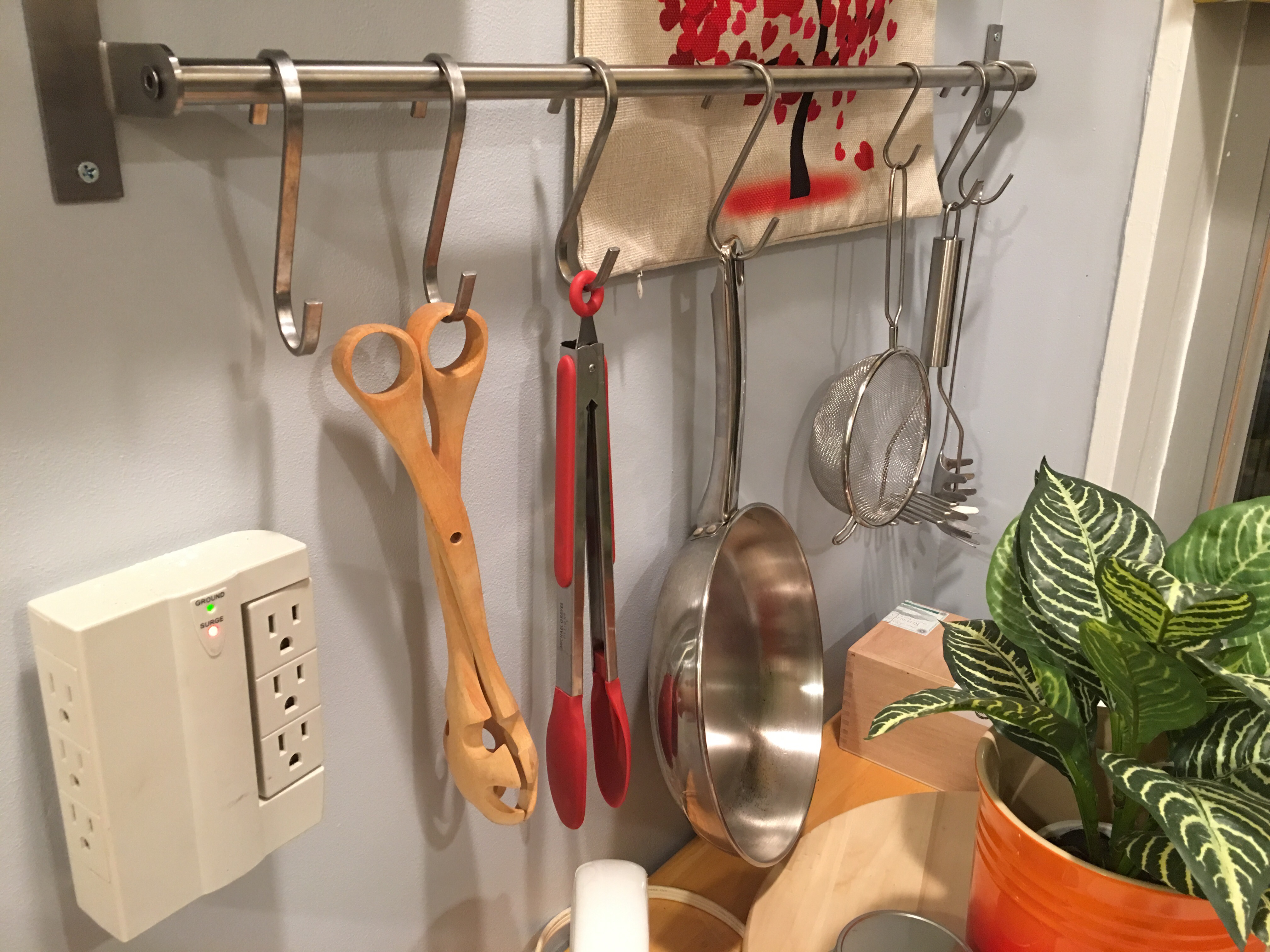 So here's our kitchen wall now. Sweet!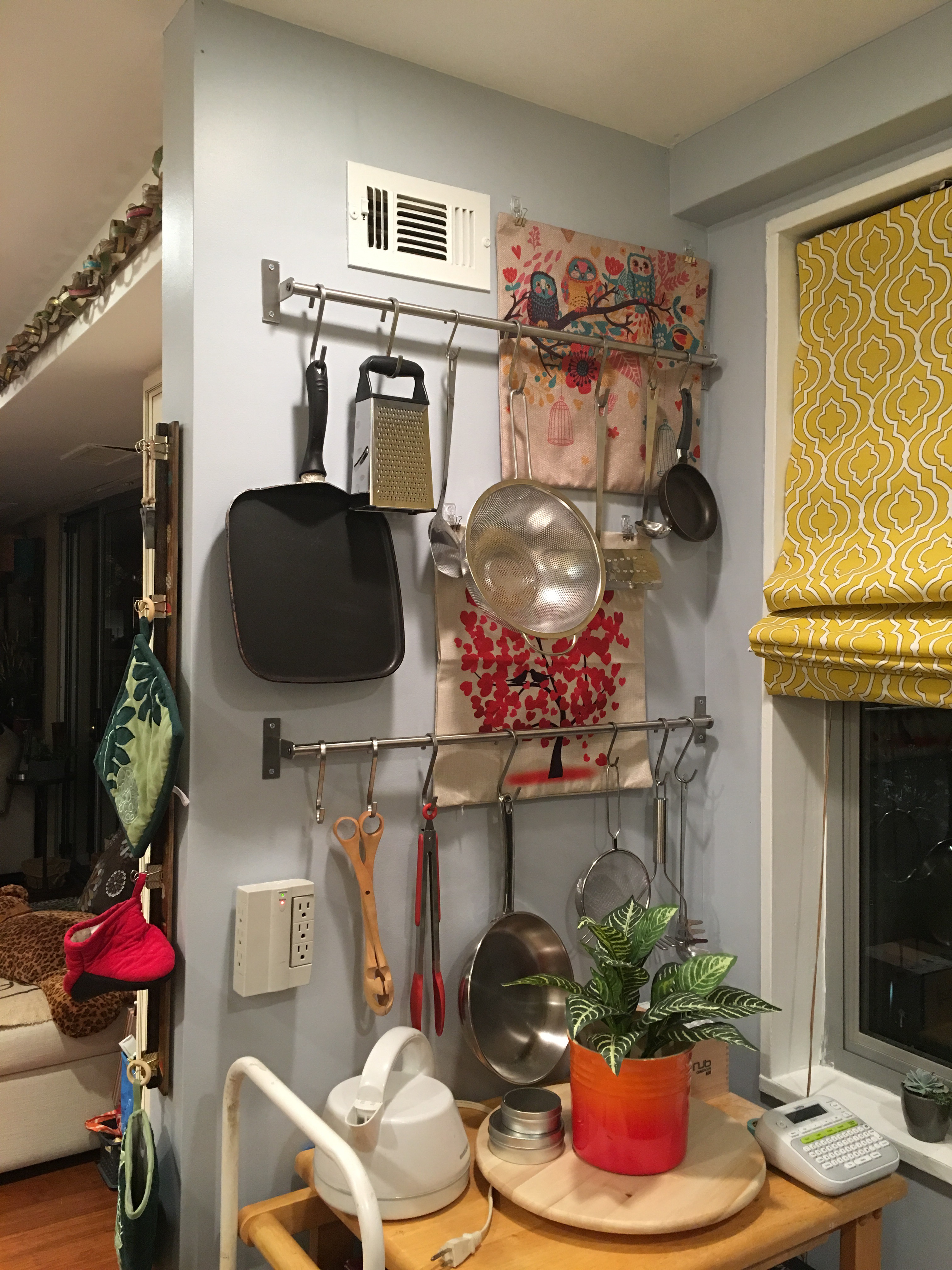 This took me practically no time to install. I got in from work at 6:30pm and I was snapping the after pictures an hour later.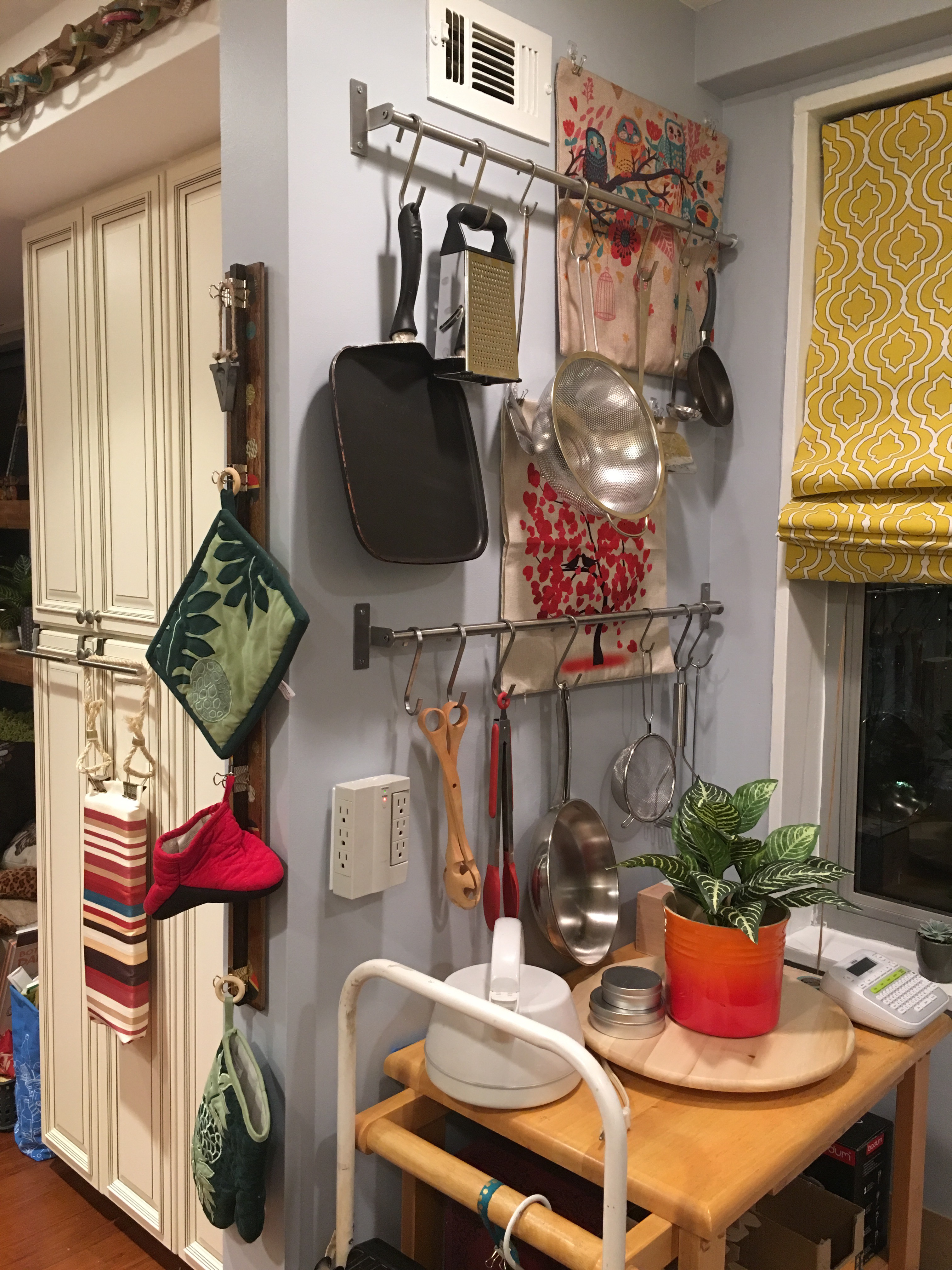 Items that were tucked away and took up an ungodly amount of space in the cabinets are now attractively displayed and at our fingertips.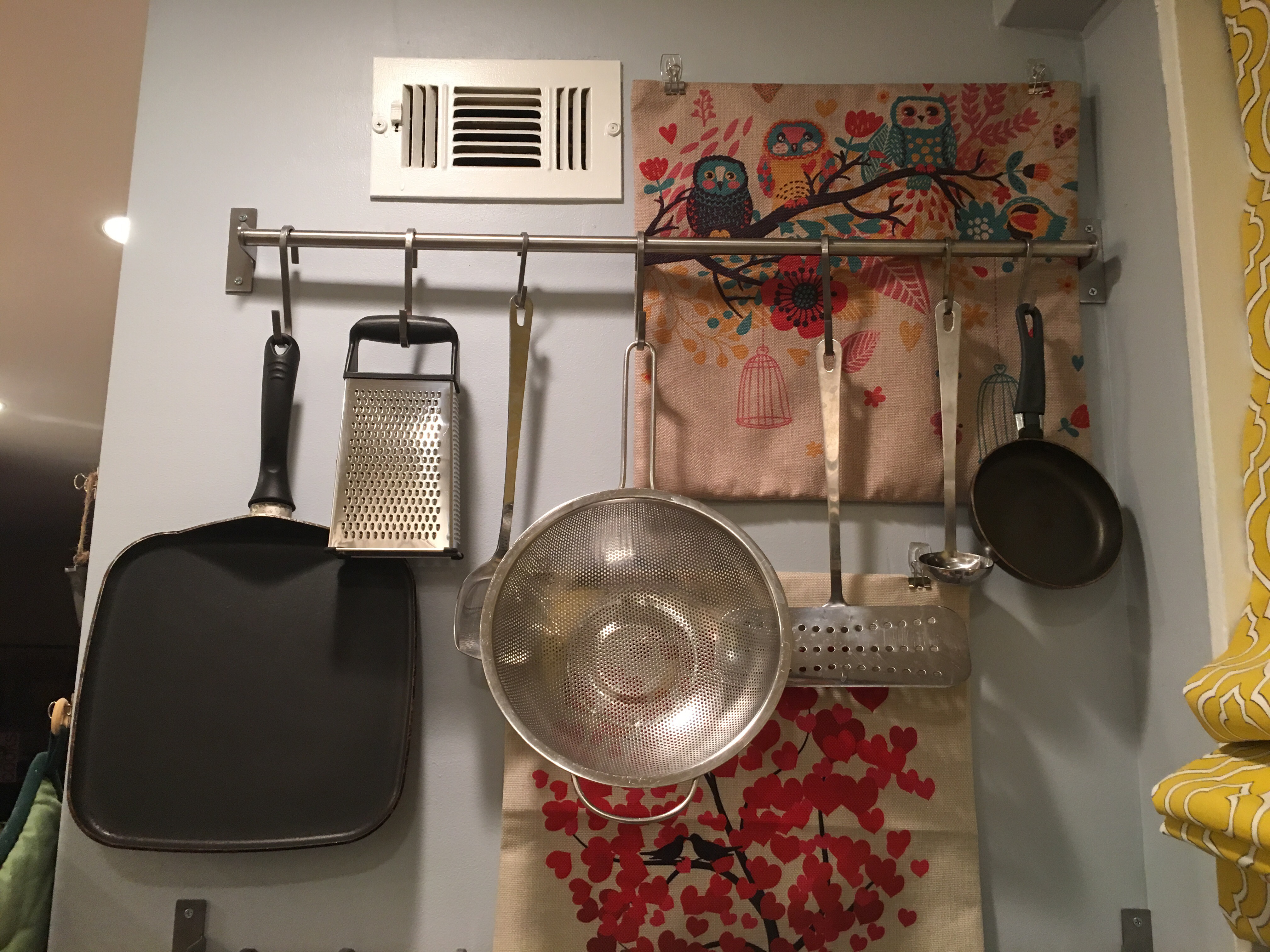 Finishing this wall so quickly even motivated me to clean our kitchen cart (removing all of my crafting clutter), and staging it with functional and decorative items. Note the turntable on the cart – another IKEA find yesterday.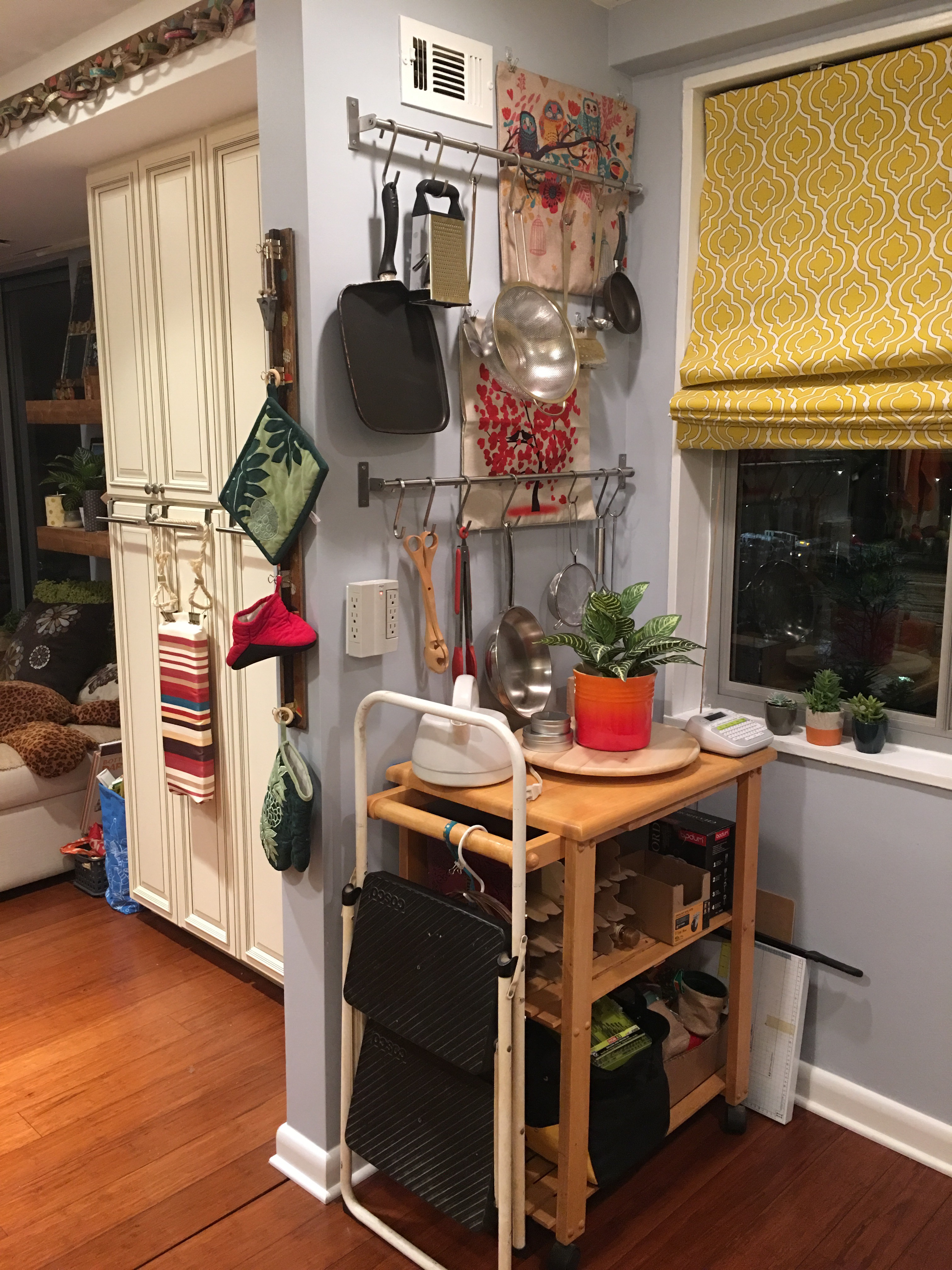 Here's a side view of both walls and the window (my pot holder wall hanging strip prominently displayed).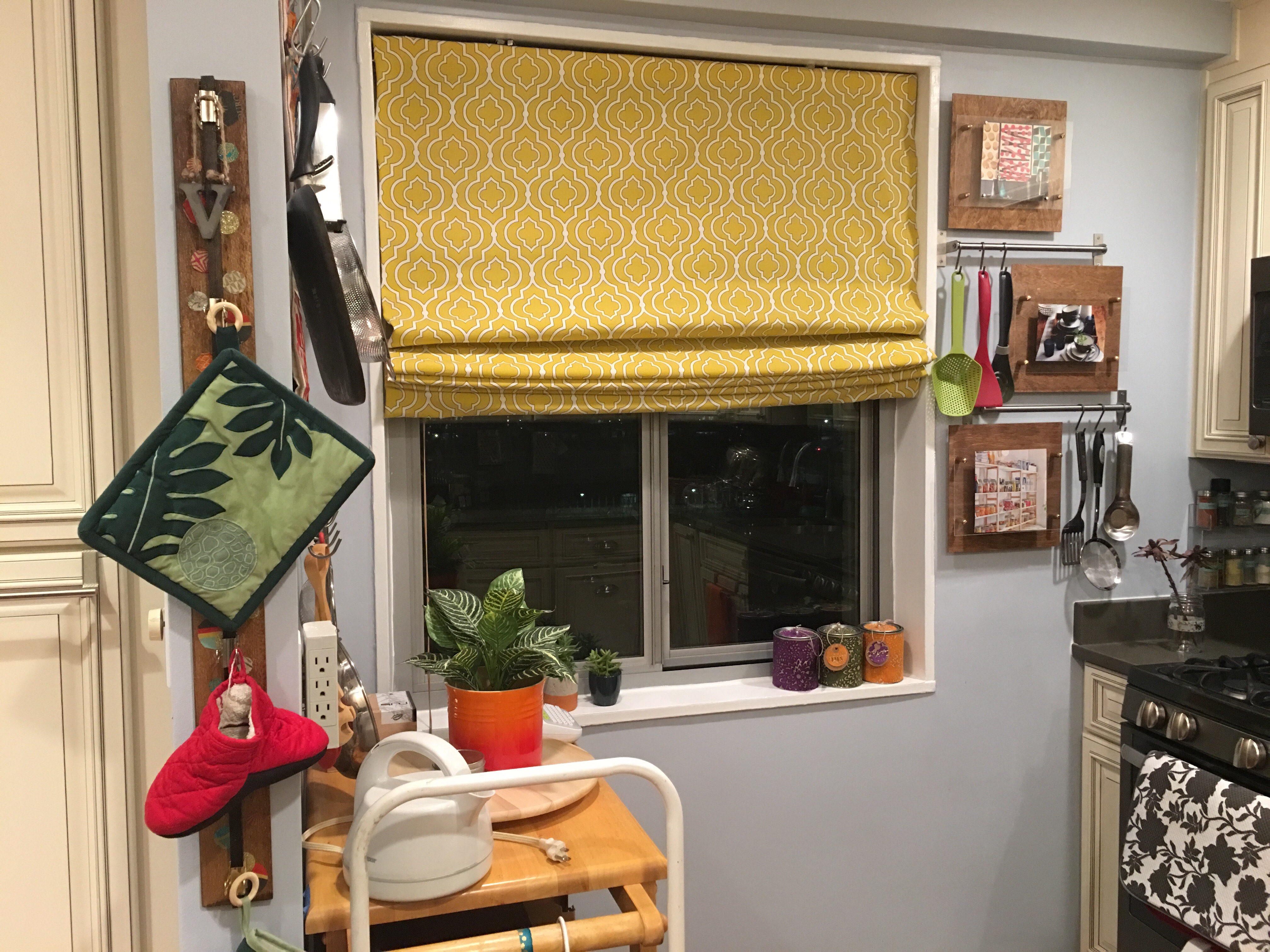 OK, another photo, same angle. I can do this all night (I have so much time left…a lovely Monday night perk).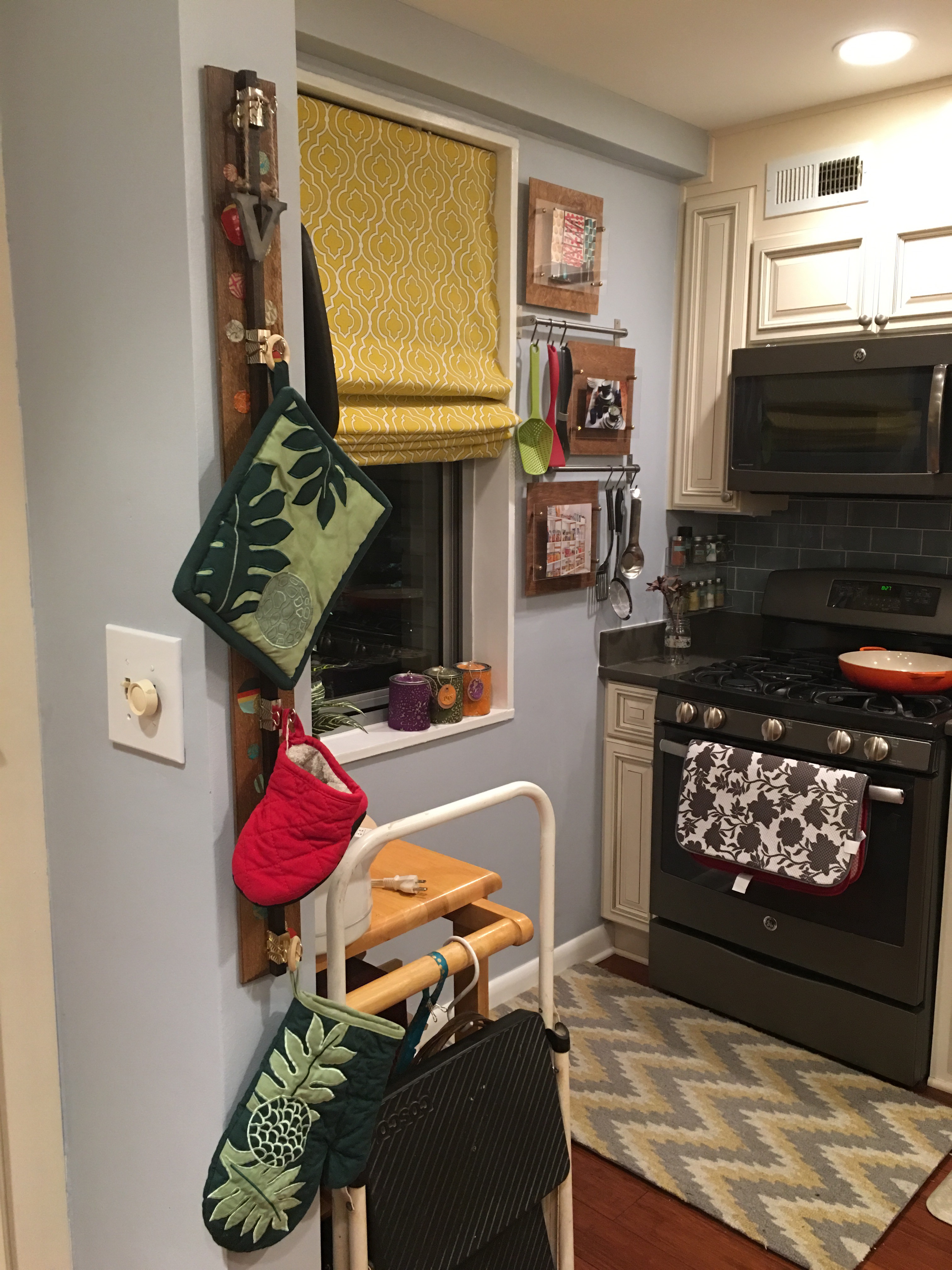 So here's my now clean and clear kitchen counter (between the stove and sink). No more huge crock brimming with utensils taking up precious space.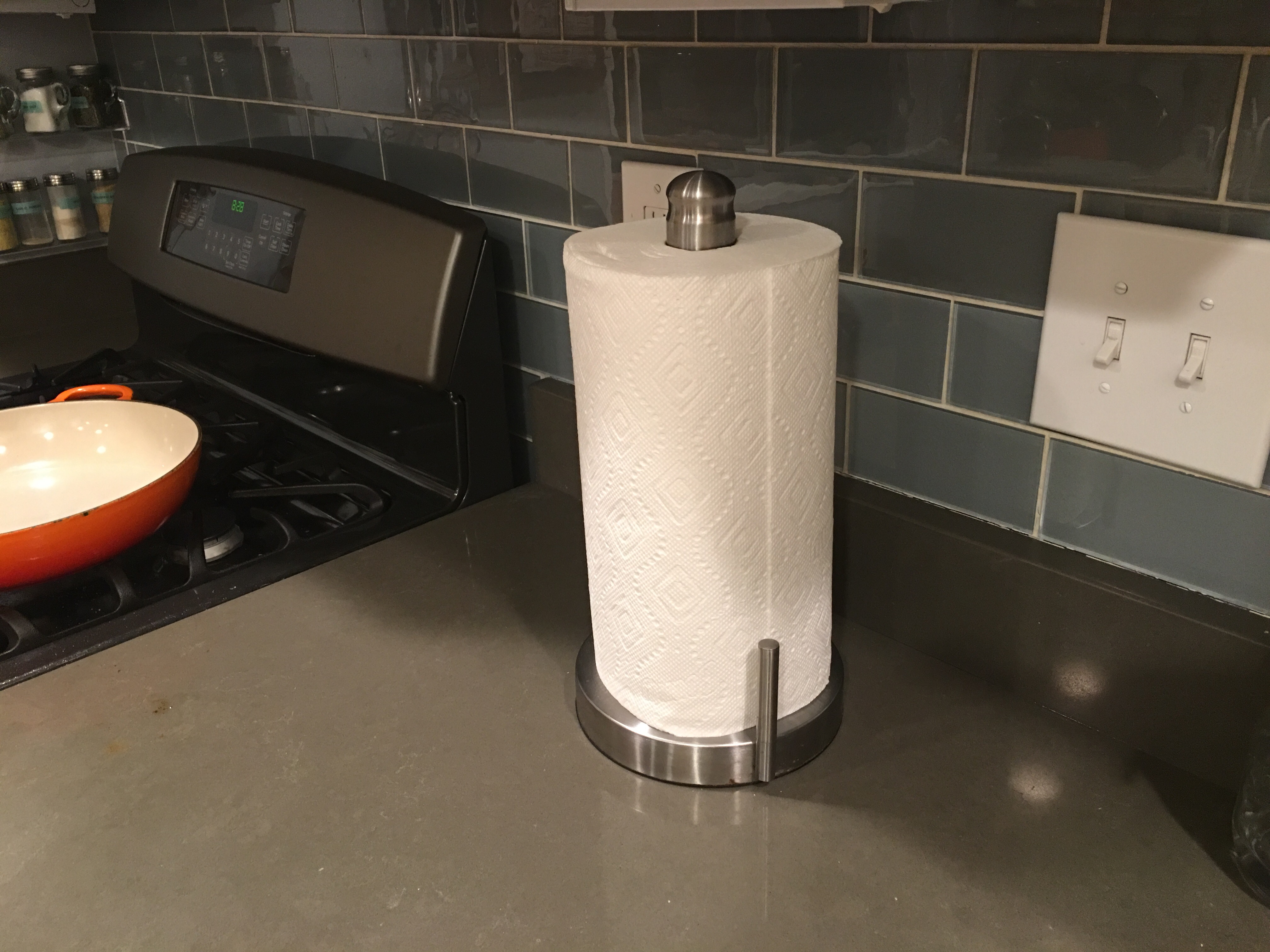 And here's how I'm using my now empty utensil crock now. Makes me smile in wonder. Never thought I'd see the day this crock would be empty of tools. Certainly would have never guessed it an hour before.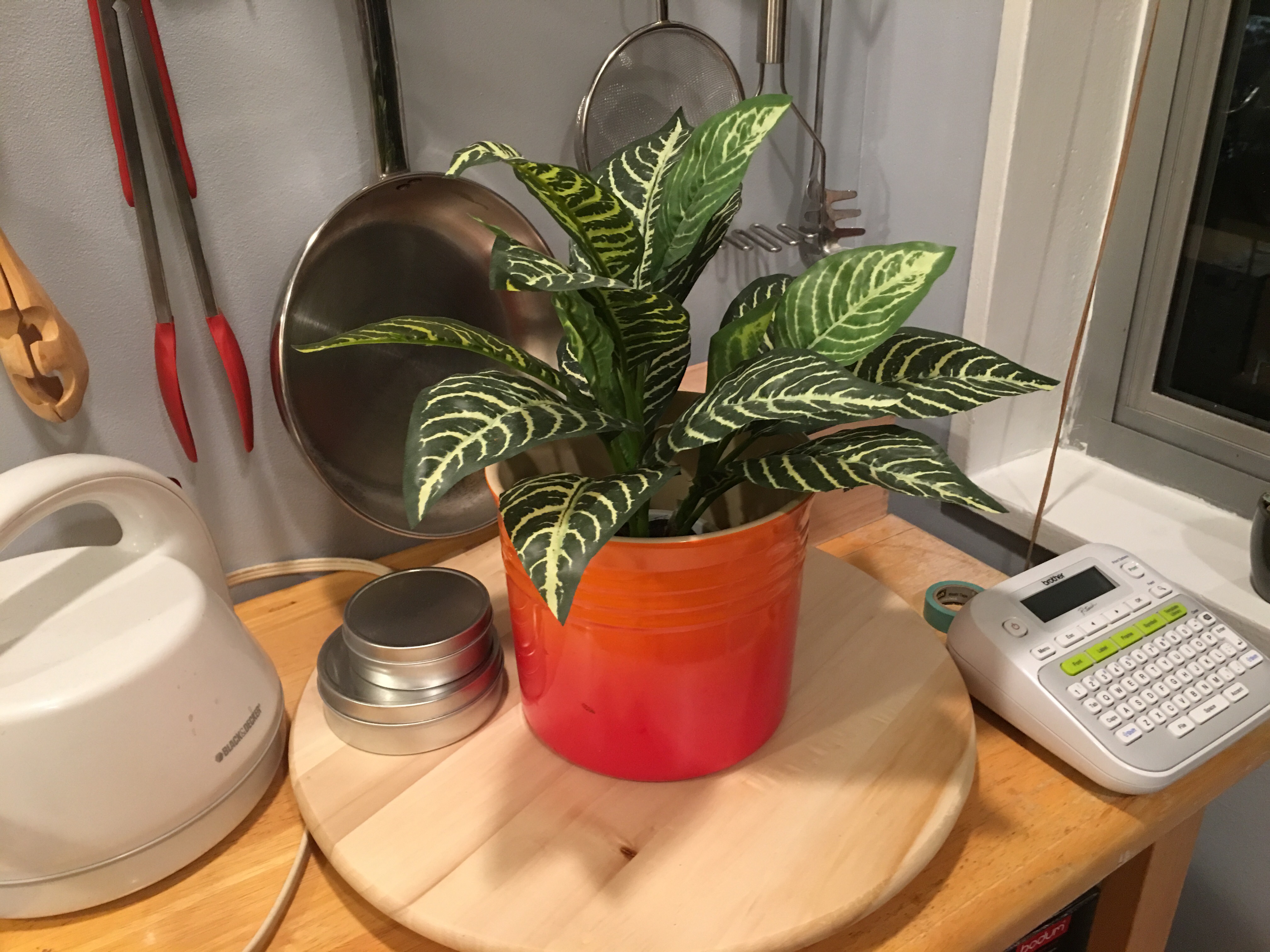 So now the 2015 tea towel can be retired as a wall decoration (and used for its intended purpose).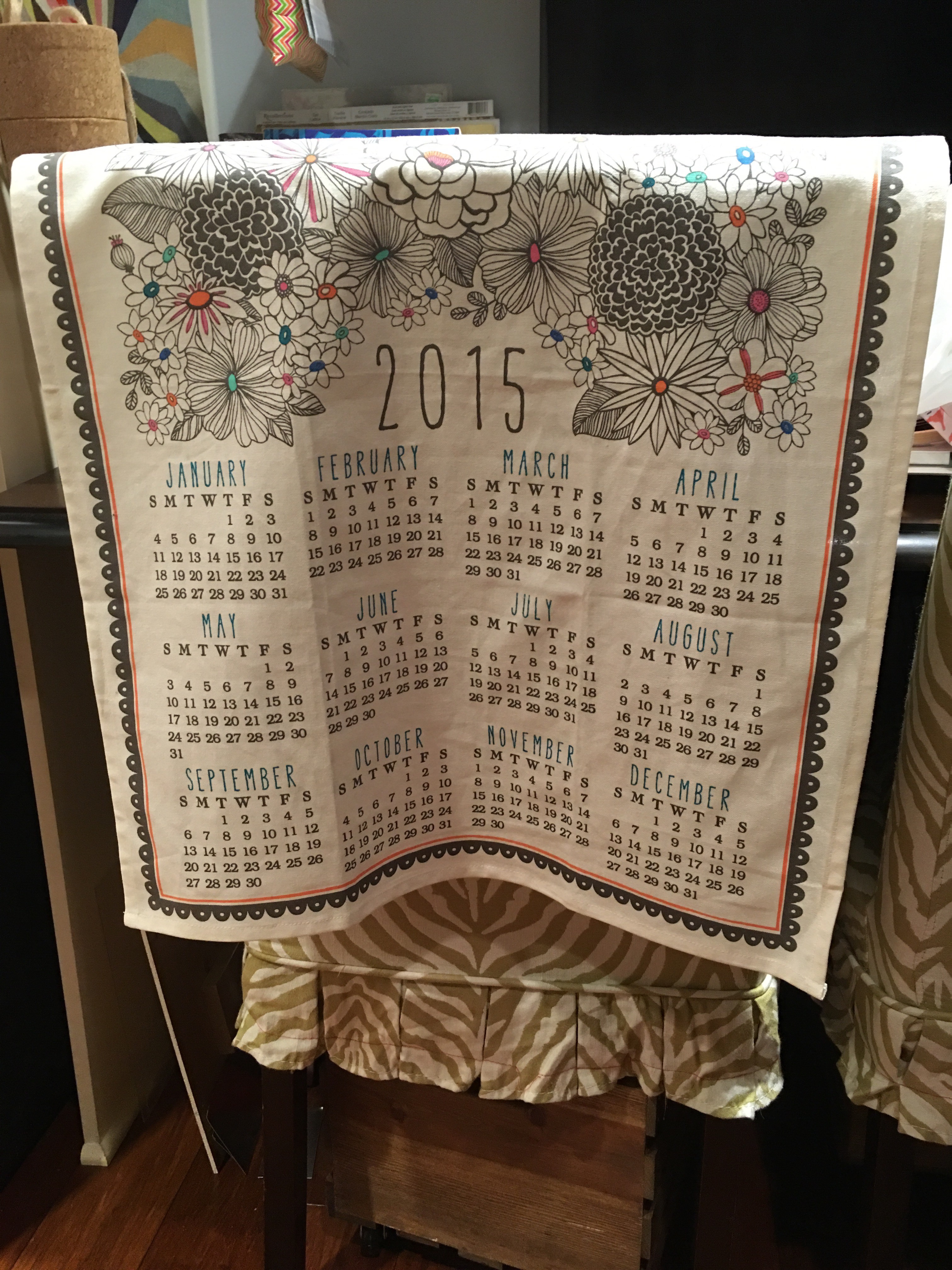 Which is the theme of the day. Change in season. Change in space. And putting a fresh, new spin on the everyday and familiar.
Spring has sprung in our kitchen! V-