Urbio Wood Plaque (Decorated with Paper)
January 30, 2016: I've finally mounted my paper decorated wood Urbio plaque.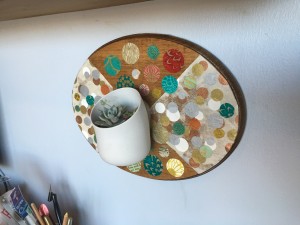 Some of you may be wondering "What on earth IS that?"
Urbio is a vertical garden wall planter system that consists of metal wall plates and magnetic cups. There are very strong magnets embedded in the back of the cups so that you can stick them on any magnetic surface and have a very strong hold.
I've been obsessed with the idea of using this system in the condo for well over a year (since I first discovered these at the Container Store). This picture is when I first spotted the Urbio display on December 14, 2014.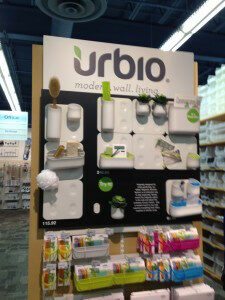 I kept returning to the store and eye-balling the display, wondering how this can be brought into our condo as decorative wall planters, or as a cool, wall mounted, organization system. So I'm back, on New Years Day 2015 to take a closer look at the Urbio offerings.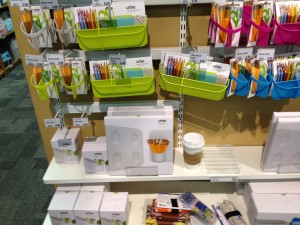 I kept moving the cups from tile to tile, my mouth forming an "O". Cooooooool!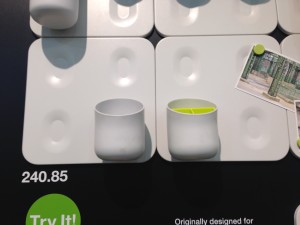 Of course, I had to test the weight capacity of these cups. It holds a full grande size latte…so far so good.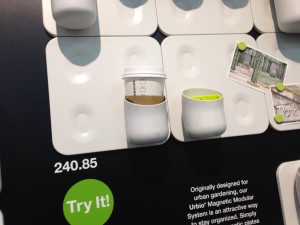 At the time, our living room and kitchen had not been redone yet, so I was focused on bringing these into the bedroom and turning our walls into vertical gardens. I ran the idea by Bruce who quickly gave it the thumbs down. So I dismissed the idea…until I discovered, at the Container Store, the Urbio Wall Puck.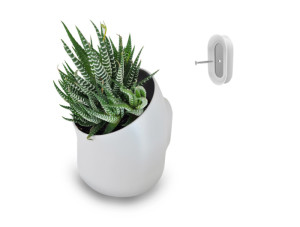 The wall puck allows you to attach a small metal mount to a wall or any surface (using a screw or an adhesive strip). This way, you can mount an Urbio pot anywhere without needing to add wall plates.
NOTE: As of today, the Urbio wall pucks are no longer being sold. And there is a new modular system available from Urbio using a different type of magnet and mount – the Urbio "Perch". I'm working on another post to discuss my workaround to this sad development.
The whole modular system is not very expensive – $12 for the wall plate, $8 for the "shorty" Urbio pots, a bit more for the larger containers. But I figure I could baby step my way into integrating the Urbio system in our place by adding a single wall puck and a shorty pot for $16 ($8 each).
I orginally used the adhesive to add the Urbio puck and pot in the bathroom using an adhesive mount. It held my toothbrush and toothpaste for about 36 hours before it fell off the wall.
Plan B
Fast-forward to October: I had this unfinished wood plaque that I purchased from AC Moore for $4.
I brought it home and I stained and stashed it. I didn't have any use for it until now.
I attached the wall puck to the center of the plaque, added the Urbio pot and propped it on my crafting desk. Didn't like it. The plaque was too big for the pot. Too much wood. Not enough Urbio.
For days I frowned at the wood Urbio mount until, in a flash, I had my creative A-HA moment! In a stroke of brilliance I measured and cut some fine papers that I got from the Blick Art store and used Mod Podge to decorate the wood with the paper. I've also been cutting Paper Source scraps into various size circles over the past couple of weeks. I had no real purpose for the paper cut-outs…until now.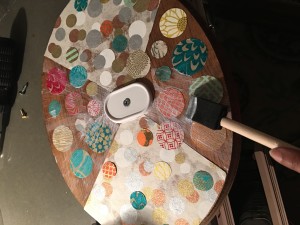 I decoupaged the wood plaque with the decorative paper cut-outs and came up with this gorgeous craft creation. Here it is on November 8. I absolutely love it!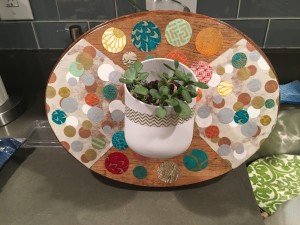 I loved how this wood plaque came out so much that I immediately started other projects featuring paper-decorated wood. This is where my "paper and wood" journey all began. 😉
Urbio wood plaque mount
Fast forward to January: Over a year after first spotting the Urbio planters, I finally have my VidaDIY version of it on a wall. The plaque was propped on my desk for three months before I got my behind in gear and pulled out some Command strips for wall-mounting.
I was a tad nervous about it, especially after the unfortunate experience of watching my Urbio pot fall to the floor in the bathroom. But I didn't want to commit the plaque to a wall location just yet. So I got out the hot glue gun and glued four large Command picture hanging strips to the back of the plaque. (These needs to be glued on the wood because the Command strip adhesive will not properly stick directly to wood).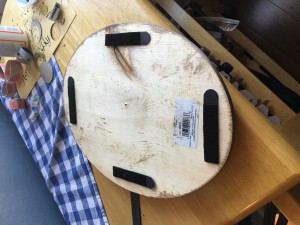 I added the wall-adhesive side of the Command strips to the plaque and mounted it under my craft area floating shelves. And there it is.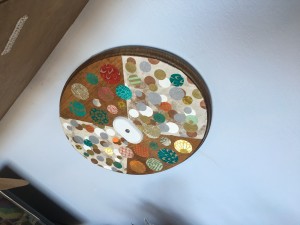 In the Urbio pot, I added soil and planted three tiny succulent plants.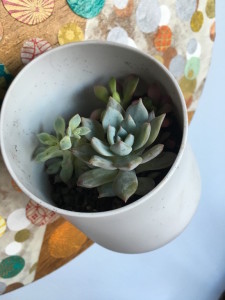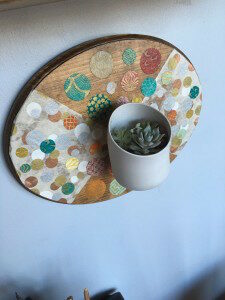 I'm planning to make another Urbio wood plaque in February as a companion to this one. I will need to find another metal attachment option now that the Urbio wall pucks are no more. I will add a link to that post here as soon as I have it up. V-