The miracle wall art project?
You may also like:
January 30, 2016: So I'm going through my photos in the process of creating an obscene number of website posts in one full swoop (playing serious catch up here), when I come across these beauties.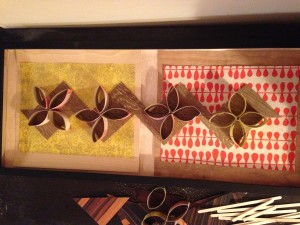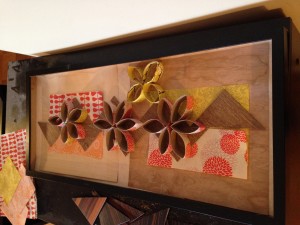 I began this project well over a year ago – on December 13, 2014. And I never completed it. It started from the need to re-purpose a framed piece of artwork that I need to replace due to a Command strip mounting mishap. So the print in the frame is no longer needed and I was trying to come up with a wall art concept that uses the frame in a very different way.
Below is a picture of the print to be discarded on December 13, 2014. I want to use the leftover frame in a new project.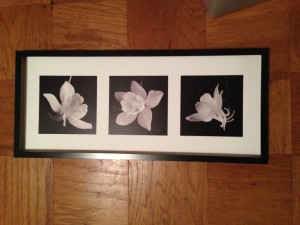 I've been seeing these cool craft tutorials online where you would take used bathroom tissue rolls, divide up up into three or four sections, then arrange them in floral patterns on canvas. Many would also attach them directly to the wall.
The paper floral patterns would typically be painted with acrylic or spray paint for decoration. Well, since I'm in a paper decoupaging mode right now (my preferred "paint" being Mod Podge), I decided to make a trip to the Paper Source to get decorative paper for the project intstead.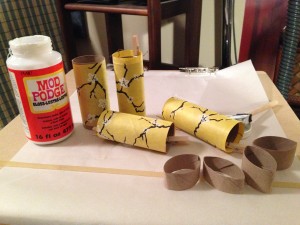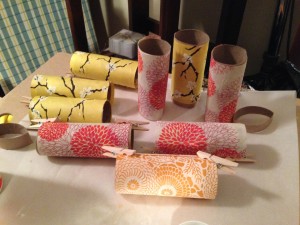 I also pick up a couple of wood veneer covered 12 x 12 cardboard from the shop. I used the wood veneer to line the back of the frame. And I used five different vinyl wood sample squares as decorative embellishments. I cut each in have to make 10 triangles. I tried arranging triangles into a design within the frame on December 14, 2014.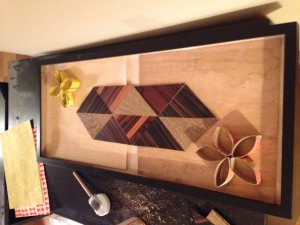 I layered two 8.5 x 11 sheets of colorful fine paper over the wood veneer sheets, then added the vinyl wood triangles on top, and then, at the top, the paper floral accents.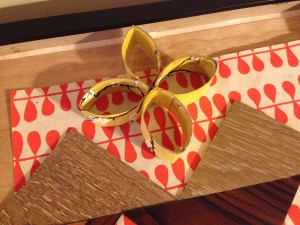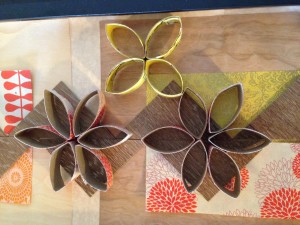 This created a colorful 3D effect in the frame that looked fantastic (if not exactly cohesive).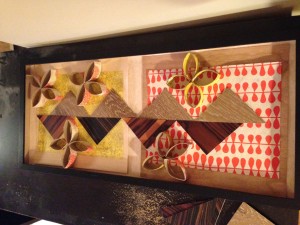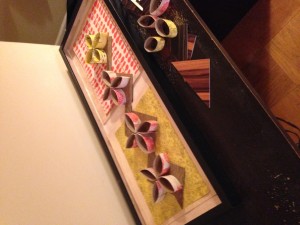 I liked where this project was going. However, I couldn't decide on a final design for the floral accents. And I began to hear whispers of doubt, especially about the feasibility of creating a framed wall art piece without glass to project it from dust. I won't name any names, but the voice was distinctly male.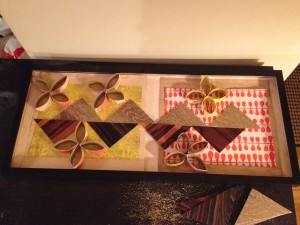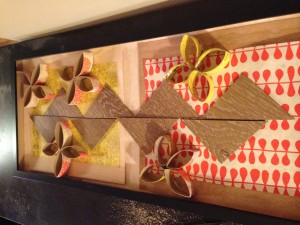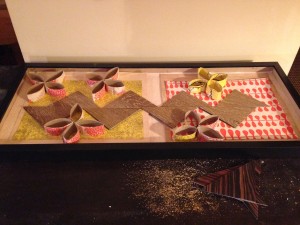 I never did decide on a final design for the project. So I set it aside to focus on other projects and the upcoming Christmas holiday.
Currently, the frame and the dimensional wall art pieces (made from discarded bathroom tissue tubes) is under my bedroom dresser…abandoned and gathering serious dust.
As I look through these pics (and write this post), I'm surveying my space. And I may have found a spot for this that works.
If I complete and mount this piece, it will be beyond a miracle. And I'm all about miracles. Will check back in after a couple of hours. V-