Days of the Week paper and chalkboard hanging canvas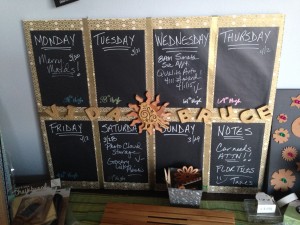 March 2015: I found these blackboard removable wall panels in the Paper Source. These Wallies blackboard self-adhesive sheets are designed to be applied directly to the walls. But I figured that it would look great on a decoupaged canvas using Paper Source patterned paper.
I used a 24 x 30 canvas for this project. I covered the canvas using paper with a gold honeycomb pattern. I applied the paper with a hot glue gun (using glue to attach the paper to the right and left edge of the canvas. I chose not to use Mod Podge because, with some papers, dark glue blotches appear once dried. I wanted to avoid that blotchy, oily look Mod Podge sometimes gives to certain fine papers.
I then took the Wallies blackboard panels and cut each in half. I applied eight rectangular panel to the canvas and separated them with gold washi tape. I labeled each chalkboard panel with the days of the week (and labeled the eighth panel "Notes").
As embellishments, I spray painted cork letters (purchased at Michaels) a metallic gold.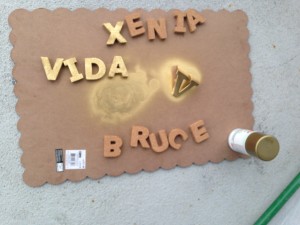 I then hot glued the letters V-I-D-A and B-R-U-C-E on either side of a wood sun shape (with a wooden bird shape glued on top and painted metallic gold using acrylic paint).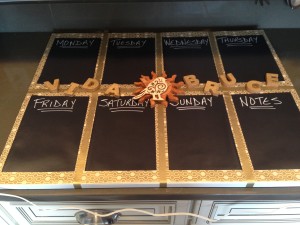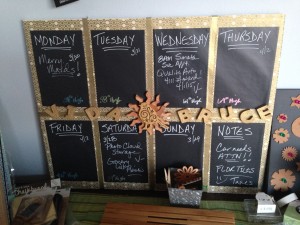 This was a quick and easy canvas project that I completed on a Saturday afternoon. It now hangs on our wall besides the pantry area using 3M Command Strips. V-