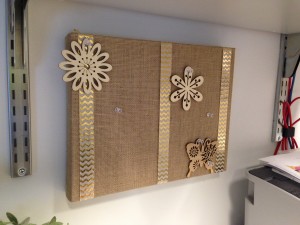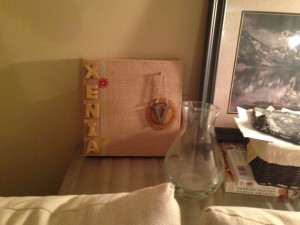 March 2015: I found these burlap 12 x 12 canvases at AC Moore. You can also find these at Target as part of their Handmade Modern series. They have a deep profile, allowing them to be hung on the wall, or to stand on their own. I figured these would make great bulletin boards – just add some cork beneath the burlap fabric to add more cushion for the push pins or thumb tacks and voila!
Tech office burlap board
I first made a couple for my desk – the first in February 2015. I decorated it with Little B washi tape (tape which soon become prominently featured with various craft projects in Tech).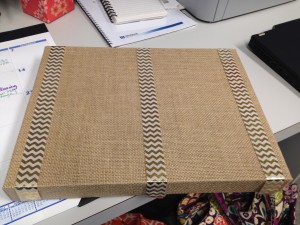 As embellishments, I tacked a few wooden shapes I purchased from Michaels.
It's mounted to the office wall over the right side of the U-shaped Tech Office counter/desk with 3M command strips.
Xenia burlap board
My mother, Xenia, continues to be the ultimate crafting muse for me (especially her name – so beautiful and unique). And, as such, a constant recipient of my DIY gifts (which she so graciously accepts always, as a doting mother should ;).
So, of course I made her a personalized burlap canvas. I spray painted cork letter cutouts that I bought at Michaels gold, and hot glued them to the left side of the canvas. I added a strip of washi tape as a decorative border for her name on the right, and then added a couple of Martha Stewart stickers as embellishments.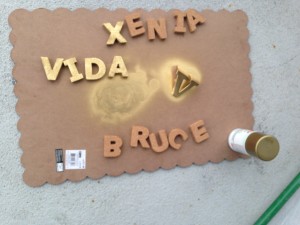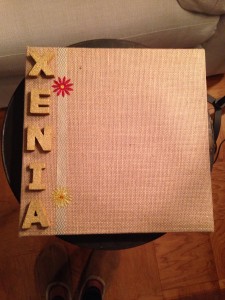 I added a monogrammed wood doily as an additional embellishment by thumb-tacking its string loop to the board. In these pictures, I used one of my "V" doilies.
I intended to make another one with an X for this project, but I eventually just added the Make Market aluminum X on a string to Xenia's board (without adding the wood backing).
Here's how it looks in her kitchen/common area in her Brooklyn apartment.
Vida burlap board
Of course I made a board for me with my V-I-D-A letters. Mine is currently displayed in my Tech Office as well.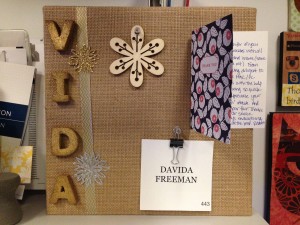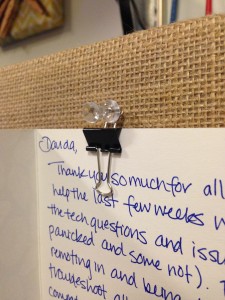 This is a quick and simple DIY project that adds instant beauty and function to my home and office spaces. V-