My Tech Owls exhibit at work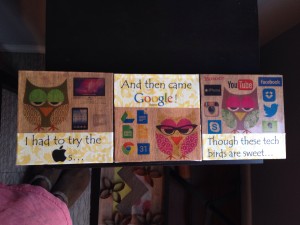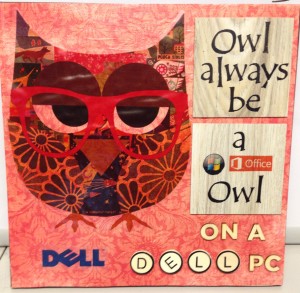 I had to try the "Apples"…
And then came Google "Apps"
Though these tech birds are sweet,
Owl always be…
A "Windows", "Office" Owl…
…on a Dell PC.
January 2015 – My day (and occasional night) job is technology infrastructure and helpdesk support. I work for a company that provides opportunities to work with different technologies in different client environments. That is how I became a manager and lead engineer for a technology office at a K-12 private school. I was the Tech Office manager at this school for four wonderful years (from 2010 to 2014).
I loved the work that I did with the school's technology programs, especially because it dropped-kicked me out of my comfort zone from day one. I walked into this environment after providing technology support at a law firm and quickly learned that I landed on a completely different planet. The Blackberry Pearl I toted was taken out of my hands and replaced with an iPhone. I lived in a sea of Apple MacBooks, iPads, Google Chromebooks, you name it. I spearheaded and survived the change from Microsoft Exchange and Outlook to Google Apps and GMail. I had to adjust and readjust to new and changing technologies every day (and at times, every minute of each day).
But the one thing I firmly hung onto was my butterfly Dell. My trusty Dell Latitude E160 – the ultimate work tool (especially for my work as a network engineer). With that Dell, I can work with email, browse the web, whip up killer spreadsheets, remote into servers, you name it! It was my workhorse. It was my anchor. It was my safe harbor in my turbulent world of swift changing technologies that demanded top performance from me and my team.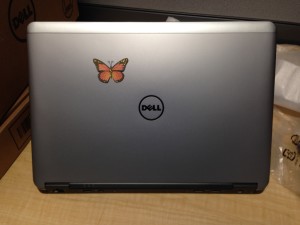 Many, including my tech work colleagues always wondered why, when surrounded by the newer, cooler, more expensive, cutting edge computers, I would continue to work on a crusty, four year old plus Dell laptop (with a broken hinge on top). I would simply respond that I use what works best for me, but many assume I really mean "I hate all things Apple…Windows rule!" Not so. I just like what I like. I'm a Dell, Windows, Microsoft Office girl. Period.
It wasn't until after I left the school and moved on to my next work assignment that I created the pitch perfect response to the question, "Why don't you like Apple?" or "Google?".  At my next site, I chose to preemptively answer that question with my lovely Tech Office mascots – my adorable Tech Owls.
The Tech Owls
I discovered the owls while browsing AC Moore in December 2014. There were these wall decals of cute, funny and artistically designed owls from Decor Decals by Artbeats. You peel and stick each owl to your wall, or wherever you want.
The decals became an instant creative inspiration for me. They are featured in a couple of my canvas projects (including the "Backscratch" 12 x 12 displays).  After a few weeks of brainstorming an owl craft project for my new tech workspace, I came up with this cute, funny, multi-canvas exhibit that discusses my love of all things technology (including my Dell).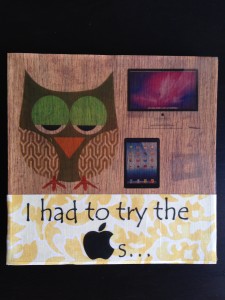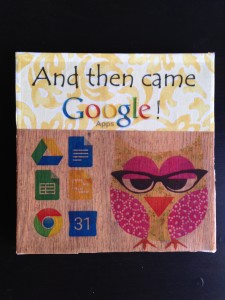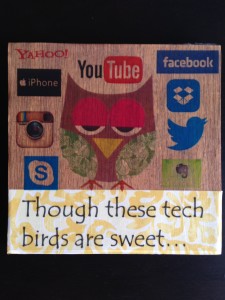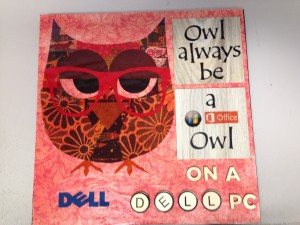 The big Tech Owl canvas
I made the last canvas in the Tech Owls exhibit first. I used one of the left over canvases from the wood monogram project. Rather than using the canvas (decorated with scrapbook paper using Mod Podge) for displaying a wood letter initial, it became the backdrop for the tech owl final answer to the question – which tech owl are you?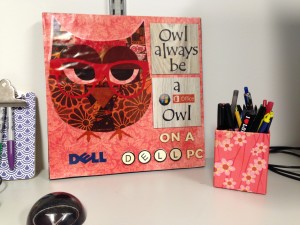 I applied the large size owl decal first. Then, for the Owl always be… caption, I glued two laminate wood 3 x 3 sample squares. I used letter rub-ons to add the words to the laminate squares.
For the Windows and Office icons, I downloaded an image of each using Google images, and then printed them out on Grafix transparent adhesive sheets. I cut the images out and then applied them directly to the squares as stickers.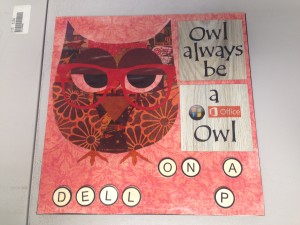 The last part of the big canvas caption- the On a Dell PC words – were tricky to figure out at first. I initially ran out of the round wood Scrabble letters and couldn't completely spell out each word. So I mixed two different types of wood letters together, and to flesh out the layout, added a DIY Dell decal sticker to the canvases as well.
Little Tech Owl Canvases
I completed these smaller canvases days later over the weekend. I used Martha Stewart wood grain decoupage paper as the background for each 6 x 6 canvas (using Mod Podge). I then used scrapbooking paper to add a decorative banner for each caption (also applied using Mod Podge).
And, lastly, I added the owls and each caption – all printed on transparent adhesive sheets – onto the paper decorated canvas.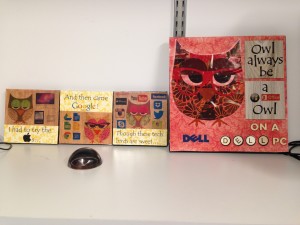 Tech Owl Command Center
The tech owl canvases live in the Tech Office of my current work site (right outside of the server room. Not only are they cute and fun (and is my creative little "wink" to those entrenched in a chosen "tech ecosystem"), they provide a whimsical, welcoming space for any stopping by for a visit. They are the first thing you see walking by the office or walking in the door.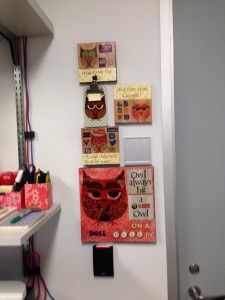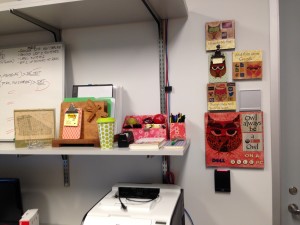 My tech owls also draw people in, encouraging them to come in and to share and enjoy the office (whether tech assistance is needed or not). That's a big bonus making the project even more worthwhile and encouraged me to adding more crafty, DIY items that put my creative expressions on display. V-