You may also like: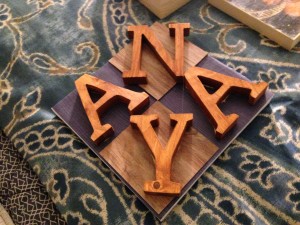 December 2014: As part of my Christmas gift for the Eliases, I wanted to make a personalized name canvas piece for their daughter Anya. I've been working with Mod Podge to practice the art of decoupaging paper to canvas frames. I then used those decorated frames for various projects – wood monogram canvases, an office "Tech Owl" exhibit, my "Do more of what makes you happy sign", to name a few.
For Anya's canvas, I went with the same concept as the wood monogram pieces. But since there are four letters rather than one in this case, I split a 6 x 6 canvas into four 3 x 3 squares. And used 3 inch wood blocks in each square to spell A-N-Y-A.
I first applied the paper – a blue, wood-grain color design that is part of the Martha Stewart's decoupage paper collection. To stick with the wood grain theme, I added two wood laminate square samples (which, as luck would have it happened to already be 3 x 3 inch size…no cutting required).
I then stained each unfinished wood letter with the Early America wood stain. The letters I got from AC Moore for about $3 each. Pricey…but worth it. Added a really nice dimensional touch and looks real pretty once stained.
I then glued each letter in each section of the canvas using wood glue. I rotated the "N" and the "Y" clockwise to add a visual, multi-directional edge to it. The "A"s are matched and positioned in squares while the other two letters are positioned diagonally. Plus, the fact that I'm from Brooklyn, N.Y. made me love the inverted "N" and "Y" letters even more.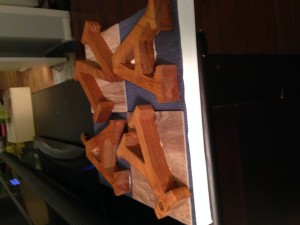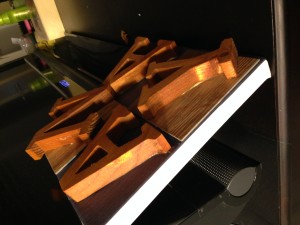 Turns out, the "Anya" canvas was a rush job. It was a last minute project I decided to make an hour out the door on our way over to the Eliases for Christmas Eve dinner. See the glue is still drying as I prepared to pack up all the gift crafts in a Christmas tote. Ha! Here's a picture of all the items I packed up to take (including the wood transfer panels with photos of Anya, Debbie and Andy).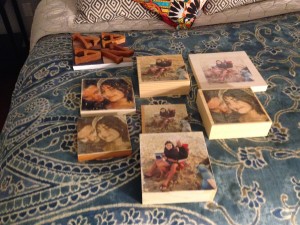 Anya was so sweet to send me a picture with her canvas (and one of her wood transfer photos) after she unwrapped them on Christmas day. That picture made this adventure in wood craft DIY gifts all the more worthwhile! V-