Linen pillow covers (aka cabinet side hanging decor)
March 3, 2015: To symbolize my love for pretty pillows (after all, pillows make me happy…and will be featured in an upcoming project), I ordered a bunch of pillow cases off Amazon on Valentine's Day. My plan was to add more splashes of color (and whimsy) to our bed and living couches. What you see in the photos below are the first order of Decorbox and Ojia pillow cases after they arrived, laid out on the bed.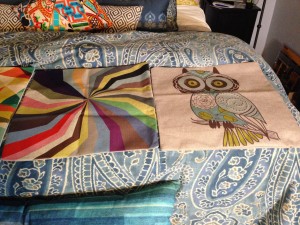 I was instantly in love with these cases. Beautiful, bright and colorful prints on a natural linen background. It was so very bohemian chic to me and suddenly I wanted to have it displayed everywhere. In every room on pillows, on the wall, on the floor…
The idea of hanging the pillow cases up on the side cabinets in our newly renovated kitchen instantly came to me. So these pillow cases were no longer destined to grace the bed and couches. In an instant they became wall decor for our new, modern, colorful kitchen.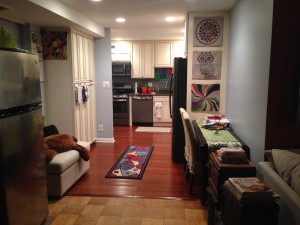 I ordered more pillow cases off Amazon to display six different designs on the cabinets (which you see when you walk into the kitchen). The sides of the pantry and the refrigerator enclosure now doubles as a gallery of colorful wall linen artwork (which I absolutely love). I love both the pop of color and texture that it gave to our new kitchen space.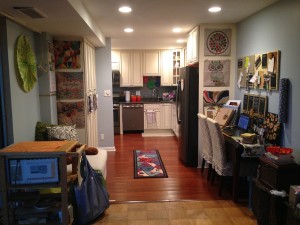 Hanging up the pillow cases
This was extremely simple to do. All you need is a few small 3M Command tab hooks and binder clips.
This is the first project I worked on where I used binder clips as clip hangers. This is one of my favorite ways to re-purpose binder clips. Here are more wonderful binder clip ideas.
I had all the pillow cases up and hanging within minutes. I ordered some additional pillow cases with beautiful, fun prints and have eventually used a few for pillows (and for other purposes as well, such as wood crate liners).
Fabric as wall decor
This will eventually blossom into a new VidaDIY post, but just wanted to mention now that this project made me obsessed with the idea of using fabric wherever I can, but especially as wall decor. These pillow cases have inspired me to think about ways of making my own artwork on a linen canvas some day. For starters, I experimented with decorating pillows using acrylic paint and decorating a canvas with fabric using Mod Podge, but the possibilities are endless. Stay tuned for more pillow cases/fabric wall decor projects. V-